I was really curious about this BCL Saborino Morning Mask recently. Honestly, this isn't the first time I hear about Saborino, but I usually don't have a lot of feeling on sheet masks in pack. I think those tend to be of lower quality than individual sheet masks, so I don't usually pick them up from store. But, many vloggers including Hello Catie are raving about this brand hence I was quite intrigued. My curiosity peaked when I joined Japanese personal shopper groups on Facebook when they actually hyped about this BCL and how it was the number one best-selling item on Cosmo Japan. After all these hypes, I finally decided to give it a try during Watson's buy-1-free-1 deal for all masks.
I picked up two flavours that are available at store, namely the yellow one for Moisturizing and the minty green one for Refreshing purposes. They only costs about RM33 each after the discount.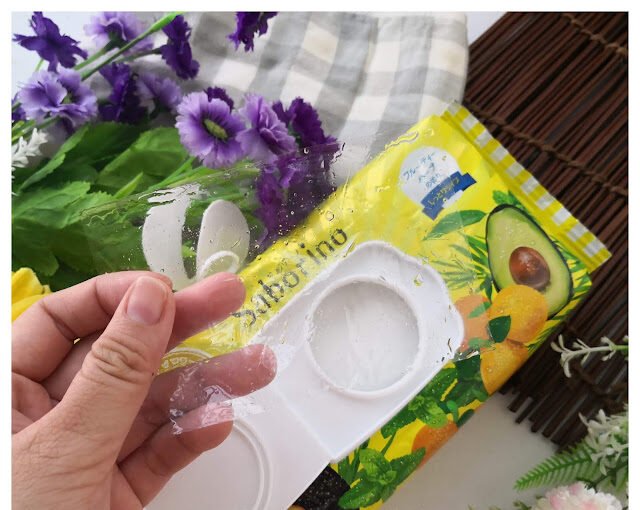 This Morning Sheet Mask is an interesting concept. It is basically a pack of sheet mask for daily uses. 32 sheets for 30 days of the month and 2 trials/errors. You use them to take care of your morning skincare routine, from cleansing, toning, moisturizing to primer. You are ready to put on makeup or leave the house after applying sunscreen. It gives you the quick 1-minute get-ready-and-go in the morning. It is convenient and economic.
How to use BCL Saborino Morning Mask
There are two ways I usually use BCL Saborino Morning Mask:
wakeup >> put this on while brushing my teeth (1-2 minutes) >> rinse off both >> sunscreen >> and GO!
wakeup >> quickly cleanse my face with either water or a gentle cleanser >> put this on while dressing (2-3 minutes) >> sunscreen >> and GO!
Review BCL Saborino Morning Mask Ingredients Analysis
The differences between both flavours are underlined. As you can see, there is a lot of similarities between both flavours. The yellow one has glycerin, tea tree oil and avocado added to it for added anti-bacterial and moisturizing benefits. Its refreshing and cooling sensation is attributable to the alcohol, menthol and peppermint extract inside. It also contains vitamin C, malic acid, orange peel oil etc. skin brightening ingredients, as well as those that promote better moisture retention like tremella mushroom, honey, sodium hyaluronate, soluble collagen, avocado extract and cucumber extract. These make this original yellow type great for individuals with normal to dry skin.
The minty green refreshing flavor has Taiwanese tangerine peel extract, witch hazel extract, lemon peel extract, and wild thyme extract added to it for enhanced skin tightening, brightening and anti-inflammatory benefits. As such, it is also more suitable for those with oily oil and pores issue.
Review BCL Saborino Morning Mask Performance
I think it really depends on your skincare goals and needs when it comes to whether or not you will find this helpful.
If you are someone who cares a lot about skincare, and wants a "proper" routine, then this may not feel "proper" for you. You may prefer a proper toner, serum, and then lotion/cream. In this case, this sheet mask may not be the one you are looking for.
But, if you love convenient skincare, that gives you a proper "canvas for makeup" within 1 minute without having to move your fingers, then this will be perfect for you. This supplies abundant hydration for you skin without any stickiness or greasiness. The yellow moisturizing flavour helps to keep your skin supple and soft whereas the minty green rrefreshing one wakes you up and keeps your skin clear and bright.
As for those who expect the effect of RM5-10 sheet mask from one that costs RM1-2 like this, then you might be disappointed as they are not gonna give you that vow factor of supple and chok-chok skin after applying.
CONCLUSION
I wanted to post my thoughts on them first, just to share with you guys my first impression review, and general thoughts on these popular and highly hyped morning sheet mask. I will update you guys my thoughts my final thoughts on them after I finish using them soon!
Stay tuned for more!