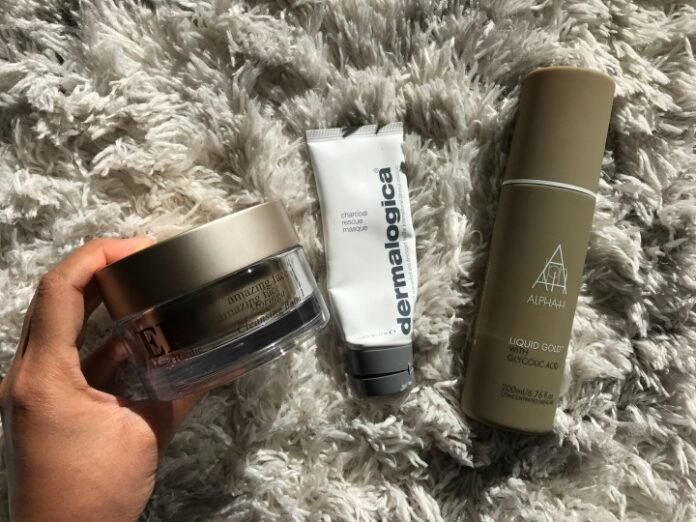 Hello beauties, So a while ago I did a post about my tips for clearer skin. Fast forward 18 months or so and my skin is looking its best! So I wanted to share a few tips that have worked really well for me.
Don't mix it up, stick to a routine
As a beauty blogger, I'm very blessed to be given the opportunity to try lots of products. But trying all these products started playing havoc on my skin. At the end of last year I vowed to just stick it out with one brand. As you all know I found love with Ultraceuticals*. The products work and my routine is lot more simpler. Now I'm not saying you have to use Ultra products. What I'm saying is find which products work for you and stick to it. When I was doing organic skincare solely for 2 months my skin looked great! The moment I try too many new product, my skin freaks out and I can't work out which product is not agreeing with me.
Always remove makeup at the end of the day
Now we all know we have to remove our makeup. Just do it, no excuses. If you're drunk, have some face wipes at the ready. It's better to use a face wipe than nothing at all. Currently I've been loving the Emma Hardie Cleansing Balm* to remove my makeup.
Regular face masks and exfoliation
When my skin was at its worst, regular face masks and exfoliation were the key. I tend to face mask once a week, twice if I have time and my skin is playing up. In terms of exfoliation, I tend to do it twice to three times a week. Some of my favourite treatment products are; Glam Glow Super Clearing Mud Mask, Alpha H Liquid Gold* and Skinstitut Glycolic Scrub*.
Wash your pillow cases regularly
Your pillow case has so much bacteria. Think about all those serums and moisturisers that are just soaked into your pillow. Gross? I read an article that said you should wash your pillow cases every second night. Now that seems a bit excessive. We clean out sheets every second week and it really has helped keeping my skin looking fresh.
Don't touch your face
This is an oldie but a goodie, don't touch you face. I'm luckily not a face toucher. But just think, of all the stuff you touch throughout the day. Your keyboard, phone, public transport, escalators. Gross, right? And now you're touching your face. Just don't do it, it's really gross.
Eat healthy and drink loads of water
Lastly, you are what you eat. When I've been overly indulgent and have a few too many wines (ie. birthday month) my skin plays up so badly. The moment I started eating healthy, working out regularly and drinking loads of water my skin clears up.
Basically the key to clear skin is keep it simple. We don't need heaps of products and treatments to have clear skin. Just make sure to eat well and look after your skin.