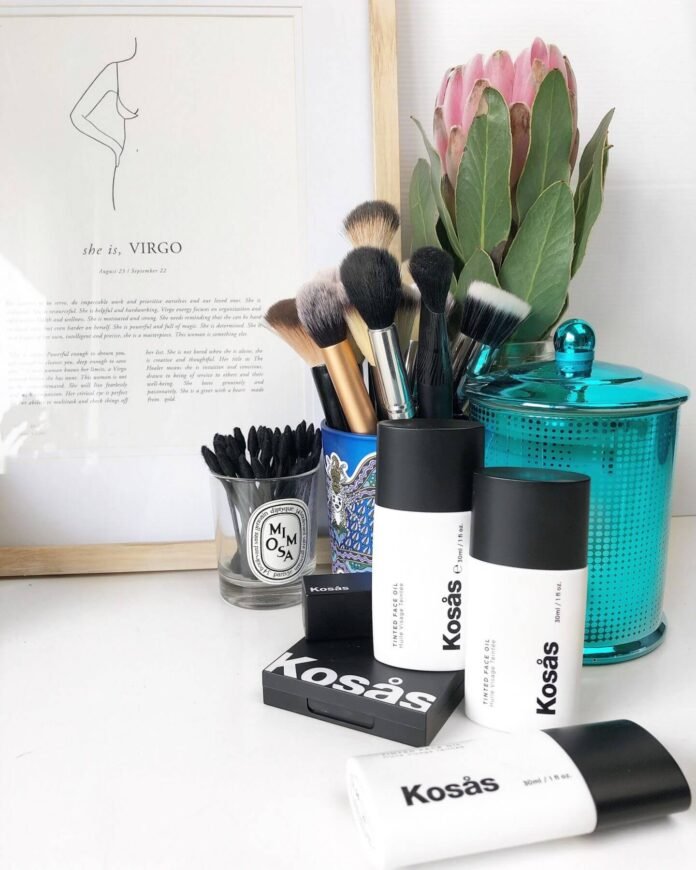 Kosas have released a very interesting foundation concept, a Tinted Face Oil. It is full of different botanical oils that are said to nourish and treat the skin all while providing a medium coverage. I had my eye on this unassuming little bottle for some time and read all the rave review about Kosas Tinted Face Oil. I was lucky enough to finally get my grubby little mitts on it. So, let's dive in and see how a Kosas Tinted Face Oil looks and performs on my oily little mug.
WHAT IS THE KOSAS TINTED FACE OIL?
A featherweight radiance boosting, skin perfecting foundation infused with botanical oils for skin-loving, glowy coverage.

This revolutionary hybrid of skincare and makeup takes supernatural skin to the next level with luminous medium coverage
This foundation contains three types of mineral pigments for soft-focus, seamless coverage as well as six active botanical oils to even skin tone and erase pores and imperfections
Perfect for any skin type, this fast absorbing foundation oil formula contains self-adjusting pigments and blends effortlessly for a velvety natural finish
Review The Formula of Kosas Tinted Face Oil
The formula is really light and watery but oddly enough, it doesn't really feel like an oil. I find it applies best with fingertips. Patting and pressing the formula into the skin, allows for an even and perfectly blended finish. I wouldn't dare to attempt a sponge application, cause that baby would just soak up alllllll the glorious product.
The initial finish is really surprising. It's almost dry and powdery to the touch. You'd expect a super glowy, slowly absorbing oil-slick on the face, but it sinks in and leaves the skin feeling soft and not sticky or oily in the slightest. The coverage is really good considering the lightweight feel of the formula. It layers really well if you need more coverage. I just let it dry down in between layers.
Cream products blend in seamlessly. And, surprisingly powder products layer really well, without catching on the dew and becoming patchy. The result is like a second skin that looks so natural but polished at the same time. It is weightless and almost undetectable apart from the gorgeous even and fresh result.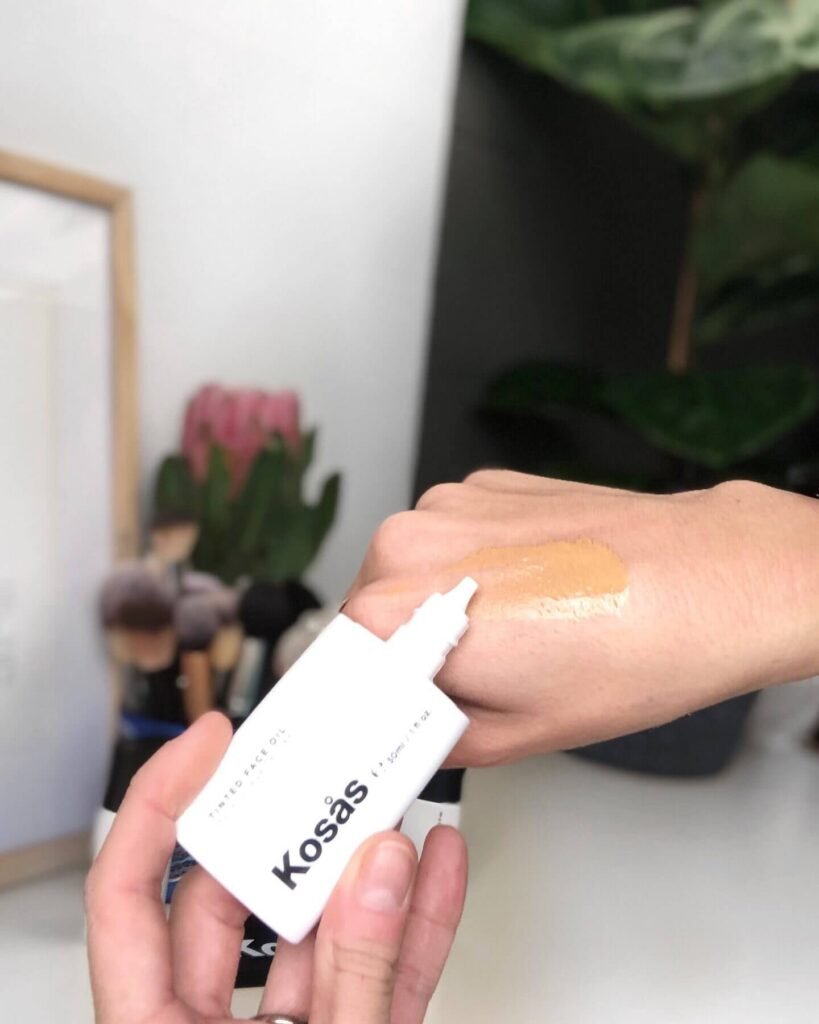 Review How Does Kosas Tinted Face Oil Wear?
I have found the wear and longevity really good. Throughout the day it lasts really well without becoming a hot mess, which I really expected. The powdery finish seems to control most shine and by the end of the day there is just a slight dew to the skin. It does fade in some areas where I touch my face, but what foundation doesn't? My cheek products last well and I continue to be impressed at the longevity of the Face Oil at the end of a long work day. 
My Review about Kosas Tinted Face Oil
To be brutally honest, I wasn't expecting much. Being oily myself, the thought of using an oil as a base terrified me. I was imagining my makeup slipping straight off my face and on to the floor. But I was wrong. Oh-so wrong. On the first day of wear, I was actually floored at how well the Tinted Face Oil performed. With every use, I am still amazed. I bloody adore this foundation.  It is so lightweight, feels and looks amazing. I would recommend this as a daily foundation for lightweight, natural coverage. But if you like your foundations to be full, I'd have to recommend something a little heavier. I cannot fault it. Worth the hype and all the rave reviews. This little guy is gold.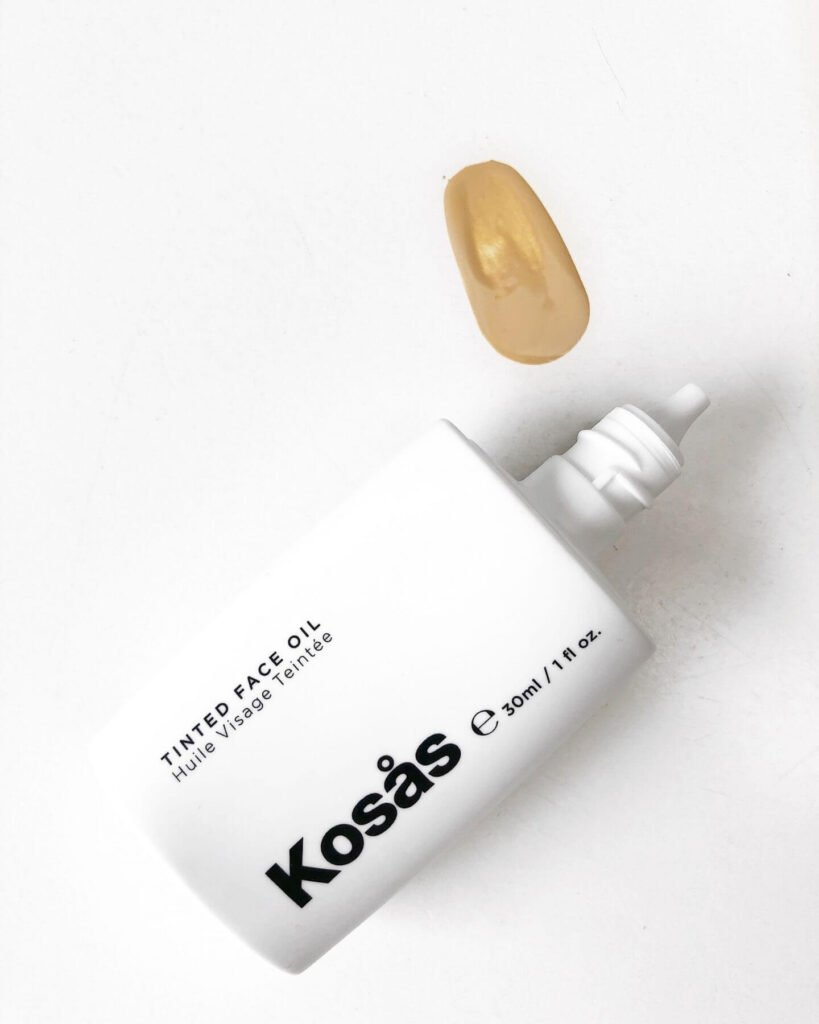 WHO IS THE KOSAS TINTED FACE OIL FOR?
Almost* all skin types. Anyone who appreciates a slightly dewy, oh-so natural looking foundation that feels like nothing on the skin.
*I would just like to mention that surprisingly, the oil and pigment do tend to stick to any really dry flaky bits, so it might be worth steering clear if you struggle with this. Or maybe, just giving your face a little exfoliating treat before wear. 
Does this innovative and interesting Tinted Face Oil foundation tickle your interest? You can purchase Koasas in-store at Mecca Cosmetica or online. I am also crazy about their lipsticks and cream blush duos.
Chat soon,