The new ColorStay Ultimate Suede lipstick from Revlon grabbed my attention when they went on sale. My hopes were that these long-wearing lipsticks would finally change my opinion of all long-wear lines. When I hear the word "long-wear" and "lipstick" in one sentence my thoughts instantly move towards "drying", "chapped" and "boring". I see them as usually dark, scary colours that highlight all the lines in your lips. Could Revlon change all this?
After weeks of testing, I have the results and I think my review will tell you everything you need to know about the new breed of long-wear lipstick. I also have lip and arm swatches for 15 out of the 20 shades. 
Review Revlon – ColorStay Ultimate Suede Lipstick Packaging
With 20 colours in the range, the first thing I noticed was just how varied and colourful the choices were. Yes, there are dark reds and browns but there are also lots of light colours, pinks, shimmers and bright hues.
The packaging is really impressive in my opinion, but because of functionality not look. The plastic tube is thick and sturdy, smashing it would be very difficult. My attempts at sitting on/walking on/throwing at tiles didn't make a dent.
You can see the shade of the lipstick through the clear lid without opening (so important). And the lid really takes some effort to click in and pull apart so there is no chance of the lid falling off in your handbag. You can also identify the colour as the lower half of the tube is colour matched to the lipstick colour.
My most favourite part of the packaging is that when the lipsticks are wound down, they fit perfectly into the black surround that holds them. Meaning when you take the lid off you have no way of bumping the rim into the lipstick and taking a big messy chunk out (my biggest pet peeve with lipstick).
When you wind the lipstick up you can hear it click 3 times and then it just winds up without a sound. I have no idea why I love this so much but I do. Perhaps it is because if I were blind I could still know exactly how much lipstick has moved out of the packaging. I don't know, but I love it.
 Revlon – ColorStay Ultimate Suede Lipstick Colors and Texture review
I do find the lipstick colour when looking at the bullet/packaging is slightly different to when on the lips. Some of the more brown shades I swatched appear redder when worn, but I like that. I think the important thing with these lipsticks prior to purchasing would be to swatch a shade. Or refer to swatches like mine if you are curious about the actual wear colour.
Each lipstick has a different finish as far as shimmer or no shimmer. But they all apply smoothly to the lips. After a few seconds, they set to this slightly dry but moisturized texture. I wouldn't exactly call it "suede" but it is definitely a texture I have never experienced with lipstick.
Revlon – ColorStay Ultimate Suede Lipstick Long Wearing function
On the lips, they wear amazingly well. I can get about 8 hours wearing with eating & drinking. Or even much longer if I don't stuff my face before I need to touch up. Some of the colours wear better than others, the darker and brighter shades last a little longer for me. But even the light ones stayed on for 8 hours.
I would barely call these a "drying" lipstick so long as you take care of your lips anyway. Keep them moisturized and exfoliated, and remove your lipstick before bed as you do with other makeup. At application, they feel smoother than when they set. However, even when set they are nowhere near as drying as other long-wear lipstick I have worn. I describe the texture as "gluey" for a lack of a better word. Which means you can still rub your lips together but there is kind of a gluey resistance to it. It isn't sticky like lipgloss, and nothing sticks to your lips (even your hair on a windy day).
There is zero transfer of this lipstick when it is set. At application, you can remove any mess outside your lip line. But once it is dry it doesn't go anywhere. Not on water glasses, not on cutlery, and best of all … not on teeth!!
Swatches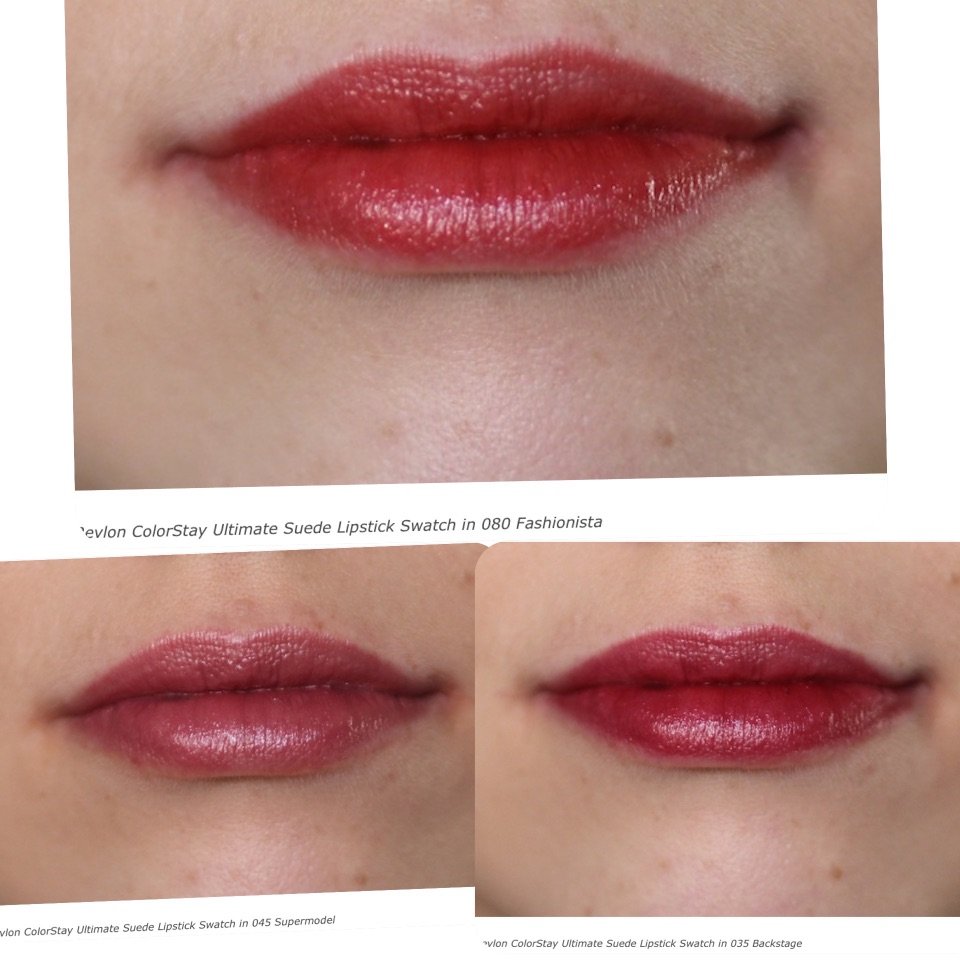 What Revlon say ….
Revlon ColorStay Ultimate Suede™ Lipstick contains a lip ingredient complex of Shea butter, Vitamin E and Aloe that provides instant moisture to lips – so lips look hydrated, not dry, flaky or dull. In fact, 92% of women tested felt lips looked conditioned!
Using Revlon's ColorStay™ technology, ColorStay Ultimate Suede™ Lipstick provides hours of food-proof wear with even application for full, creamy colour coverage. And with 20 on-trend shades to choose from Revlon ColorStay Ultimate Suede™ Lipstick is the perfect mix of fashion and function!
20 shades – Silhouette, Muse, Womenswear, Runway, Front Row, Socialite, High Heels, Backstage, Flashing Lights, Supermodel, Couture, Iconic, It Girl, Catwalk, Preview, Cruise Collection, Fashionista, Trendsetter, Private Viewing & Finale
Animal Cruelty Policy: According to the Revlon website, they do not conduct animal testing. There is no official statement regarding the source of their ingredients. Revlon appears on the "DO Test On Animals" list by PETA as their products are sold in China (where animal testing is required by law).
Read more: REVLON PHOTO READY CANDID FOUNDATION REVIEW