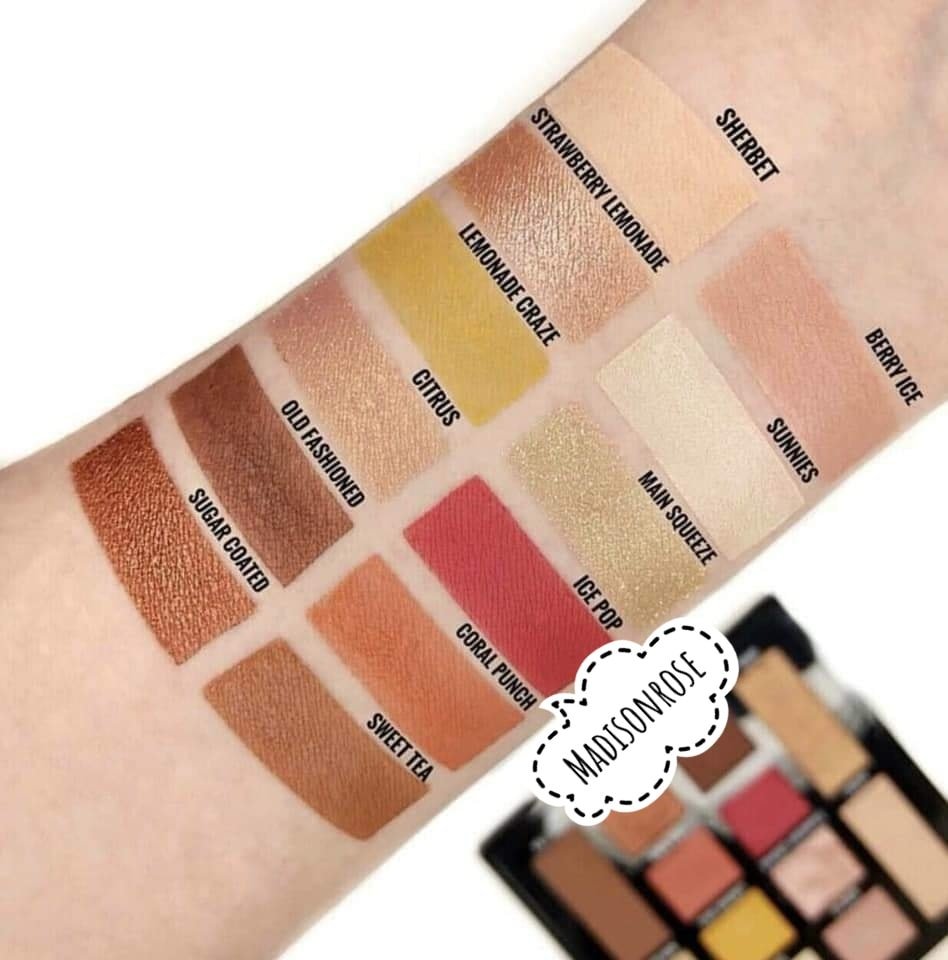 Maybelline Lemonade Craze – This fresh little palette piqued my interest as soon as I saw a shot of it on Instagram.  Full of really wearable shades with a few pops of colour thrown in for good measure. Inspired by a big old glass of lemonade, this palette just screams summer.
While it sure does look beautiful, let's look a little closer to see whether it is worth your money.
MAYBELLINE LEMONADE CRAZE
Bring on wearable neutrals with bold splashes of colour from Maybelline's Lemonade Craze Eyeshadow Palette. A fresh take on the classic palette, these pigmented shades offer endless possibilities. Softer hues to highlight, darker shades to amplify and define, and bright pops of citrus inspired colours to make your eyes pop!
REVIEW MAYBELLINE LEMONADE CRAZE PACKAGING
Housed in sturdy plastic, this little palette is sleek and practical. The pops of yellow on the front make it a bit of a standout amongst my see of black palettes.   While I do love the clear lid, this palette does not contain a mirror. Not a problem for me, but I do know that this could be a set back for some.
On the back of the palette is an example of three looks, which I think it a fabulous touch.  This allows even the not-so-confident eyeshadow lover to incorporate those fun, bright shades. Very handy.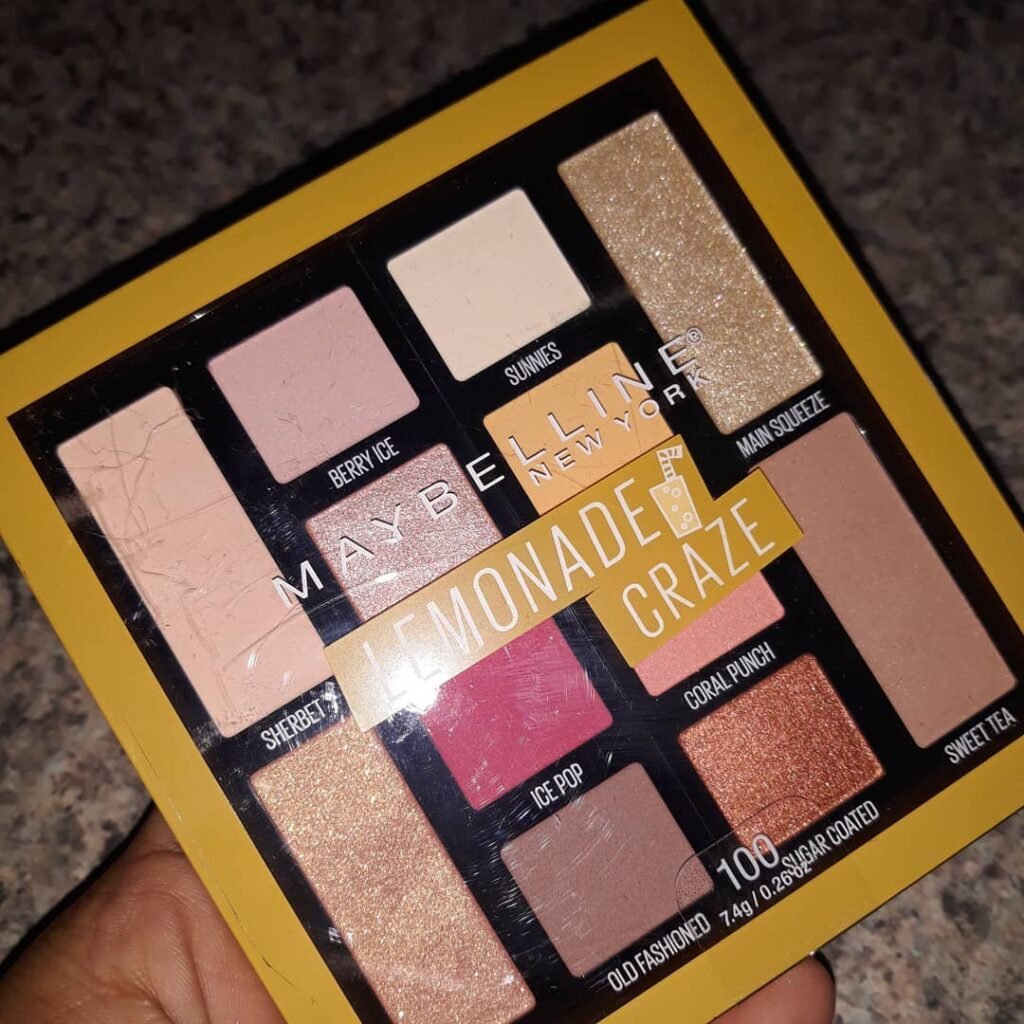 The layout of the palette is really visually pleasing, with shades grouped together by colour families.  This makes it really easy to create looks.  But, that being said, the palette looks filthy after even the first use. The recessed pans do create a bit of a cross-over between colours. Ice Pop and Old Fashioned have a habit of creeping over into the Citrus shade. Just something to be mindful of.
With a fun collection of shades, ranging from fuchsia to copper, coral and a pop of mustard, offset by a handful of wearable neutrals, Lemonade Craze is crazy versatile.
REVIEW FORMULA OF MAYBELLINE LEMONADE CRAZE PALETTE
Firstly, I must note that Lemonade Craze is meant to be citrus-scented. However, the fragrance is so mild that I didn't even realise until a couple of uses in.  This is great for those that don't like the scented cosmetics trend but disappointing if you were expecting a tangy lemon twist.
Unfortunately, the formula of the eyeshadows isn't very consistent.  The mattes aren't as smooth and buttery as I would like, but they do apply relatively well. Ice Pop and Coral Punch, for me, are the biggest disappointments. They feel gritty and chalky in the pan, and don't provide too much colour payoff.  But, they do blend out pretty well once applied to the eyelid.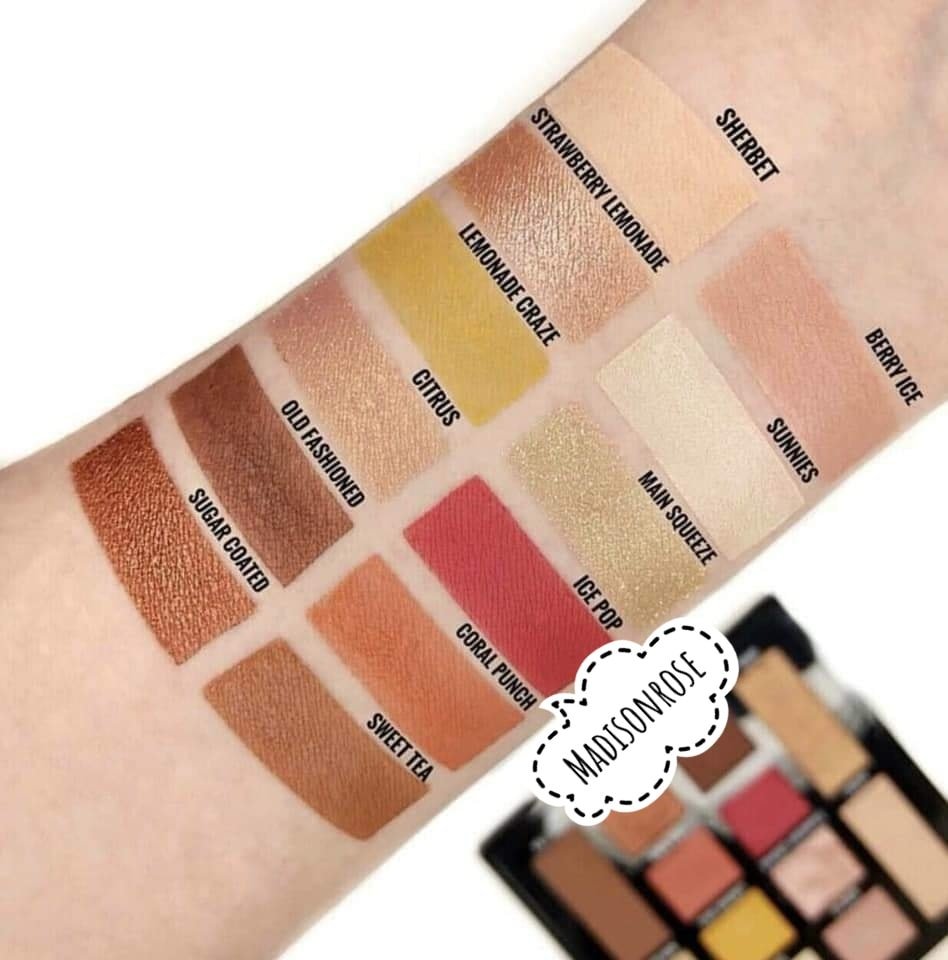 The copper shade, Sugar Coated, is by far the highlight of the palette. It's pigmented, soft and smooth. Making it a dream to work with. The remaining shades are pretty good. They aren't as pigmented as I would hope but they are smooth and easy to build up.
Once applied, the shades seem to have different wear times. I created a pink-y/copper look which I really loved and it lasted really well. No creasing and minimal fading.  On a different day, I  wore the mustard and peachy coloured matte shades and they didn't per
I would also like to mention that there is quite a bit of kickback in the pans, in case this is something that concerns you.
OVERALL REVIEW THOUGHTS
It is quite a good palette. the shades all work really well together. The punchy colours allow you to be bold or have the option to tone things down with neutrals. The versatility is second to none. I would really like to see another mid-to-deep toned brown, to replace one of the many pale nudes. And, I would love the fragrance to be a little more punchy. But overall, Lemonade Craze is a fun and fresh take on wearable brights, and I am here for it.
IS LEMONADE CRAZE WORTH YOUR MONEY?
In a word, yes. In my sea of palettes, the Lemonade Craze colourway certainly adds something unique. This little guy is absolutely perfect for anyone wanting to add more colour into their eyeshadow looks, while still being able to mute it down. Despite the shades not being super pigmented, this can be a huge positive if you're a newbie to bold colours.
Are you thinking about picking this guy up?
*DISCLAIMER – Although these products were provided for my consideration, all views and opinions are 100% honest and my own. No sponsorship or money has been provided for my review. All discount codes are not affiliated unless specifically stated. All opinions are based purely on my own experiences. I try my hardest to provide my readers with accurate information, but I am not by any means a professional, nor am I an expert. Please do not confuse my opinions with professional advice.