I have had my beady little eyes on the fabulous-looking Smashbox Cover shot palettes since they were released. They look ideal for quick eye looks and easy for travel. The shade range is huge and caters for every taste.
But, the question is, are they worth yo' cash?
SMASHBOX COVERSHOT EYESHADOW PALETTES
These purse-sized, pigment-powered eye shadow palettes are made to mesmerize—and collect. Each Cover Shot Eye Shadow Palette has a curated mix of colors, formulas and finishes so you can nail the latest trends and create your own looks.
REVIEW PACKAGING SMASHBOX COVER SHOT
These little palettes truely are travel-sized. Their sleek magnetic closure also ensures that they don't spring open. Very travel-friendly. The palettes are a thin but heavy duty and exceptionally user-friendly. The fun graphic front also makes these little babies very aesthetically appealing.
But just because they are small, don't be fooled into thinking that the quality or versatility is compromised.   The shadows are beautiful and perform, on a whole, really well.
Out of the 16 palettes available, this lucky little duck has 8.
SWATCH SMASHBOX COVER SHOT
REVIEW SMASHBOX COVER SHOT – PRISM
Prism is for lilac lovers. Each of the shades and formulas swatch and apply beautifully. This particular palette includes Smashbox's new ultra shiny formula. It is suggested that they apply best via fingers. I find that they are more like an eyeshadow topper, that'll take your eye-look to the next level and possibly the next dimension. The lavender based shades are really unique and this little palette would be a great introduction to these inter-galactic hues.  Really beautiful.
REVIEW SMASHBOX COVER SHOT – MAJOR METALS
Hello, super soft metallic shadows! This little palette packs a sparkly punch, including 2 more of the soft glitters (Outta This World & Social Currency). While it isn't super versatile, I'm so glad to have Major Metals on hand to amp up any eyeshadow look. I mean, just look at these shades… Champagne has me feeling things.
REVIEW SMASHBOX COVER SHOT – MINIMALIST
Minimalist is a really really good palette for a beginner, or someone looking for the perfect everyday neutrals. The shades are all beautifully complimentary, easy to blend and work with.  Java and Cruise did swatch a little patchy and needed a little extra building up on the eye, but all-in-all they applied well.  I actually find that buildable formulas are much easier to apply for an amateur like me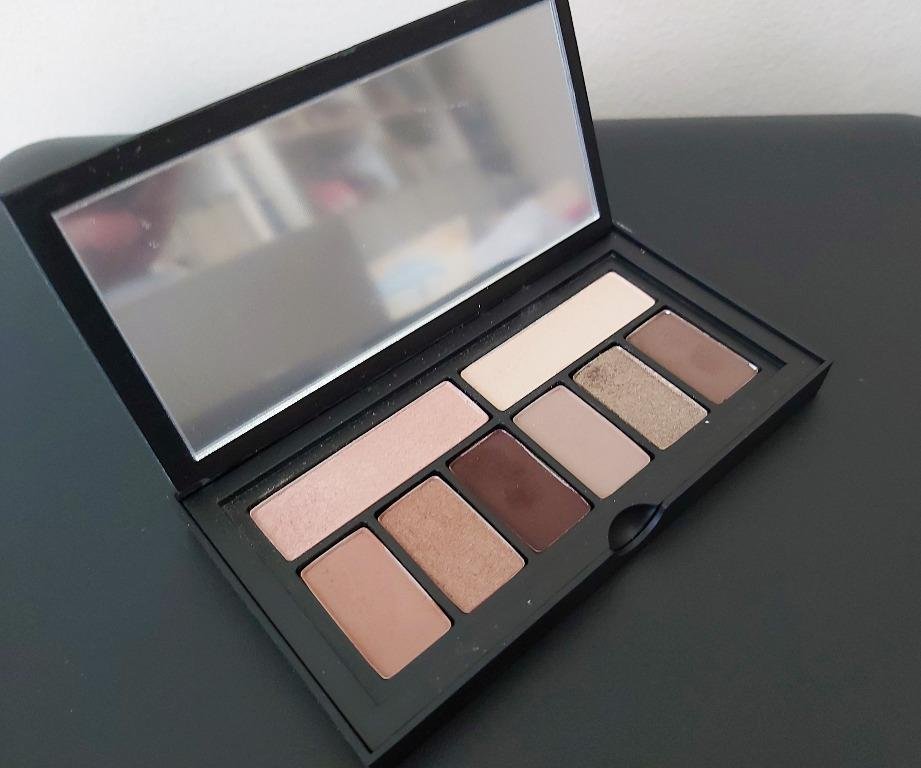 REVIEW SMASHBOX COVER SHOT – PUNKED
Punked really surprised me. At first glance, I wasn't sold. I found it a bit boring and not my taste at all. That is until I swatched it. Oh my!  The formulas are simply stunning. I love the ratio of mattes to shimmers (5:3, BTW). This little punky palette is great for an easy smokey eye, otherwise, the mattes alone are great for an understated daily look.
SMASHBOX COVER SHOT – PETAL METAL
This is definitely a personal favourite of the bunch. While it looked pretty to me initially,  I didn't think that I'd love it as much as I do. It is very cleverly curated to include all you could possibly want from a compact neutrals palette. With a mid-toned matte beige, a matte chocolate brown and an array of shimmering blush and champagne tones, you can create many different looks from the one palm-sized palette. Originally a limited edition palette released with the Vlada MUA collection, it was so popular that Smashbox made it permanent. I can't fault Petal Metal.

SMASHBOX COVER SHOT – MATTE
If you're anything like me, a matte eyeshadow palette is always in high-rotation. A good matte is the basis of any well-rounded look. I was so desperately hoping that this would be my ultimate matte pal, but, I found the formulas in this palette were a little inconsistent. Some swatched and applied poorly, which isn't ideal. Some felt a little chalky, where others were that smooth creamy Smashbox formula that we know and love. I must admit I was pretty disappointed with this palette, but that may be because the quality of the others is exceptional.
REVIEW SMASHBOX COVER SHOT – BOLD GLITTER
Whoa. Hold on to your hats ladies, this palette GLITTERY! Woof.  If you want a bold, colourful sparkly look, this is ya gal. Each shadow has a coloured base that is full of silver shimmer, which is definitely best applied with your finger for maximum pay-off.  Similarly to Major Metals, this palette isn't super practical or versatile. There's no way you'd be able to create an entire look with just Bold Glitter, but it would be good to have on hand if you want to create super bold looks.
REVIEW SMASHBOX COVER SHOT – ABLAZE
Ablaze is definitely a warm-toned lovers dream. Balanced out with 3 creamy mattes and 5 shimmers, this little beauty is oh-so versatile and one of my most reached for. The formulas are second to none. This palette is by far a standout. I find the shades Siesta and Torch to be really unique. I love to use either of these shades to really amp up the fiery factor in my eyeshadow look.  It's probably pretty predictable, but Ablaze is getting a lot of lovin' here at Beauty Bender HQ.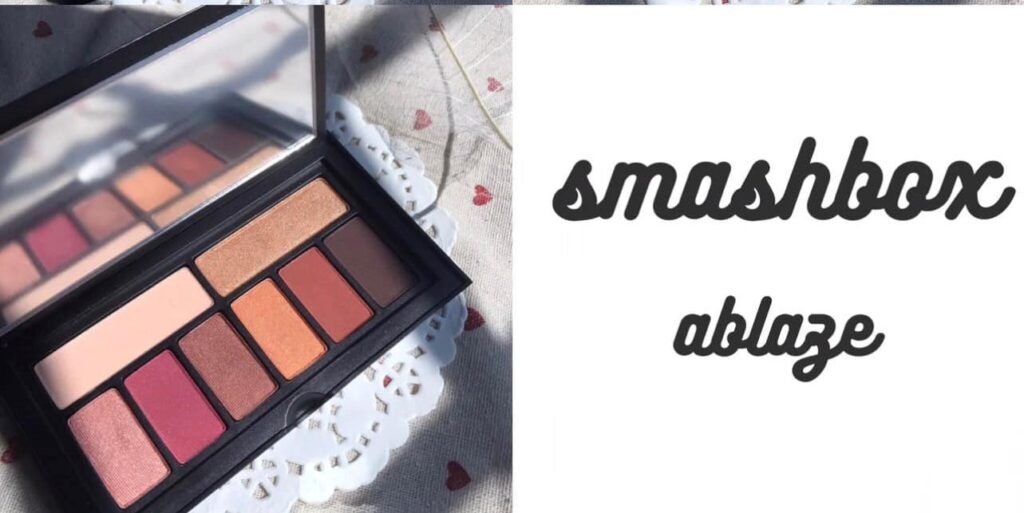 IN SUMMARY…
Being a makeup lover, I have an embarrassingly large makeup collection – palettes in particular. But more often than not, I want a simple one-and-done palette that doesn't overwhelm me. I need something easy, fool-proof and perfect for using on the go. These are just that.
While I don't personally think all of the palettes are made equal, some definitely perform better than others. Majority of the formulas are soft, smooth and creamy, while a small handful of others are chalky and a little lackluster. However, I really believe that the best of these would be a welcome addition to anyone's collection. They way they apply, the beautiful colourways, and their handy little size is ideal for both the makeup beginners and professionals alike.
My picks are Ablaze, Petal Metal, Minimalist and Punked.
You can find Smashbox exclusively at Mecca Maxima. If you want to know more about the brand, you can find a complete guide to their extensive range of primers right here.
*DISCLAIMER – Although these products were provided for my consideration, all views and opinions are 100% honest and my own. No sponsorship or money has been provided for my review. All discount codes are not affiliated unless specifically stated. All opinions are based purely on my own experiences. I try my hardest to provide my readers with accurate information, but I am not by any means a professional, nor am I an expert. Please do not confuse my opinions with professional advice