C serums containing high doses of vitamin C provide a firmer, smoother and younger-looking skin. That is because vitamin C is essential for the synthesis of collagen – a protein that cares about the structure and firmness of the skin, and this newly created collagen "fills in" wrinkles and improves skin structure.
Due to the increasing popularity of the preparations with vitamin C many clinical trials have confirmed its effectiveness  – it was discovered that it has anti-aging effect in correcting the structural and functional damage to the skin. It modifies the microstructure of the skin and reduces the depth of the furrow.
Unfortunately, this serum is very expensive, but on the bright side – you can do it yourself with spending much less money than you would spend by purchasing it.
This is a recipe for vitamin C serum containing 15% of vitamin C, and since vitamin C is acidic and can burn the skin in concentration too high you shouldn't add any more vitamin C powder than stated in the recipe. Before using the serum, it is best to try it out on your wrist and see how your skin reacts to it.
Homemade vitamin C serum with 15% of vitamin C
Ingredients:
1 teaspoon of Ascorbic Acid powder
1 teaspoon of glycerin
3 teaspoons of distilled water
1/4 teaspoon of vitamin E
You will need dark glass vial, preferably with a dropper.
It is vital that the serum is not being made using any metal utensils. You can use only ceramic, plastic, wood or glass.
Preparation:
Put a teaspoon of ascorbic acid and three teaspoons of distilled water in a pan. Stir with a plastic spoon for about 30-60 minutes. The crystals of ascorbic acid should dissolve completely and it takes some time, but in about 45 minutes the serum should be finished. Don't heat the water so the vitamin C would dissolve faster because it would ruin the serum.
After that add a teaspoon of glycerine and vitamin E. If you purchase vitamin E in capsules, then drill a capsule with a needle and push out the content into the serum. Vitamin E in serum serves as an additional antioxidant and as a stabilizer.
When you're finished with making homemade vitamin C serum, pour it in a dark bottle and mix it before each use. Keep the serum in a dark place.
If you have oily skin, you can reduce the amount of glycerin. Or you can make homemade vitamin C serum without glycerin, but in that case don't put any vitamin E because it is not soluble in water.  Keep in mind that serum without glycerin and vitamin E is quickly prone to oxidation.
And as the final result this homemade vitamin C serum must be a transparent liquid, or it could be off-white but not any other color.
How to use homemade vitamin C serum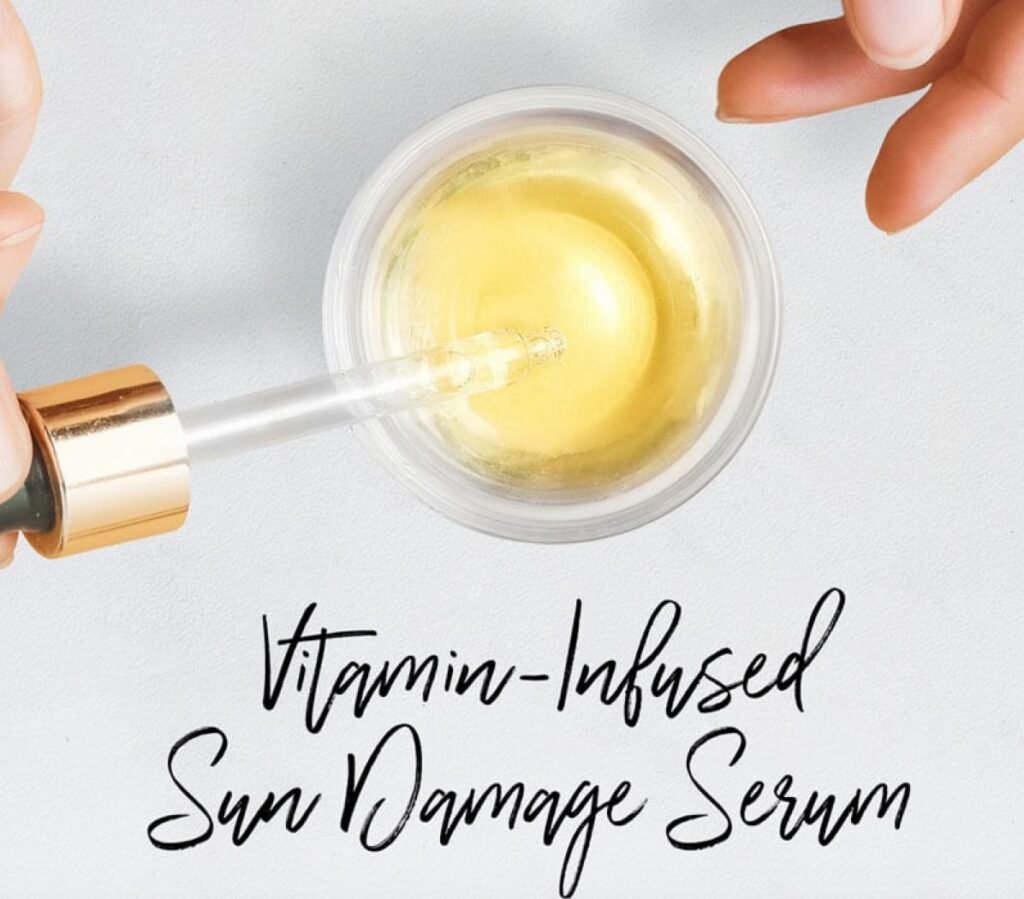 Use this homemade vitamin C serum first thing in the morning after cleansing, then it has the best effect. Apply it on a completely dry skin, leave it for at least 20 minutes, preferably 40 minutes and then you can continue with using the rest of the skin care products you normally use.
If you do not have that much time or you don't feel like doing it in the morning  you can do this ritual in the evening, before bedtime and after you have cleansed your face and removed make-up.
Vitamin C is active in the skin for two days, so you don't have to apply it every day. Put your homemade vitamin C serum on your neck, cleavage and hands also. Always be careful about the quality of your serum and stop using it if it changes the color.
Benefits of homemade vitamin C serum
vitamin C is an antioxidant, which means that it fights against free radicals that cause damage to the skin.
increases the resistance of the skin to sun radiation
reduces pigmentation stains, pores, wrinkles and acne spots
Your skin will be brighter, healthier, firmer so use this serum often. Every 3 days is optimal. In a short time you will start to notice more and more positive effects on your skin.
Have you tried making homamade vitamin C serum?