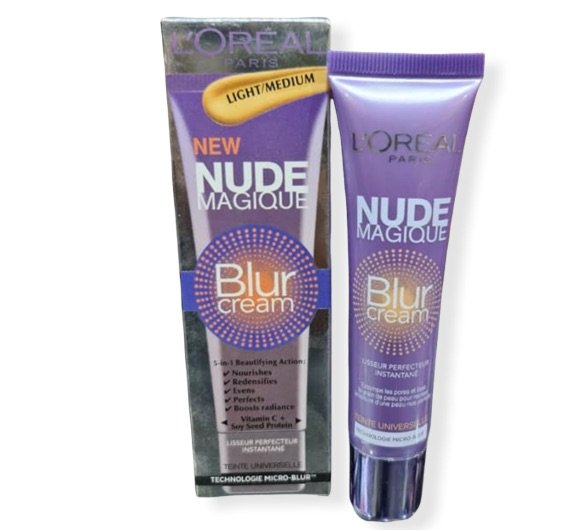 The naming of it "blur" cream relates to the 'blurring' effect visible on the skin when silicone is applied. It promises to blur the appearance of fine lines, large pores and other skin imperfections similar to that of photoshopping an image. L'Oréal Paris says that their Nude Magique Blur Cream, which comes in two shade varieties, you can use this product alone or under makeup as a primer.
Blur cream has been a commonly used cosmetic for many years, most of which we know by another name ….. makeup primer. Blur creams harness the power of silicone, most commonly in the form of dimethicone. It's the same ingredient you'll find in some of the most popular makeup primers available today. But it wasn't until recent years that cosmetic companies noticed an appeal in packaging up the "new" technology and selling it under its own name. Possibly the most famous of these primers would be Smashbox Photo Finish Foundation Primer, some actually call it the original blur cream.
Will this product from L'Oréal deliver on the blurring promises? I reveal my thoughts in this review.
Review packaging and texture of L'Oréal Paris – Nude Magique Blur Cream
I like the colourful purple tube and the metallic purple screw cap. It looks great and it's easy to transport for travel.

The shade range has only 2 options – Light to Medium and Medium to Dark. The lighter shade option is more pink based while the darker is more yellow. However, I honestly couldn't see a difference in the skin after blending, and the packaging even states that it's translucent. I did thick smears on my arm for the swatch photo just to show you there is a colour difference in the formula.

Essentially the Nude Magique Blur Cream is just a tube of dimethicone with some colour tint and some light-reflecting particles. It's definitely a product to be used as makeup, not skincare, it will not treat your imperfections or reduce them. It's purely designed to lessen their visibility.

If you have used a silicone-based primer previously you will recognise the feel of the Nude Magique Blur Cream as soon as you squeeze some out. Its texture is like a firm gel that as you apply feels silky with a lot of slip, making it very easy to spread over skin but extremely difficult to control how thick it applies. This is a common problem I have with dimethicone products and it's one of the reasons I generally avoid them.

A pea-sized amount should be enough to cover the majority of your face. The blurring effect isn't dependant on how much you apply so applying a thicker layer will not give you any greater results. In fact, the thicker I apply it the more uncomfortable I feel. It's lightweight but at the same time, it feels like I applied a layer of plastic to my skin.
My trial with L'Oréal Paris – Nude Magique Blur Cream
I failed to see any blurring of my pores when using the Nude Magique Blur Cream. Although I understand I probably don't have the most imperfect skin. But I was expecting a better result on my cheeks and nose where my larger pores bother me. 

I used Light to Medium and I found it made me look a little whiter. It took a bit of colour out of my skin which for the most part made my nose area look a little better. However, overall I think my face looks a little less healthy when compared to my bare skin.
It did allow the foundation to glide over my skin a lot smoother. For the most part, it looked better in the beginning but as the day went on I found it made my foundations move and float. As someone with dry skin, I'm used to my foundations really gripping to my skin which is good for lastability. However, sometimes that can be bad when I'm dried out and flaky. This product worked on my flaky area's to prevent that overly-dried outlook but for the rest of my face, it wasn't worth it. I found that the Nude Magique Blur Cream worked better for me when I applied it to just the flaky, overly dry areas of my face instead of all over.

Continual daily use of dimethicone can actually make dry skin worse, especially if you leave it on for extended periods. It's important to wash it off at the end of the day, which you should be doing anyway when you remove your makeup. I can often be lazy about cleansing my face at night, usually just resorting to using makeup wipes to remove my makeup and I often don't find that process is enough to remove the feeling of dimethicone as well. If you have a similar nightly ritual it's probably not best to use a blur cream.
Things you should know L'Oréal Paris – Nude Magique Blur Cream
While there is no evidence that dimethicone clogs your pores itself, it does still trap everything you may have beneath it so that's why it's extremely important to apply to clean skin. If you apply over uncleansed skin you'll be trapping dirt and impurities in your clogs, possibly making breakouts more likely. 

If you use only natural or eco-friendly products, this won't be suitable for you. Dimethicone is a man-made, non-biodegradable chemical.
L-R: Medium to Dark, Light to Medium
L-R: Before and After
What L'Oréal Paris say ….
Say hello to perfectly flawless skin with NEW Nude Magique Blur Cream. Instantly fusing with skin, it creates an even base for your foundation. With 2 translucent shades and ultra-lightweight non-greasy texture, your perfectly smooth complexion is just an application away.
Micro-blur technology blends imperfections creating a soft-focus effect on the skin. It automatically adjusts to the texture of the skin to create a flawless finish. Oil-free and non-comedogenic.