Natural Instinct Skincare is a decade old, Australian skincare brand that is built upon a commitment to naturally derived ingredients and products that are accessible to all and kind on the environment. I was kindly gifted a few products from their extensive range and thought I would share my thoughts
Review Natural Instinct Skincare: Skin-Refining Cleansing Oil
Skin-Refining Cleansing Oils factor heavily into my skincare regime. They are my preferred method of makeup removal, and I think, one of my favourite products to use. Being an oily lass, I find that an oil cleanser actually regulates my oil production, hydrates the skin and breakdowns every last bit of makeup. I  have been using them for quite a number of years now, so I like to think of myself as a Oil Cleanser Queen (self appointed). It seems that most skincare brands have jumped onto the oil-based cleanser bandwagon now, but 'oils aint oils'**. Not all cleansers are created equal and like most skincare, different oils suit different skin types and vary in effectiveness, so it can be a little trial and error to find the right one for you. Natural Instincts Skin-Refining Cleansing Oil contains a cocktail of 6 nourishing oils aimed towards all skin types. It is 100% free of toxic sulphates, petrochemicals and parabens.
The packaging is simple but full of useful information. The oil is delivered through a pump, which is perfect for application. The formula itself is quite lightweight and smells like sweet orange essential oil. It spreads easily over the face and gets to work breaking down makeup and grime. Once water is added the oil turns milky and washes off well. As with most oil-based cleansers, there is a slight oily film left behind. I then go ahead and use another cleanser, as I prefer to use the double cleanse method. My skin is left really plump and soft, and super fresh. This cleanser doesn't strip the skin nor is it too heavy, it is the perfect happy medium.  I didn't notice any extra blocked pores, my skins tone and texture greatly improved with regular use of the Skin Refining cleanser. In summary, the cleanser is light-weight, nourishing, reasonably priced and super effective. I am super happy to report that this little guy worked an absolute treat.
Review Natural Instinct Skincare: Plump & Renew Serum
The Plump & Renew Serum boasts pretty impressive results from their studies.
87% of women achieved a reduction in skin fatigue and stress
57% achieved a visible reduction  of wrinkles
73% of women agreed that it plumed the skin and tightened pores
63% achieved significant improvement with deep moisturising and soothing skin better than a moisturiser alone.

Natural Instinct Plump & Renew
The serum is light and milky and has a subtle floral scent. It does take a little while to absorb, but once it has sunk in the skin feels smooth and hydrated. After prolonged use I did notice that my skin was much more hydrated and plump, plus the overall health of my skin was good. I think that this serum is a great boost of nourishment to skin and works really well with my normal day and night cream. Again, the price point is great for the calibre of the product. Especially when it is Australian made, dermatologically tested and free from any nasties.
Review Natural Instinct Skincare: Dark Circle + Wrinkle Correction Eye Crème 
I am a little bit forgetful when it comes to eye creams. Although I do suffer from dehydrated and puffy eyes, I haven't quite gotten into a routine of using eye creams yet. Which is quite foolish, because eyes are usually the a dead giveaway when it comes to ageing. This little beauty promises to lift and firm, while banishing puffiness and dark circles and smoothing out crows feet. Again, through trials and testing Natural Instinct reported impressive results.
25% in wrinkle reduction
93% achieved a rapid wrinkle & dark circle reduction
The tube itself is quite large when it comes to eye creams. The packaging again is simple but states all the important information that is handy to know. The cream is very light-weight and quickly absorbed. It doesn't leave behind any sticky or oily residue which is great for daytime use. After approximately 5 weeks use, I did notice that my eye area was really hydrated and healthy. The hydration really plumped out the skin, which in turn, reduced the amount of fine lines around the outer edges, and diminished the appearance of dark circles.  This eye cream is easy to use and doesn't require too much dabbing into the skin and results have been very impressive.
Overall about Natural Instinct Skincare
Overall, I have really enjoyed the quality and results of the Natural Instinct Skincare products. Natural Instinct stick to their philosophy and create wholesome, natural,  well priced products, that are vegan, cruelty-free and Australian made. Skincare with a conscious. I will definitely recommend Natural Instinct to my friends that family that prefer to only use natural skincare. I will continue to use these and will branch out and test a few more items in their collection.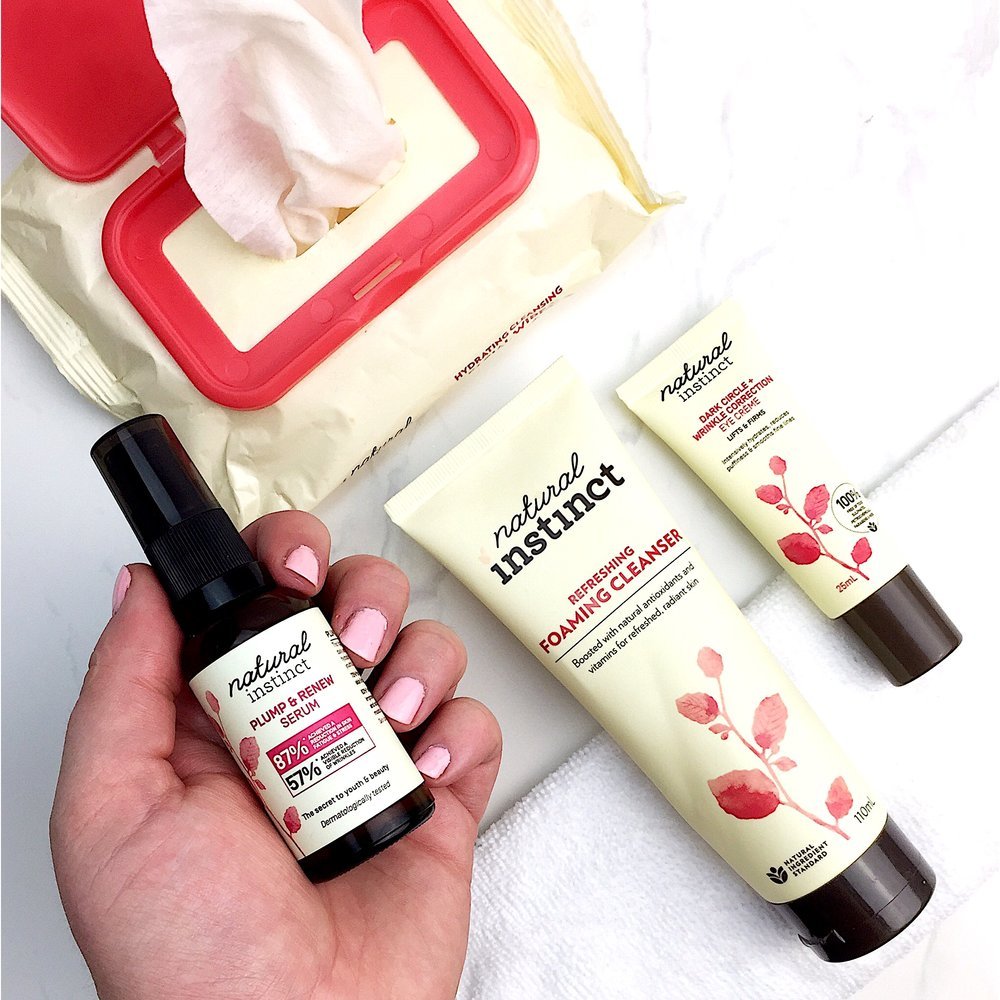 Have you used Natural Instinct before? What are your favourite natural skincare brands?
*DISCLAIMER – Although this product was sent for my consideration, all views and opinions are 100% honest. All opinions are based purely from my own experiences. I try my hardest to provide my readers with accurate information, but I am not by any means a professional, nor am I an expert. Please do not confuse my opinions with professional advice.