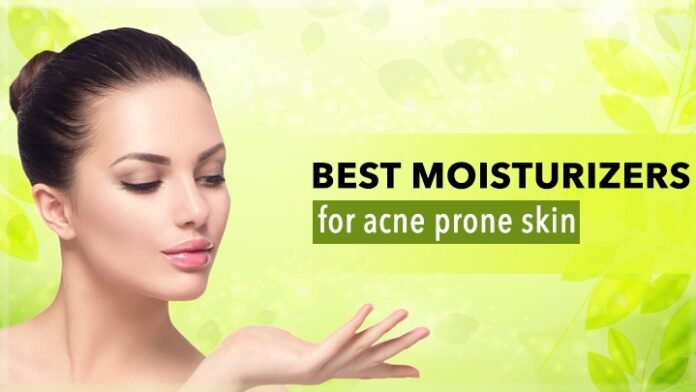 The Best Moisturizers for Acne Prone Skin are specially formulated to tackle breakouts and get rid of acne. The problem with using a moisturizer not meant for acne prone skin is that when you use this to ease the burning sensation, it makes the problem worse and results in even more breakouts! All types of skin needs hydration for health. The fact is that when you don't use a moisturizer, you'll end up increasing the oily nature of your skin and make the acne problem worse.
Like taking care of skin with exfoliating and cleansing, moisturizing is also an important part of good skincare routine. Something you'll have to keep in mind when you have skin prone to acne is that you need to find moisturizer or creams that will give your skin the hydration that it requires while not blocking your pores and increasing breakouts. The following part of the article will detail on how to choose the right moisturizing lotion for your acne prone types of skin.
The Right Moisturizer For Skin Having Acne
An effective moisturizer that works for a particular skin type depends on a lot of factors. People are of the widespread understanding that acne is a problem that people with skin that's oily have. In truth, it isn't always the problem. People get acne when skin is dry or flaky. The fact is that flaky skin leads to small bumps on the skin if you take the case of acne rosacea.
Another factor to great skin health is vitamin c serums which can give great complexion and make your skin. Find out more from our article: 5 Best Vitamin C Serum For Face – Reviews
Most of the time though, people have a combination of skin types with patches of dry and oily skin together. Some people have pretty oily skin that they think that moisturizing is unnecessary. The best moisturizer choice can help you overcome your skin problems along with acne breakouts.
More than a few number of factors that are universal truths for all people prone to acne when choosing the correct moisturizer for their skin:
Lean more towards oil-free
Kristen from HowStuffWorks references the tips from (AAD) and tells us that people with skin that is oily and acne problems benefit from products that are oil-free. It offers hydration without adding more layers of oil on skin types that already have a problem excess oil.
SPF is importan
t
While using lighter lotions is a good thing for acne prone skin, you should take care to not moisturize it too much and over do it. In addition to this, people should also get sun protection in the moisturizers to prevent your skin against future blemishes and damage caused by Ultraviolet A and B rays.
Natural is best
Irrespective of how acne broke out on your skin be it oily, dry, or a combination, artificial products and chemicals are a strict no-no when it comes to your acne problem. Lean more towards products that have natural ingredients which are "hypoallergenic", "non-comedogenic" and "paraben-free," among other labels on the packaging.
Our Top 10 Best Moisturizers for Acne Prone Skin
Like we mentioned before, the right cream or moisturizer for your skin makes all the difference. This moisturizer will prevent your skin from breaking out with any sort of problems. You can find 10 moisturizers which we think can stop your problems with acne on your skin. You are likely to find one here that will suit your skin type and problems with skin. Choosing one will help you on the way to perfect, healthy, glowing skin.
Read on for more information about our choice for the 10 best moisturizer for acne prone skin which will help you regardless of your skin type and your problems.​
1. Context Oil-Free Daily Moisturizer
This formula works for you whether you have dry or sensitive or extremely oily skin . This moisturizer works to fight away acne breakouts like Leonidas against the Persians. This formula has 0.5% salicylic acid that helps heal and treat acne ridden skin and also, it's extremely light and will leave your skin feeling fresh and supple.
2. Eve Lom Rescue Oil-Free Moisturizer
This possess some superb healing ingredients – witch hazel with cornflower for intensive acne treatment including skin soothing elements like avocado with Aloe Vera. Rescue Oil-Free Moisturizer is highly beneficial to most types of skin that are prone to acne breakouts.
3. Aveeno Ultra-Calming Daily Moisturizer
Known for products that offer a rich and pleasant feel when used, Aveeno makes really good products that are aimed dermatologically. Especially useful for people with oily and skin prone to acne, Ultra-Calming Daily Moisturizer can help you out of this tight spot.
The lotion by itself is non-comedogenic and oil-free, requires a small dab to cover a good area of your skin. It completely heals acne and give you a soothing feeling, leaving your skin feeling pretty soft and supple.
4. Burt's Bees Natural Acne Solutions Daily Moisturizing Lotion
Renowned for their strict adherence to natural constituents in their manufacture of skin products, Burt's Bees Natural Acne Solutions Daily Moisturizing Lotion fights acne on a completely natural turf. Salicylic acid helps to soothe skin and calm the redness and other ingredients like witch hazel, lemongrass, hops and goldenseal increase the effectiveness of the formula.
5. Neutrogena Oil-Free Moisture SPF 35
Long pushed as the ideal brand to end your fight against a plethora of skin problems, Neutrogena's Oil-Free Moisture SPF 35 carries a lot of weight behind not just the name but the product as well. It has helioplex technology to help you out with effective relief from UV damage and few other oxidizing hazards that affect your skin negatively.
It's also non-comedogenic, hypoallergenic, odorless and lightweight which leaves your skin feeling light and comfortable.
6. Clinique Pep-Start HydroBlur Moisturizer
Talking about treatments for acne prone skin Clinique Pep-Start HydroBlur Moisturizer is surely going to figure in your list. This formula contains oligopeptide-10, antimicrobials, and salicylic acid which all combine to fight against acne and healing your skin as soon as you apply it.
7. Boscia Oil-Free Daily Hydration SPF 15
SPF is actually a very important factor when you need to wear your moisturizer outdoors, especially if you have acne ridden skin. Boscia Oil-Free Daily Hydration SPF 15 can give you optimal protection when you're against ultraviolet A and B rays together with a feeling of lightweight and easiness.
It is can treat various skin types, continued use shows significant reduction of the surfacing of fine lines, wrinkles and pores. It also has the added advantage of having strong anti-bacterial components that can help treat sebum and germs to prevent the breakout of acne.
8. Juice Beauty SPF 30 Oil-Free Moisturizer
Juice Beauty is known in the circles for coming out with soothing and powerful lotions for your skin and this is no exception. Juice Beauty SPF 30 Oil-Free Moisturizer formula is medicated and can rid your skin of blemishes and bacteria without leaving your skin dry. This results in flawless and smooth complexion.
9. Derma E Very Clear Moisturizer
Furnished with competent ingredients like tea tree infused rosewood, willow bark, chamomile and also lavender that fight blemish causing factors on your skin, Derma E Very Clear Moisturizer continues to be a fantastic choice for people who are in dire need of a solution to their acne problem.
It has antibacterial properties that can treat the most stubborn skin problems along with hydrating agents that soothe and heal your skin, while restoring your inherent pH value. Since it's lightweight, you don't have to worry about overly moisturizing skin or blocking pores. We've found it great for itchiness and redness reduction due to its anti-inflammatory properties.
10. Honest Beauty Everything Tinted Moisturizer Oil-Free SPF 20
Most often, you don't need expensive and fancy stuff when you need to control your acne. We would recommend it's best you get something like Honest Beauty Everything Tinted Moisturizer Oil-Free SPF 20 that does the job, no muss no fuss. It's suggested by a lot of dermatologists for its ceramide, healing zinc, and oleosome to retain the skin's natural moisture and pH levels.
The three-in-one formula leaves your skin feeling healthy and supple with a splendorous matte finish. It additionally gives ultraviolet A and B ray protection while also smoothing out rough spots, and leaving behind great looking skin.
Conclusion
These moisturizers can be applied to a large variety of skin types and physiologies. To have a problem from these choices is pretty rare but if you do, you need to get it looked at by a dermatologist. It goes without saying that some moisturizers can have a more profound effect than the rest on you. don't be afraid to change over if you feel that you aren't happy with what you're using currently.
If this article was able to give you value, please share it on social media. We'd greatly appreciate it!