Hi everyone, I will review Huxley Secret of Sahara Extract It Toner.  After my trials and errors with skincare products, I now learn to buy things slowly and more steadily. I am less inclined to "collect" the whole set of products from brands that I love because not all products will work wonder on you. I learned my lesson hard from my attempt to collect all Huxley products that I could reach out for. I was attracted to Huxley after reading Glow Recipe's review on them. I loved their brand philosophy, scent, packaging and ingredients. I also loved some of the products that I bought like the oil essence so I went on and bought a full collection of every Huxley products out there in the market.
It was great at first, but turned out to be a disappointment after some time. My skin seems to fancy the texture lesser and lesser over time, up to a point where my skin finds them to be too rich for its liking.
And that's why this review came in so late. I started my relationship with this Huxley Secret of Sahara Extract It Toner after I started to get bored of the brand as a whole. I don't want to be biased so I still went on and gave it a good 3 months try before writing this review.
Read on if you are interested to find out more below!
Huxley Secret of Sahara Extract It Toner Overview
Huxley Secret of Sahara Extract It Toner is undoubtedly a gorgeous piece of art. The packaging looks beautiful. It comes with a transparent and sturdy glass bottle.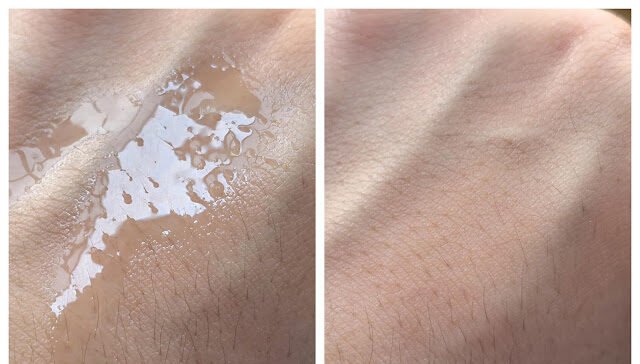 The toner is in a form of liquid that is slightly viscous than water, but still runny and fast-absorbing. It doesn't leave a sticky residue on my skin after applying. It is definitely very moisturizing, but not greasy, so it is better compared to Whamisa Deep Rich Toner in my opinion.
The toner is said to be made of 90% naturally derived ingredients, mainly organic cactus extracts from the desert of Sahara. It is a hydrating toner that is meant to keep your skin hydrated and smooth. As such, it is more suitable for normal to dry skin. Combination to oily skin might find it too rich for the skin.
Review Huxley Secret of Sahara Extract It Toner Ingredients
Opuntia Ficus-Indica Stem Extract, Propanediol, Dipropylene Glycol, 1,2-Hexanediol, Opuntia Ficus-Indica Seed Oil, Lagerstroemia Indica Flower Extract, Rosa Centifolia Flower Extract, PEG-60 Hydrogenated Castor Oil, Xanthan Gum, Butylene Glycol, Ethylhexylglycerin, Water, Disodium EDTA, Phenoxyethanol, Fragrance
Main ingredients here are the cactus stem extract, which explains why this feels so concentrated and rich on the skin. Second top ingredients are humectants like propanediol which increase the "slip" of the products, making it penetrating better. Then we have the cactus seed oil, and various flower extracts. This is an alcohol-free, gentle, and antioxidants loaded toner for dry and sensitive skin.
Review Huxley Secret of Sahara Extract It Toner Performance
I think it is unfair for me to judge its performance, as my skin seems to find it rich and less comforting now. I am less motivated to put it on my skin, even if I don't have any other toners with me. I just don't feel like slathering this on my skin at all. I guess it has something to do with the texture, that can be quite rich and less penetrating compared to other toners. Other serum and cream that I put later cannot work well with this toner, thus leaving my skin feeling a bit tacky and uncomfortable. Toner is supposed to be the skin prepping warrior that helps to channel your serum deeper but this seems to do the opposite. It works better as a moisturizer than a toner in my opinion, so dry skin or those living in a dry and cold area will definitely cherish it but not combination or oily skin, or people living in a warmer climate.
Conclusion
In short, I don't enjoy using this toner very much, mostly due to its rich (but non-sticky) texture. It seems to block all other products from getting absorbed by the skin so my skin will feel tacky or uncomfortable if I put on serum and cream after the toner. It's weird because toner is not supposed to be like that. Toner should help to make your serum and cream permeate better, not the other way around. But this will work wonder on dry and sensitive skin, because it provides a nice comfort whenever my skin feels dry, itchy or flaky. In short, a gentle and nicely formulated moisturizing toner that works best for sensitive and dry skin.
Bye, see you next post Review Some by Mi AHA BHA PHA 30 Days Miracle Toner and Cream