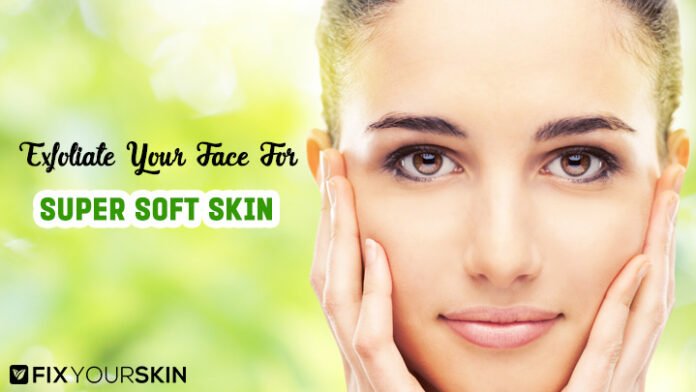 Choose best exfoliating face wash to give your skincare routine an instant boost. Best exfoliator for the face can keep your skin fresh, smooth and beautiful. Regular skin exfoliation offers several skin benefits. No skin care regimen is complete without a good facial exfoliator. Experts recommend exfoliating skin 2-3 times a week to slough away dead skin cells, deep clean pores and give your skin a radiant glow.
With the broad range of products available ranging from classic scrubs to AHA and liquid exfoliators, it can be difficult to decide which one to choose. To make this decision easier, we've shortlisted the best face exfoliators, which promise to deliver excellent results in a short period.
Review Best Exfoliators For Face 2021
Clinique 7 day scrub
The Clinique 7 day scrub is a gentle skin polisher that has a refining and smoothening effect on the skin. This is the best exfoliator for face as the formulation of this scrub is developed by dermatologists and it has the ability to gently remove any roughness or flaky skin. It fades the appearance of fine lines and leaves skin primed for hydration.The product has a thick, creamy texture and abrasive granules. It leaves your skin visibly smoother after a few days of use.
It forms a smooth base for the application of skincare and makeup products. As the name suggests, it is gentle enough for daily use and is suitable for all skin types. Apply this after moistening your face and massage in circular motions. Rinse off and follow-up with a good moisturizer.
2. Elemis Hydra-Balance Day Cream
Elemis Gentle Rose Exfoliator is the best exfoliator for sensitive skin as it is gentle enough to use every day. It contains tiny jojoba beads which exfoliate skin to give you a radiant glow. This scrub contains potent natural ingredients which work to smooth and brighten skin. Absolute of Moroccan Rose hydrates skin while cucumber extracts soothe skin. It- is recommended to use this calming gel before using a moisturizer or treatment mask as it primes skin and makes it more receptive to other skincare products. Regular usage leaves skin visibly replenished and re-hydrated.
Massage this gel on your face using light circular motions on damp skin. Rinse with warm water. It is suitable for all skin types including mature or sensitive skin
3. Fresh Umbrian Clay Mattifying Face Exfoliant
The Umbrian Clay mattifying exfoliant is an excellent multi-tasking product that can be used in many different ways. It can be applied as a scrub, an overnight spot treatment, as a mask or even as a cleanser.
This product is creamy with tiny granular particles. It is green in color and dries quickly on the skin. This is the best exfoliator for oily skin as it gets rid of any blemishes, raised spots and redness leaving behind clear, soft skin. This is a good exfoliator to sooth inflammation and it does not dry out skin. It is premium priced, but you get a significant amount of the product for the price. It comes in a hygienic tube packaging. It is recommended to use this once a week and leave it on for 15 minutes to start seeing results.
4. St. Ives Fresh Skin Apricot Scrub
The St. Ives Fresh Skin Apricot Scrub is an excellent drugstore scrub that has achieved cult status. It is very effective at sloughing off dead cells and leaves skin softer and more radiant. It has a creamy texture with tiny granular particles. This is the best exfoliating face wash that cleans out pores and allows other skincare products to work more efficiently. It has a pleasant fragrance and harnesses the power of natural ingredients such as apricots, to visibly improve skin tone and texture.
Apply a small amount of this product once a week and massage in circular motions. Use gentle pressure and go over your face and neck for a few minutes. Wash this off and follow up with your usual moisturizer. It is suitable for all skin types as it does not leave skin excessively dry or oily.
5. Peter Thomas Roth Anti-Aging Buffing Beads
The Peter Thomas Roth Anti-Aging Buffing Beads is a gentle exfoliator that removes dead cells and leaves skin feeling hydrated and clean. It contains beneficial ingredients such as glycolic acid, jojoba beads, salicylic acid, lemon, aloe vera, allantoin and white oak bark to exfoliate skin while giving you a refreshing experience. Glycolic acid and salicylic acid are chemical exfoliators which gently dissolve dead skin cells. The botanical ingredients help brighten the appearance of skin and restore its youthfulness. The ultra-fine jojoba beads work by gently exfoliating skin and also help fade the appearance of fine lines, pigmentation, and dullness.
It has unique anti-aging technology that helps brighten and rejuvenate skin. It has excellent skin softening benefits and can be used on both the face and body.
6. Acure Brightening Facial Scrub
This is an all-natural brightening facial scrub that contains potent fruit extracts such as blackberry, pomegranate, and acai. It also contains French green clay which has skin purifying properties, organic lemon peel granules, and sea kelp to exfoliate skin and plant based stem cells which boost skin cell turnover. These natural ingredients work to deep clean skin, draw out impurities and brighten your complexion.
It has a green, runny texture and a mild, pleasant fragrance. Apply this product on damp skin and massage using circular motions. You can leave it on for a few minutes to work as a mask and maximize the benefits of the natural ingredients. With regular use, your skin looks brighter and visibly clearer. It is suitable for all skin types and does not cause any irritation
Final Thoughts
While many of us follow a skincare routine of cleansing, toning, and moisturizing skin, we tend to forget regular exfoliation. This is a super important step that can make a huge difference to the tone and texture of your skin.
Making the best exfoliating scrub a part of your skincare regimen can facilitate the natural cell renewal process and give you smoother, healthier and more even toned skin. Regular exfoliation also helps prevent breakouts, shrinks enlarged pores and fades signs of aging. It also results in creating a smooth base and allows other creams and products to penetrate into the deeper layers of the skin. Some scrubs contain hydration ingredients to leave skin soft and moisturized. The products mentioned in this article are the best exfoliators that will take care of any skin woes and help you get flawless skin.