Today I will review Primera Micellar Water. I am quite particular about cleansing water. Cleansing water is something that I use quite frequently, almost everyday especially during the weekdays. I have tried so many brands but many were quite disappointing. I sit in the office for at least 8 hours a day so my skin turns oily and uncomfortable in the noon time. It is not practical to use a cleanser in the office. So I am always on the look out for cleansing water that can solve my problems. I don't need a cleansing water to be super effective at taking off my makeup. As long as it is gentle and hydrating enough, and can take off dirt and sebum well, then I will be good with it.
So far, from all the cleansing waters that I have tried, only Son & Park lives up to my expectation. Even Son & Park sometimes feels sticky on the skin so I am curious to see how will this super gentle Primera does on my skin!
Primera Micellar Water Overview 
Primera Micellar 5.5 Cleansing Water is a gentle and mild cleansing water with a pH of 5.5. We see pH 5.5 almost everywhere, so what does it mean?
Basically, pH 5.5 refers to the optimal pH level for our skin. Not only skincare, but also feminine and body care products. Cleansers tend to be too alkaline sometimes and can disrupt your skin's natural pH, leading to bacterial infection. Skin that is slightly acidic will prohibit that which is why many products are formulated to be pH 5.5 to minimize any complications that might arise from using overly alkaline products.
The one I got here is their 500ml jumbo version. The price is a lot cheaper since you only add RM25 to get the extra 200ml worth of product. The product comes in a hygienic and convenient pump top that prevents product from backflowing.
I normally will use this Primera cleansing water at the lunch hour. I will take out a piece of cotton pad (I prefer Suz Attirer), pump the product 1~2 times, and use that to wipe my entire face including neck and sometimes palm, literally anywhere that you want it to be clean and fresh. You can see sebum and dirt sticking onto the cotton after doing that. Then I will apply mist all over my face, apply some hydrating essence (if my hand is clean) or hydrating toner/lotion (on a cotton pad) and use my sun cushion as the final step.
For those of you who are curious, the cleansing water actually looks and feels like water. It is not sticky or tacky at all. It has a very mild sour scent like the Miracle Seed Essence but nothing noticeable.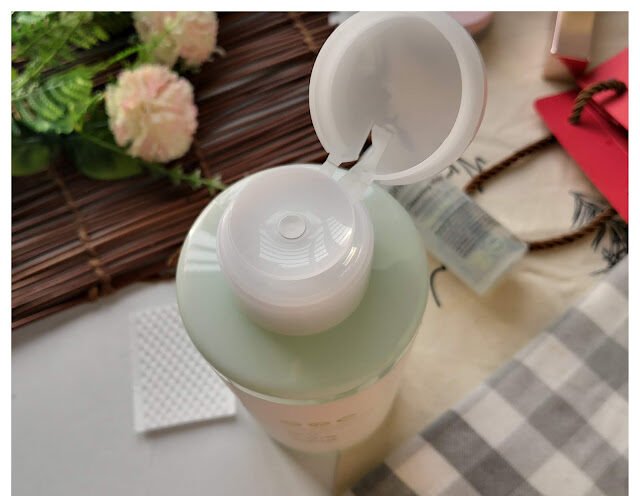 The best part about this cleansing water is that it feels like a cleansing toner. It is hydrating and gentle enough. It doesn't irritate my skin even though I did not rinse it off. Normally you are advised to rinse off cleansing water even if they are meant for leave-on application. You don't want to keep surfactant on your skin that can pull moisture out of your skin. However, with Primera, it is not always necessary to do that, and my skin will not feel dry or uncomfortable at all.
Primera Micellar Water Ingredients
Water, Propanediol, Polyglyceryl-6 Caprylate, Polyglyceryl-10 Laurate, 1,2-Hexanediol, Ethylhexylglycerin, Hamamelis Virginiana (Witch Hazel) Leaf Water, Anthemis Nobilis Flower Extract, Citric Acid, Tocopherol, Sodium Benzoate, Potassium Sorbate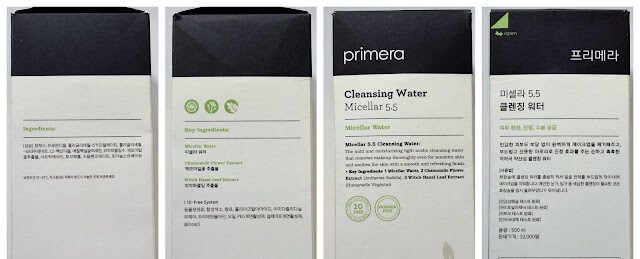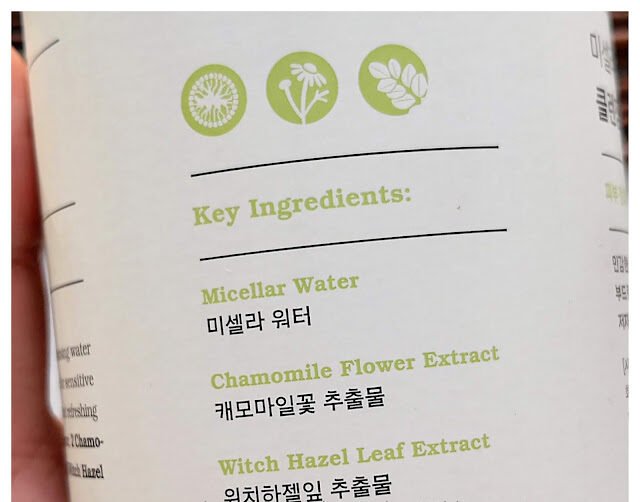 This cleansing water has the simplest ingredients, with only the vitamin E component here scoring 2 on irritation and acne-causing tests (vitamin E is a commonly seen ingredient), and preservatives showing up as 3/7 on safety test. Phenoxyethanol, another commonly used preservative, has a 4/7 scoring on safety test though, so I am good with that.
Water, propanediol (a lightweight humectant), polyglyceryl-6 caprylate, and polyglyceryl-10 laurate are among the top ingredients here. The two polyglycerl are gentle and safe cleansing agent or surfactant to have on your skin. They do not cause irritation to your skin. Polyglycerl-10 laurate also functions as a skin-softening emulsifier too. 

Witch hazel water, an astringent and anti-inflammatory is added here to tone your skin and reduce acne and skin irritation. We also have the king of anti-inflammatory flowers, chamomile, here as a potent antibacterial, antioxidant and anti-acne fighter. 

The formula looks super mild, gentle and soothing, so it will definitely be a great news for individuals with sensitive and oily skin.

Primera Micellar Water Performance

 
As you can see, it take off most makeup easily, including waterproof eyeliner and concealer. The only thing left is traces of lip tint. Its makeup removing properties is considered really good as a cleansing water.
Conclusion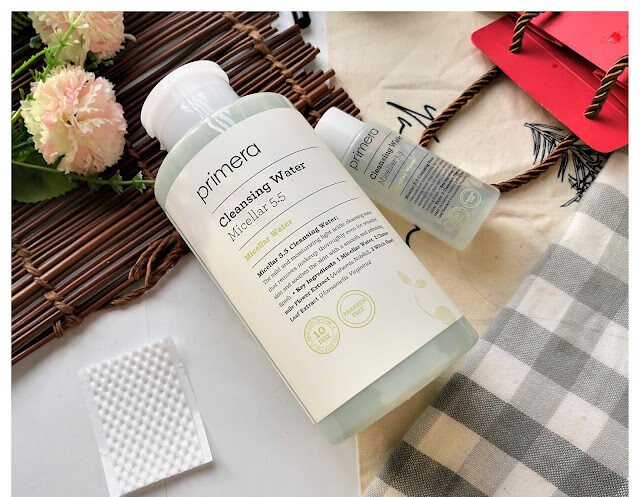 This mild and hydrating micellar water is my current favourite. It is a lot better than most fragrance-loaded cleansing water out there like Neogence ones. It is not sticky or tacky at all. It also feels like cleansing water without drying out or irritating your skin! I used to love Garnier but Garnier feels like soap water (when you shake, you can see the bubbles) and can be a bit tacky on the skin, so I am more favouring Primera now. Will continue to repurchase!
Overall impression: ★★★★★
Repurchasing: ★★★★★