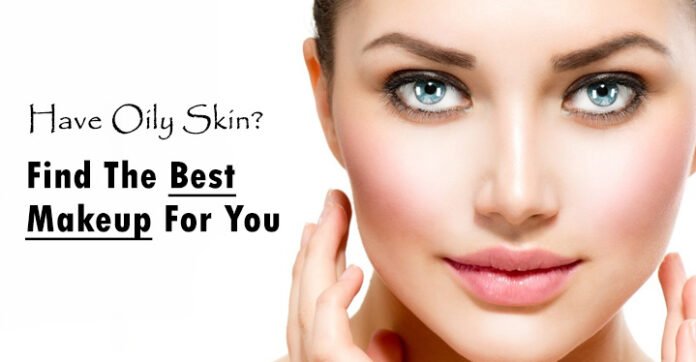 Do you have oily skin? Are you not able to find makeup for oily skin? Worry no more as we have listed best makeup for oily skin here. When looking for the best makeup for oily skin, you can come across many hurdles. The main one is finding makeup that gets rid of excess oil. While applying makeup for oily skin, the combat is fought with oil-free and noncomedogenic mattifying moisturizers, foundations and finishing powders. You can get rid of unwanted shine with pressed powder and blotting papers. Let's take a look at how to get the best makeup for oily skin.
Makeup Tips For Oily Skin
1. Prime Your Skin First
If you have oily skin, then using a makeup primer is the best thing to do. This way, everything will stay put. Use the primer on areas like the T-zone, forehead, chin, and nose. Make sure that your primer is anti-shine and oil-free. Clean your face well before using the primer. It should be put on before powder foundation and other makeup.
2. Prep Your Peepers
Avoid priming the eyelids with a concealer to cut down creasing of eye makeup. It can worsen redness and dark circles as well. Instead, use a primer which is designed specifically for the eyelids. This way, the base will be able to create an ideal canvas for eyeliner and shadow. It can also absorb oils that cause creasing throughout the whole day.
3. Don't Overdo Powder
Applying powder on oily skin may help to some extent. But, piling powder on the face can have adverse effects. Going overboard on powder may backfire by causing your skin pores to produce more sebum. Apply powder on the areas with shine only. Use a translucent and matte formula which can reduce shine on any skin type or tone.
If you applied more powder than required by mistake, use a damp sponge to blot the areas with excess powder.
4. Go For Water Resistant Products
Oil and water can be damaging to your makeup. That is, your makeup will slip, smudgSet featured imagee or smear if you have excess oil and water. So, stick to products which are water resistant and waterproof. Water resistant eyeliners and cream eye shadow on top of a primer is a good combination.
5. Try Mineral Makeup
Mineral makeup can be considered a game changer when it comes to oily skin. Mineral-based products are made up of oil-free and inorganic minerals. This way, bacterial growth can be prevented and it is ideal for oily skin. The main ingredient in mineral makeups is Titanium dioxide and Zinc oxide. Both of these can act like natural sunscreens and will save you from applying another layer on the skin. Zinc is an antioxidant and will prevent your makeup from getting oxidized. This way, your makeup will last longer.
6. Go Oil-Free
Since your skin will produce more oil than required, make sure that you invest in products which are noncomedogenic and oil free. To cut down excess oil, use toners and face cleansers which contain glycolic acids. Another option is products with salicylic acid when applying makeup for oily face.
7. Soft Skin Is Important
Anti-aging creams are heavy and are ideal for nighttime use. But, before you put your makeup on, use a light moisturizer that will hydrate your skin without making it greasy. You can also consider using a serum as it is light and is ideal for oily skin makeup.
When it comes to sunscreen, use one with an oil free formula. Once you have applied your sunscreen, put a tissue flat on the face and press it gently to remove excess oil from the face.
8. Reduce Excess Oil
It is important to know how to keep your face from getting oily. You can use treatment masks once or twice a week. Use the ones made with bentonite or kaolin clay as they are the best for skin types which are oily. They naturally absorb impurities and absorb oil while reducing irritation.
Apply a quarter-sized amount of the mask with your fingers. Leave it on for 15 minutes and then rinse with warm Water.
It is also crucial that you don't put on a lot of layers of makeup on your face. It might cake up or melt. Try and apply fewer layers. For example. The amount of makeup can easily be minimized by using a tinted moisture that has SPF.
Conclusion
People with oily skin have to tackle a lot of problems when it comes to makeup. It can fade and melt off quickly. Makeup will also oxidize fast, clog pores and cause other skin problems. But, fortunately, the oily skin makeup tips listed above can help prevent the shine and control oil as well.