Peppermint lip balm is really easy to make, it contains only 4 ingredients that can also be used in various other face and body recipes. So if you'll be buying ingredients for this peppermint lip balm, there are plenty of other recipes where you can also use those ingredients, such as this herbal salve, hemp lip balm or yarrow face and body cream.
Peppermint is very cooling to the skin so you might feel tingling if you have sensitive skin, but it is actually pleasant. Peppermint essential oil has been used for centuries for digestive problems, sinus and respiration and such. It also clears breathing so breathing its scent from your lips will be beneficial for your respiratory system.
If you have dry, cracked lips, you're gonna love peppermint lip balm because it lasts very long on the lips and it moisturises perfectly. It is medium-firm so it is easily applied. If you want it to be firmer you can add a little bit more beeswax.
If you want, you can customise this lip balm recipe to your preferences and substitute oils and the butter with the ones you like better.
This recipe fills 4 lip balm containers.
DIY Peppermint Lip Balm Recipe
Ingredients:
2 teaspoons of beeswax
4 teaspoons of almond oil
2 teaspoons of shea butter
4 drops of peppermint essential oil
Instructions:
In an empty pot, mix beeswax with almond oil and shea butter and melt the mixture in a double boiler, over low heat.
When it is melted, turn off the heat but leave the mixture there so the beeswax doesn't solidify while you do the next steps.
Add 4 drops of essential oil and stir it.
Pour the mixture into the containers. You should do this fast so that the beeswax doesn't solidify. Preferably use a glass dropper to fill the containers so that you don't spill over.
After few minutes, lip balm will settle so you might have to add more mixture to fill the entire container.
Leave your lip balms to cool down for at least 4 hours before you use it.
That's about it. Can't get more simple than this!
Shelf life: If stored in a cool dry place, this peppermint lip balm can last for a year (or as much as the ingredient with the shortest expiration date).
See how I did it: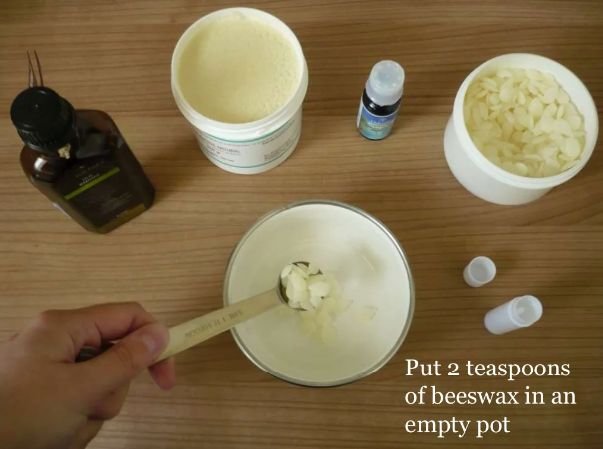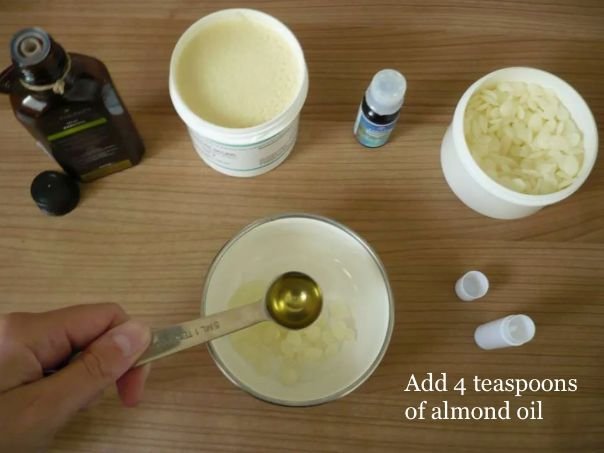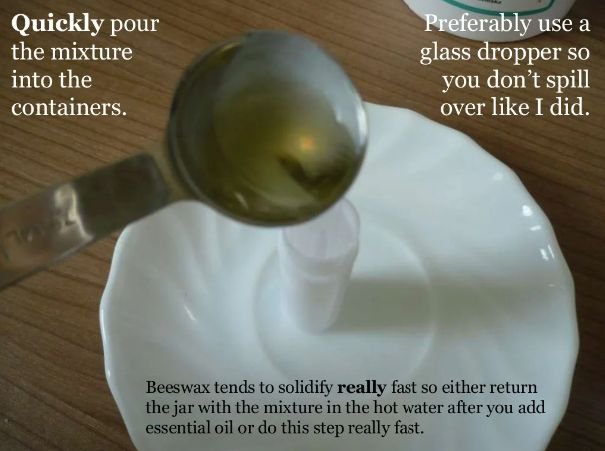 When you think about it, there is really no reason to buy lip balms when you can easily make one yourself and it will contain only natural and organic ingredients. What's better than that?
Have you ever tried making lip balm at home?