I am a self-confessed complete and utter NARS tragic. NARS is without a doubt my very favourite makeup brand. So when they released the most perfect looking neutrals palette, I couldn't get my grubby little paws on it quick enough. Introducing NARS Skin Deep Eyeshadow Palette.
Wear it. Bare it. Make it yours. Expose yourself to the ultimate palette of nude shadows created for all skin tones. Go from subtle to smoky with rich mattes, lustrous shimmers, and smoldering metallic shadows, infused with NARS' Pigment Powder Suspension technology for high-impact, silky effects. Each shadow can be used in a multitude of ways for a variety of François Nars' signature looks. Eyes and brows get shaded and lined. Highlighted and defined. Because natural is anything but neutral.
WHO IS IT FOR?
Absolutely anyone. If you wear neutrals on the daily, either matte, shimmer or metallic, she's your girl.
REVIEW KEY POINTS NARS SKIN DEEP EYESHADOW PALETTE
Contains brand new and existing shades
12 Shades – matte, metallic and shimmer formulas
Transition shades are in a larger pan
Housed in the Iconic NARS black rubberised hard plastic
Large Mirror
Snap closure
Retails for $90
Limited Edition
REVIEW SHADES NARS SKIN DEEP EYESHADOW PALETTE
TAUNT (matte cream)
SOPHIA (matte rich mid-toned brown)
WHIPPED (matte warm brown)
UNDRESSED (matte taupe brown) – Great brow powder for me
BALI (matte deep neutral taupe)
ICON (shimmering rosy gold)
BASIC INSTINCT (shimmering icy rose)
COCONUT GROVE (matte deep brown)
CENTERFOLD (shimmering grey beige)
CALENDAR GIRL (shimmering golden brown)
FASTER PUSSYCAT (metallic bronze/copper)
UNBUTTONED (shimmering deep brown)
I just want to mention that Coconut Grove does not finger swatch well. Despite feeling buttery, it does swatch sort of patchy. But, there isn't an issue at all when applying it to the lid with a brush. It delivers a great amount of pigment and formula blends beautifully. Also, I want to mention that the shades to swatch slightly different to how they appear in the pan. They throw a slightly more warm tone.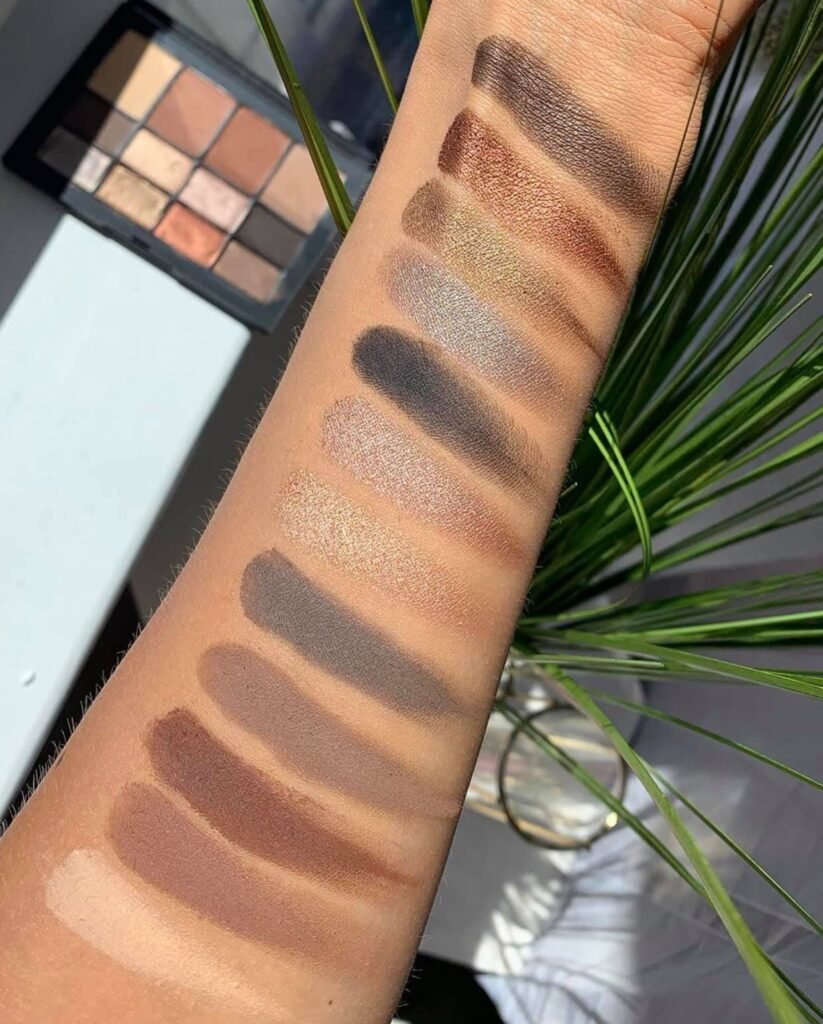 NARS SKIN DEEP EYESHADOW PALETTE – MY THOUGHTS?
NARS Skin Deep Palette is a nude lovers dream. The pigment is punchy and the formulas are so ridiculously creamy smooth, allowing effortless application The shades work and blend together so well, with limitless options available. I also love that you can wear every single shade as a 'one-and-done' look if you're pressed for time.  Despite having upwards of 50 palettes, this is honestly perfection to me. The combination of the colourway, formulas, ease-of-use and overall feel of the palette, makes it an absolute 10/10 for me.
DO YOU NEED THE NARS SKIN DEEP EYESHADOW PALETTE?
Probably not, no. There is a good chance that you have these shades among your collection. However, she is an absolute beauty. The Skin Deep Palette is so versatile and the formulas are so top-notch that it has quickly become my most reached for palette for daily wear. If you are a neutrals lover you will use this palette to death.
You can find NARS exclusively in Australia from MECCA Maxima and Cosmetica – both instore and online. If you want this stunner in your hot little hands, you better be quick because she is limited edition. Once the Nars Skin Deep Eysshadow Palette is gone, it is gone forever.
*DISCLAIMER – Although these products were provided for my consideration, all views and opinions are 100% honest and my own. No sponsorship or money has been provided for my review. All discount codes are not affiliated unless specifically stated. All opinions are based purely on my own experiences. I try my hardest to provide my readers with accurate information, but I am not by any means a professional, nor am I an expert. Please do not confuse my opinions with professional advice.