Hi Beauties, Is it bad that I haven't ever reviewed one of my all time favourite products on the blog? Eek! Well I think its pretty bad. The product in question is Maybelline's best selling and cult favourite, Instant Age Rewind Eraser Dark Circles Concealer. The reason I never reviewed it is since pretty much everyone else has reviewed it. But that all changes today! As Maybelline has just expanded is shade range to include 6 shades, I wanted to give you a quick snapshot into why I love it and include loads of swatches.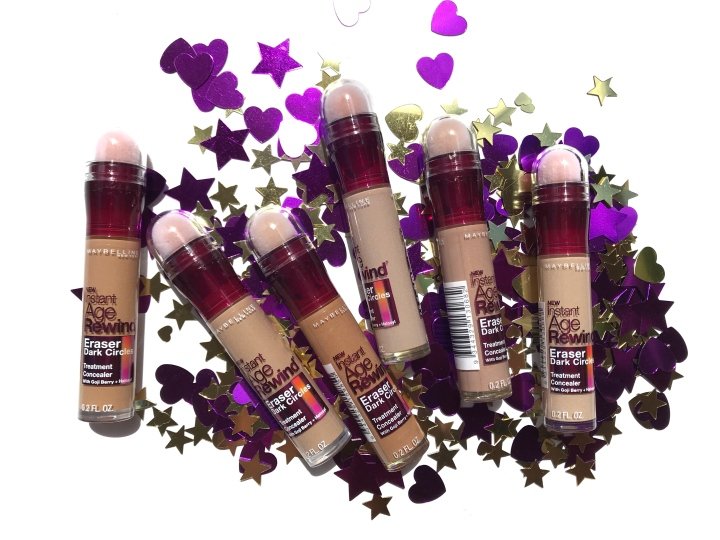 Overall Thoughts:
Retails for $19.95 AUD
Available in 6 shades, . All swatches featured below. I use Medium under the eyes for a brightening effect and could use Golden if I didn't want it as brightening. I think I could also get away with using Caramel for cream contouring or to cover blemishes.
The twisty mechanism works great- one twist and you have more than enough product.
The doffer applicator is great in theory- but gets gross quickly. You can tell by my swatch below of Medium- its a bit more smeared than the others as there was quite a build up of product due to regular use.
It has medium to full coverage, doesn't settle too much into fine lines and doesn't move throughout the day.
I always set my under eye concealer with powder which helps its longevity.
Below I used the Maybelline Instant Age Rewind Eraser Dark Circles Concealer in Medium under the eyes.
While I was gifted all the new shades, I can honestly say I love this concealer and have purchased it multiple times over the years. Its also the one concealer I always recommend to people- I've got my sister and work colleagues hooked on it! Honestly, just buy it and thank me later.