Hi Beauties, When Dior BACKSTAGE launched earlier in the year, I think its fair to say we all got swept up in the hype. The packaging was divine and the products were given rave reviews. I've already reviewed the Contour Kit here, so click the link if you want to check it out.
I was also kindly provided a sample of the Dior BACKSTAGE Face and Body Foundation and have finally got around to trying it! Only 5 months later- whoops!
Here's what Dior says about the Face and Body Foundation:
"The Dior Backstage Face & Body Foundation is the Dior makeup artists' secret weapon to create an instantly flawless complexion with ultra-buildable coverage, from a natural nude glow to high-coverage perfection. Thanks to its wide range of shades, this foundation suits all skin tones. Its natural and luminous finish is also an essential for the body, revealing the skin's radiance while camouflaging minor imperfections on the décolleté and shoulders. Tested and approved by 100% of Dior professional makeup artists, it offers a fluid texture and second-skin finish. Its waterproof formula creates an invisible mesh on the skin and resists extreme conditions: workout sessions, water, extreme temperatures and humid environments. It even resists the bright lights both backstage and above the catwalk."
Review Dior Backstage Face and Body Foundation
Retails for $70 AUD or $40 USD
Available exclusively at Sephora Australia- might be available at Dior in the US
Available in 40 shades which is pretty epic for a high end brand!
I was colour matched to the shade 4.5, but I'm not sure if its 4.5N or 4.5W, but I'm thinking its 4.5W.
The shades are also broken down into cool tone, warm or netural which is fantastic!
I think the shade is a bit dark for me- which is so rare for me to have that problem! I can make the shade work but if I was to buy it I would get colour matched again. I also love that its not orangey at all and didn't oxidise throughout the day.
I prefer to apply it with a brush as its quite a liquidy texture and I feel a sponge would absorb a lot of the foundation.
The coverage is light to medium, but buildable. You can see from the photos below.
The finish is semi matte. I didn't expect it to be quite matte.
The wear time was poor on my skin. After about 3 to 4 hours on a 25 degree Celsius day I looked quite oily through the T zone, however my makeup didn't move.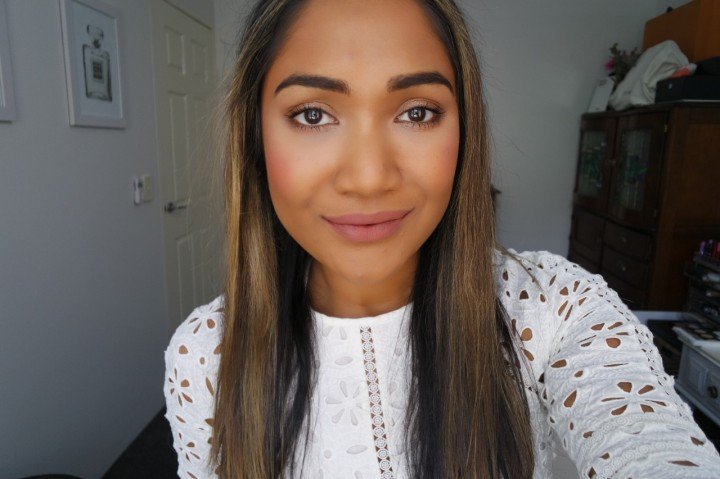 Overall I liked the foundation but didn't love. My oily combo skin didn't love it. Personally I need something more long wearing. If you have normal skin than you should definitely check this out.