Hello beauties, Ultraceuticals recently launched their Dual Microfoliant. Keep on reading to find out more
Overall Thoughts:
Retails for $79
When I saw Dual Microfoliant I thought it would be a powder exfoliant. Oh how I was mistaken! The formula is actually creamy with very fine beads.
The Dual Microfoliant is both a physical exfoliant with its Vitamin C spheres and also an enzyme exfoliant, using pineapple to produce smooth skin.
At first I didn't read the instructions, so I applied it like any normal physical exfoliant on damp skin, gently rubbed it into the skin then rinsed off. With this method I was left with really moisturised skin, it actually felt like I had just applied a couple of drops of face oil.
I then read the instructions and you're not meant to apply it on damp skin or wash it off with water.
So after reading the instructions I decided to try it again as recommended. I applied the Microfoliant onto dry but clean skin. I rubbed it into my skin in circular motions then using a damp cloth wiped off the excess. I found that wiping off the excess still left me with some beady particles on my face, however my skin was left moisturised and hydrated.
Personally I prefer to use it the old fashion way, onto damp skin and wash off with warm water.
The Microfoliant has an interesting scent. I can quite pin point it. It reminds me of rice, like the other powder exfoliants but it also has a bit of a citrus scent which I think is the Vitamin C.
I think this Microfoliant is great for all skin types. I love that it leaves my skin feeling really hydrated, I've never had this experience with an exfoliant.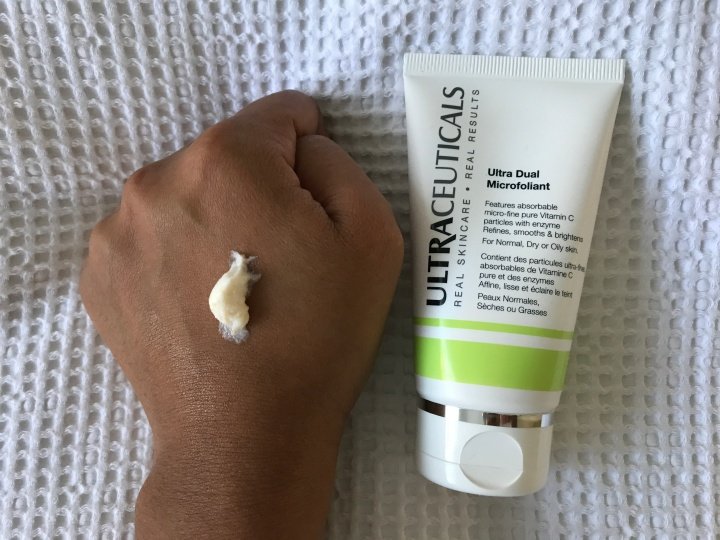 Overall I've been impressed with this Microfoliant as its really gentle and leaves the skin feeling moisturised. I think this is a great exfoliant for the cooler months, but might be a bit too nourishing on my oily skin in the warmer months. The Ultraceuticals Dual Microfoliant is available now on counters and salons.