A makeup bag is a necessity for every woman. Many women love to wear makeup every day and have numerous makeup products. Sometimes, the products become too cumbersome. This is where the need for good makeup bags arises. Thankfully, these bags come in different varieties and features. Women can therefore, choose between different sizes, colors, texture etc.
There is a makeup bag for every occasion. Whether traveling, attending a party, or going to work. A travel makeup bag is essential. A travel makeup bag can either be large or small. The size depends on the makeup products to be used during the journey. Women traveling on long journeys can opt for two bags. A large one can be kept in the suitcase. A small bag is ideal for hand luggage.
How to Choose a Makeup bag
To keep cosmetics organized, there is need to be specific when looking for the perfect makeup bags. While every individual has a unique taste and needs, the ideal characteristics of a good makeup bag remain constant. Before making the final decision to purchase the bag, consider the following
Whether floral, print or plain, makeup bags are available in different designs. Knowing the exact reason for buying the bag makes the search easy.
Do not settle for one type of a bag. There are plenty of sizes and colors available. Looking at different shops and searching online helps one decide on the best available style that suits their preferences.
Look at a bag that will comfortably fit all your cosmetics. It is recommended to have two makeup bags. One for everyday use and a separate one for traveling. An everyday use makeup bag should be smaller.
A good bag should be easy to clean and durable. Many bags have different materials on the exterior and the interior. The ideal bag should preferably be made of the same material for convenience in cleaning.
The Number Of Compartments
It is important to prevent makeup from cross contamination. Therefore, choosing makeup bags with many compartments is a good idea. Multiple compartments keep essentials organized. Removable compartments make cleaning easy.
Some makeup bags come with organizers and labeled compartments. If the budget is within a reasonable amount, these bags are ideal for keeping cosmetics neat and easily accessible.
Application of makeup is futile without makeup brushes. Not all bags have brush holders. When choosing a bag, look for makeup bags with brush holders. This will cut down the cost of buying a separate bag.
The size of a makeup bag depends on the items an individual has. People who use a few essentials need a small bag that can easily fit in a handbag. It can have one or two compartments. Small makeup bags are plenty in the market. They come in many colors and designs. A medium sized bag is ideal for people who love to experiment with many makeup products. It can fit numerous essential items.
No matter how careful one is, spillages often happen. In case this happens, a waterproof liner protects other belongings from makeup stains. It is also easy to wipe clean.
Many people may not be comfortable using a transparent bag. However, a transparent bag ensures ease of product access. One does not have to unpack everything to get the desired product.
As much as a leather makeup bag can be expensive, it is of good quality and durable. It is even very good for travel. Many leather bags are sophisticated and exude class.​
How To Keep The Makeup Bag Neat And Orderly
Carry only what is needed. Many times, women apply a full makeup in the morning. Rarely do they need to do another full touch-up during the day. There would, therefore, be no need to carry many items.
Cleaning both the makeup and the bag ensures that it stays neat and germ-free. Remember, makeup brushes accumulate a lot of makeup. Failing to clean them is a recipe for a messed up makeup bag. To clean brushes, prepare a mixture of dish soap and olive oil. Swirl them in the mixture and rinse well under running water. Dry them on a paper towel. This leaves them clean and fresh.
It is also recommended to clean the makeup especially lipstick. One way of cleaning lipstick is by keeping it in the freezer overnight to kill germs. One can also wipe it using a cosmetic sanitizer.
Do not keep items that are no longer in use. It is advisable to dispose of depleted or expired makeup. Using expired products is detrimental to your skin.
Make use of the compartments. If a makeup bag has several compartments, take time and organize different items in different compartments. This way they are not stuffed in one large compartment.
Buy a magnetic makeup board. It holds makeup in place while creating space. It prevents makeup from getting cluttered inside the bag.
​15 Best Makeup Bags
Today, the market is filled with plenty of bags. This makes it difficult for women to find the best bag that fits their needs. Below is a review of the best makeup bags available.
Sonia Kashuk All Over Zip Around Makeup Bag
This bag features multiple compartments. It is stylish and comes in cute and colorful print. It fits easily in a large handbag because it is small in size. The surface is made of polyester. Keep it clean by wiping with a damp cloth. It closes with a zipper.
Oilily Large Beauty Case
This large makeup bag comes with a handle on the top and a mirror. It closes with a zipper. Inside, it has a zippered mesh pocket. The elastic pockets can be adjusted to hold the makeup in place. The surface is made of polyester and polyurethane. The interior lining has PVC to ease cleaning. It is one of the best floral makeup bags.
Dollup Case
This makeup bag with brush holder is versatile and fashionable. The exterior is made of premium synthetic leather. It comes with a magnetic sheet to hold makeup pans. Because it has a hinge feature, it opens flat easing access to makeup. The interior is made of polyurethane and can be kept clean by wiping. It also features a fold down mirror.
Lay-n-Go Cosmo Solid Color Makeup Case
The lay-n-go makeup bag is one of the best travel makeup bags. It is made of nylon and can be machine washed. The exterior features a quilt design. It has a cord and cord locks for easy opening and closing. Inside is a zippered pocket where tiny essentials can be stored. At the front is a velcroed pocket which acts as storage for the drawstrings once the bag is closed. It is large and can fit lots of makeup products.
Joy Mangano's Better Beauty Case
The Joy Mangano makeup bag with compartments is a must have item. It is water resistant and leak-proof with 4 zippered compartments. The compartments close with the hook-and-loop feature. The bag is available in various bright colors. It is large and has handles at the top.
Ted Baker Aimee Makeup Bag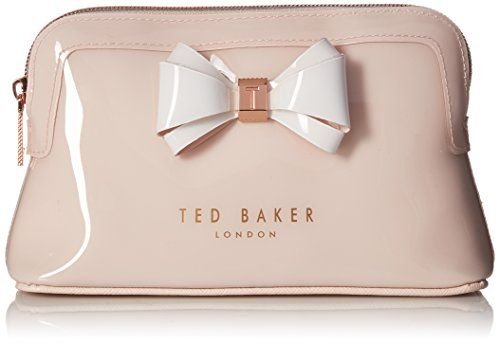 The Ted Baker makeup bags with compartments has a glossy finish. It is available in a variety of colors. It closes with a zipper and has a bow decoration at the front. It is made of synthetic fabric and can fit in a medium sized handbag. Everyday use cosmetics can be carried in this classy bag.
Half Moon Cosmetic Bag
As the name suggests, this bag resembles the half moon. It has an end to end zipper for closing and opening. It is colorful and comes with various flower prints. Synthetic material has been used on the exterior making it easy to wipe clean. It features a flat bottom. There is a slip pocket on the inside.
Zip Round Cosmetic Case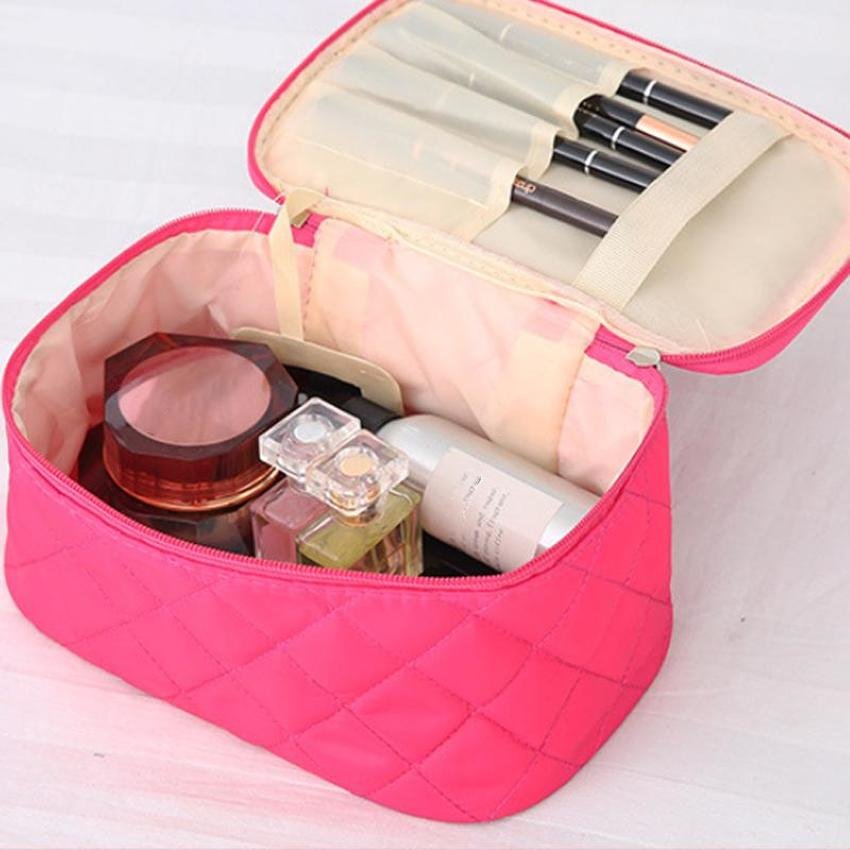 The zip round cosmetic case is entirely made of natural Italian leather. It is stain and water resistant with a wrap-around zipper. The interior has one large pocket and small makeup brush holders. This bag spots customized silver hardware. It is trendy and luxurious.
Falconwright Ink Blot Pouch
Made of soft leather, this bag is small yet elegant. It is the best makeup bag for carrying minimum touch up makeup. It can fit in a medium sized handbag. The exterior has a colorful print and it closes with a zipper.
Vintage Cosmetic Company Train Case
The train case is the best travel makeup bag. It is large and includes two makeup pockets complete with brush holders. It has elastic interior side pockets to keep it well organized. It is pink in color and the interior has a floral satin lining. It opens and closes with a zipper. The handle at the top makes it easy to carry. Style and class define this bag.
Radley Pocket Essentials Medium Makeup Bag
The Radley Pocket Essentials makeup bag comes in black and navy blue colors. It is as elegant as it is stylish. It has a zippered top and a slip pocket at the front. It is made of polyurethane and can be cleaned with a soft dry cloth. The interior is a non-lined single pocket which can fit many makeup products.
Caroline Gardner Hearts Cosmetic Bag
This makeup bag is made from sturdy coated canvas. It is easy to wipe clean. The exterior spots a colorful heart print. It features interior pockets and the top has a zip-pull handle. It is medium sized to fit daily essential makeup products.
The Vacationer in Black
Falling under the best makeup bags with brush holder is this magnificent bag with a quilted exterior. It has a zippered top and multiple compartments to fit numerous makeup products. It features numerous makeup brush holders. The compartments are labeled and it has a net pocket for visibility and easy access to makeup.
Conclusion
Makeup bags are essential items. Though not every woman fancies one, owning one is an important step towards organizing and decluttering a woman's handbag. Makeup should be kept clean, away from contamination. A good makeup bag ensures that cosmetics do not get into contact with dirt.
When choosing the ideal bag, ensure that it is versatile. A multifunctional bag plays a major role in organizing cosmetics. Choosing a multiple compartment bag is better as compared to single compartment bags. Makeup bags with many compartments give an individual the option of separating cosmetics accordingly.
Always replace expired makeup. Emptying the makeup bag once in a while helps in determining what is good and what should be disposed of.
Disinfect the bag once in a while. Makeup bags are often stored in handbags. Oftentimes, handbags accumulate a lot of dirt from everyday use. This makes them susceptible to harmful bacteria. One can find makeup friendly disinfectants.
Take time to look around for an ideal bag. Finding the best makeup bag to suit an individual's preferences can take time, however, it is worth the investment. A good bag does not have to be expensive. There is a collection of very good and durable bags which are reasonably priced.
Choose the right bag for the right occasion. Different bags are ideal for different occasions. Fancy and glittery bags would be ideal for parties. While plain colored bags are good for the workplace.
If a makeup bag is stained from makeup spillage, clean it thoroughly to remove the stains. Replace worn out and overused bags.