Although they were once regarded as elegant pieces of furniture destined for the wealthy, nowadays, make up tables are affordable and can be found all throughout furniture stores. They come in different shapes and sizes, but they all share the same practicality and functions.
We'll present you the best makeup tables, as well as the benefits that come with them, and the things you should consider when buying one.
Surf To Our Top 12 Makeup Tables Here!
Why Invest in a Makeup Table?
It's Practical To Have One
A make up table is destined for all the beauty products and stuff that women usually use. Keeping them all in one place means you won't have to go around the house searching every morning for your favorite lipstick or brush. Also, applying your makeup in front of a mirror with great lighting will ease your work.
Fits Well In Every Bedroom
Don't worry if your apartment is tiny, there's still a small makeup table out there for you too. Manufacturers have adjusted the dimension and style in order to accommodate every demand and even make corner makeup tables. Rest assured that you can get your personal space and the commodity that comes with it, even if you don't have a big budget or space.
You'll Feel Pampered
It's true that we can live without a makeup table, but it's better to have one! Having your own space to store all those beauty products that enhance your look is nice and a vanity mirror will make you feel like a starlet. Also, standing in front of a steamed bathroom mirror is never good. Makeup can go bad and even face creams can alter their composition if they're not kept in a dry place.
Top 12 Makeup Tables
Bobkona St. Croix Collection Vanity Set with Stool
This makeup table with drawers is a classic beauty! It has all the necessary features and a wonderful design that will complement your home with style and elegance. Besides being easy to assemble, it comes in multiple colors.
It offers five storage spaces, for all your products, while the wide surface will give you extra space when applying your makeup.
It's the perfect blend of wood and fabric, to ensure durability and comfort.
The mirror has three parts, but the side parts are mobile, for a better lateral sight.
The matching chair's shape gives it a vintage look, while the plush fabric that covers it is soft and has a nice printed pattern.
Monarch Specialties Brushed Silver/Mirrored Vanity
Monarch will bring some spark and style to any bedroom. Everything from the material, to the mirror and all the way to the metal pulls, will transform this makeup table into an elegant piece of furniture. Plus, the color will reflect the light and make the space seem wider.
With a brushed silver trim and a simple design, this table is like a small work of art.
It offers two drawers for storage and they are beautifully designed.
The mirror is the perfect size to doll yourself up each morning. And what's a makeup table without mirror?
It's a feminine and elegant design that will be the focus point of your bedroom and make you feel chic and glamorous every time.
1PerfectChoice Glossy White Vanity Makeup Table Set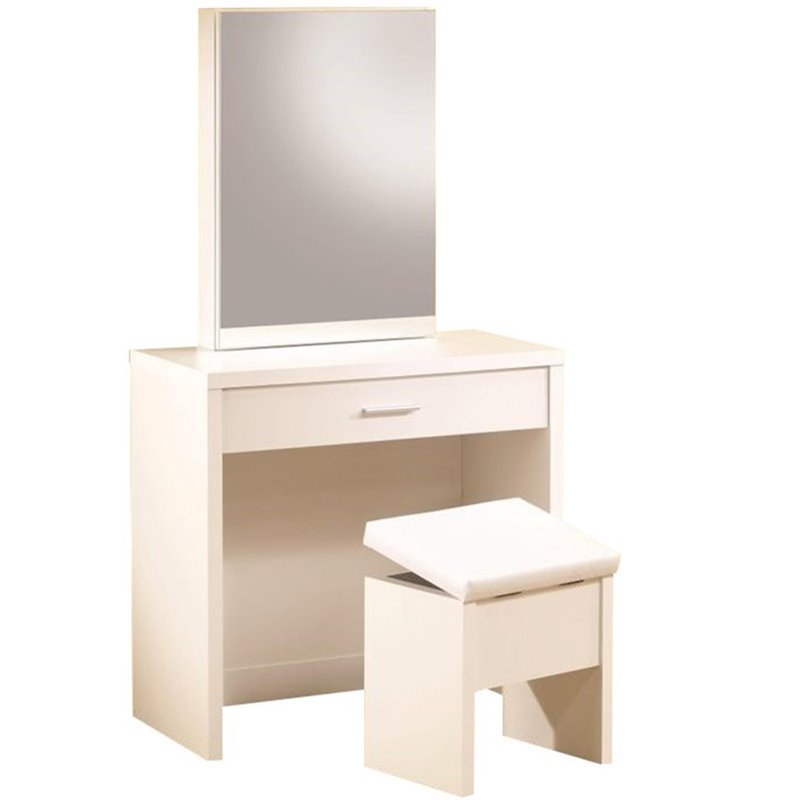 If you were looking for a minimalist make up table that also comes with enough storage space, look no further! You'll have no problems fitting this table in any room, while enjoying the benefits of having your own space.
The glossy finish gives it a contemporary look that goes well with any room.
Having a large mirror, you'll finally be able to fix your hair and makeup without having to move around to get a full image.
The chair features a hidden compartment for all your scarfs, body lotions and hairsprays.
This manufacturer has chosen a minimalist design, but introduced a hidden storage space even in the mirror, so you won't have to keep your products laying around.
Coaster Home Furnishings Nickel Bronze Finish Metal Vanity Table
With a feminine style and a leafy motif, this vanity table seems like the best choice if you are looking for a girl's make up table. This beautiful design is accentuated by a soft and comfortable chair that will make you feel like a princess.
The combination of metal and glass makes this makeup table a modern, yet traditional piece of furniture.
It will give the impression of a spacious room due to the glass and the mirror.
The leafy motif gives it an air of uniqueness and elegance.
You'll apply your makeup with ease thanks to the swivel mirror that allows you to check how you look from every angle.
Linon Home Paloma 2 Piece Vanity Set in Silver
Elegantly shaped and with a foldable mirror, this is an exquisite vanity set that could also be used as a desk if you lack the space for a work table. The roomy cabinets are numerous and provide extra storage space for all your beauty belongings.
The upholstered bench is made with plush to ensure your comfort.
A wide tabletop will give you the space to arrange all your makeup and brushes.
All the compartments, including the closable center one, will protect your products from gathering dust and will ensure their safety.
Its round shape is a nice designer's touch that will make you enjoy the time spent in front of the mirror.
IKEA Dressing Table
This white makeup table is practical and small to fit any room, but with enough hidden storage compartments to hold your beauty products. This Ikea vanity makeup table just might be the ideal choice for you.
It is a table with a built-in mirror, so you won't have to bother finding one.
All the storage spaces are hidden to preserve the minimalistic design.
The drawer was created with a stop to ensure you won't risk pulling it out too far.
Home Styles Bedford Vanity Table
Classical, beautiful and practical could be the three words to define this make up table by Home Styles. The nice black finish and the swivel mirror make this furniture a necessity for every woman.
You can use it as a vanity table and also as a desk due to having a wide tabletop.
It has many drawers, so you'll be able to sort your makeup products separately from your creams.
Each line, profile and curve give it style, while also preserving the classic flair.
Aico Amini Hollywood Swank Vanity with Bench
If you've always wondered how a diva feels like, go ahead and invest in this wonderful vanity table. Also, thanks to its impressive storage space, you'll be able to keep all your brushes, hair products and makeup in one place.
The incredibly large mirror is excellent for arranging your hair and getting a better look at yourself whenever you leave the house.
Nicely shaped and with platinum legs, this will definitely become the central piece of any bedroom.
Its crystal-like color gives it a touch of elegance.
Lamont Home Cheswick Vanity Set
Simple and practical, Lamont Home offers a functional make up table that will save you space while giving you a place to do your makeup with style.
The cushioned seat is very comfortable and can be easily put away inside the vanity table for compact storage.
The top of the table rises and contains a mirror and a hidden storage space.
You can choose between white or espresso in terms of colors.
Butler Specialty Vanity
Looking for a vintage make up table? This stylish piece of furniture with a classic look will fit well in a traditional home and it also comes with lots of storage space.
The top center is a foldable mirror that also offers a felt lined compartment for jewelry.
It's made out of poplar hardwood.
Although it doesn't come with a seat, you can take a look at some make up table chairs and find the right one for it.
Fran's Wicker Cameo Corner Vanity
Fran's Wicker vanity table has a nice design that won't take up too much space and is perfectly suitable for corners! Also, it has all the necessary features.
It fits well in a small space.
It is made from rattan, so this table and chair are quite unique and have a light natural color.​
Love+Grace Tri Folding Vintage White Vanity Makeup Dressing Table
The perfect choice for anybody, this dressing table opens up the space due to its light color and has five drawers, besides a mirror and a chair.
It is highly durable, and it is made of MDF panel.
The cushioned chair will ensure your comfort and matches the table perfectly.
Buying Tips For a Make Up Table
Size
Always start by measuring the room that will accommodate your future makeup table and chair. It's best if you can place it somewhere next to a window, so you'll have plenty of natural light.
Style
Classic, vintage, modern or girlie, there's definitely a makeup table for you out there. Try to preserve the unity of the room by picking one that fits well with the rest of your furniture.
Features
Consider the number of creams, makeup, perfumes and hair products that you have. Based on this, you can decide on the number of drawers that your table must have. A makeup table with mirror is a practical item. Also, look for one that comes with a vanity chair that perfectly matches the table.
Price
Prices can differ quite a lot, but there are enough cheap makeup tables out there. Usually, the more features a make up table has, the more expensive it will be. A modern design could also mean that the price will go up a notch.
Conclusion
Makeup tables and chairs are so popular because they are extremely useful when it comes to women's morning and night rituals. Getting up in the morning, putting on your makeup, and fixing your hair is a daily routine. Having a make up table with drawers will allow you to store all your cosmetics, hair brushes and jewelry, out of sight, but still within hand reach.
According to your budget, buy yourself a cheap makeup table or invest in a more expensive one that comes with multiple features!