The problem of excessive hair loss bothers a large number of men and women.
Many factors may be responsible for its fallout, such as:
lack of iron in the body
hormonal imbalance
thyroid problems
genetics
stress
sudden weight loss
deficiency of minerals and vitamins
inadequate nutrition and so on…
Due to the influence of hormones it often happens that hair loss boost in the thirties. Whether it will be noticeable hair loss or normal, depends on the factors mentioned.
In this blog post, you can learn about home remedies for hair loss that are easy to make and apply. There is also a DIY recipe for excessive hair loss at the end of the blog post.
If your hair loss is not so tremendous you can try some of the easier solutions but if hair loss is a big problem for you, you should try the lotion recipe that will in your situation.
Home remedies for hair loss prevention
Black and white onions
Sulfur in black and white onions increases the production of collagen, which helps the growth of new hair. The use of black and white onion in preventing hair loss has a long tradition. Chop onions finely and squeeze out the juice, then rub it into the hair roots. Leave it for 15 minutes, then rinse your hair with mild shampoo.
Mash a few cloves of garlic, add a little coconut oil and boil for several minutes. When the mixture has cooled, massage into hair roots, then rinse. Repeat treatment two or three times a week.
Henna
Henna has been used for centuries for coloring and hair care products, and it has a significant role in strengthening the hair. In combination with mustard oil, it has a fantastic effect.
In a 250 ml mustard oil put about 60 grams of washed and dried henna leaves. Boil the mixture and until the leaves are not completely cooked, then strain through cheesecloth. Keep the oil in a sealed container and use it for massaging the hair roots.
Hibiscus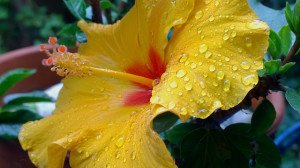 The coconut oil and hibiscus is the secret to thick hair. Hibiscus nourishes hair, prevents the appearance of gray and eliminates dandruff. They are both excellent home remedies for hair loss prevention.
Crush a few leaves of hibiscus and mix with coconut oil. Apply the paste to the hair root and hair, leave for a few hours, then wash hair as usual.
Gooseberry
Gooseberry is rich in vitamin C and antioxidants, and is a great solution to the problem of hair loss.
Mash a few grains of gooseberries, and add a little lime juice. Mix well and apply on hair roots, let it dry, then rinse with warm water.
Eggs
Eggs are another great source of sulfur (which increases the production of collagen and therefore the growth of new hair). It also contains a lot of protein, as well as selenium, iodine, phosphorus, iron and zinc.
Mix the egg with a teaspoon of olive oil and apply it to the roots, but also the entire length of the hair. Keep the paste on your hair for about 15-20 minutes, then wash with mild shampoo and cool water.
Home remedies for excessive hair loss
When we are talking about the "inside" home remedies for hair loss, it is useful to take a good quality vitamin and mineral substitutes containing sufficient amounts of vitamin A, B6 and biotin, as well as iron, copper, zinc and iodine. It will help prevent hair loss.
As for the "outside" remedies, there are many plants that operate on the health of the scalp, like the ones mentioned above. If you were thinking about buying products for hair loss prevention, you should know that those products often contain small amounts of plant extracts, so it is sometimes better for health of your hair, but also your wallet, to take matters into your own hands. So let's get to work.
First we prepare a tincture for preventing hair loss, and then lotion.
Weigh in a glass bowl some dry herbs: 40 g of nettle root, 20 g of burdock root, 20 g of rosemary leaves and 20 g of sage leaf and drizzle them with 500 ml of 50% ethanol.
Close the jar and leave it to macerate for three weeks, then strain the tincture and store in a dark bottle.
The lotion that increases blood circulation, nutrition and health of hair is made like this: put 100 ml of tincture on low heat and leave it to evaporate until there is 50 ml of the tincture. That way the alcohol will evaporate.
In 50 ml tincture add:
50 ml of Sage hydrosol
2 g of Vegetable Glycerine
20 drops of Rosemary Cineole chemotype essential oil
20 drops of Himalayan cedar essential oil
20 drops Cypress Essential Oil
10 drops of Sage Essential Oil
The lotion should be shaken well before use, and applied twice a day by gently massaging the scalp with 15-20 drops. A drop of the above essential oils can also be used in your dose of shampoo – apply shampoo on the hair and leave it for a few minutes to allow essential oils to penetrate the scalp.
Also, if you are dealing with enormous hair loss and going bald, unfortunately, these home remedies for hair loss won't be able to prevent critical stage like that one. There are ways even boldness can be treated, but it is very important in that case, not only to treat the symptoms but to find a reason for that enormous hair loss and then, treating the cause.
If you tried some of these remedies, share your experience in the comment section bellow, I would love to hear your thoughts!