Hi Beauties, Bobbi Brown has just launched an additional 12 shades of their best selling Skin Long-Wear Weightless Foundation. The range now boasts 35 shades for most shades and undertones.
What Bobbi Brown says about their Skin Long-Wear Weightless Foundation, "A 16-hour wear, full coverage foundation with a natural, multidimensional matte finish that's comfortable, breathable, and weightless." 
Overall Thoughts about Bobbi Brown Skin Long-Wear Weightless Foundation:
Retails for $70 AUD
In 2019 this foundation won the Glosscars Best Foundation- so as you can tell my expectations were high
I used Temptalia to find my shade and was matched with 4.5. Personally I found 4.5 a bit light for me so don't judge the shade below.
I've tried applying it with a sponge and brush and while I normally prefer a sponge, I find this foundation applies better with a brush and then a quick sponge to blend out the brush marks.
Its a thicker formula and I use about 2 full pumps which is quite a lot for me.
I feel it sits a bit on the skin- but that could be because its a lighter shade I found it more noticeable.
As you can see its pretty full coverage, all my pigmentation is covered up just from the foundation alone.
The finish is quite matte, so be careful not to get too carried away with powder.
Looks great for the first 5 hours especially once your natural oils come through.
By the end of the day the foundation completely breaks down around my nose, but still looks good in person, only I can tell it was starting to break down.
Here's a before, fresh face and sorry its poor lighting.
After- just foundation, concealer and cream contour.
Here's the finished look.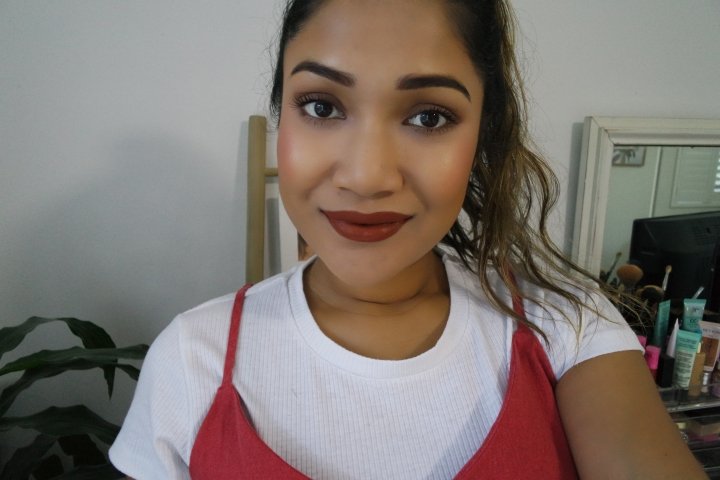 And here is the foundation mixed with a darker foundation.
I really do like this foundation, I feel it creates an airbrushed look and lasts really well on the skin. I think it would be great for oily skin types, but probably too matte and drying for dry and dehydrated skin types. I would definitely consider purchasing the right shade in this foundation as the finish is flawless! Make sure to get colour matched in store x
*This product has been provided for reviewing purposes, all views and opinions are 100% honest.
**Disclaimer: All opinions are based on personal experiences, and are not sponsored. rachelbeautystyle is not a make up artist, beauty or skincare specialist and will not be held liable for any recommendations. Therefore try at your own risk.