Hello beauties, Some of you may have seen Nude by Nature's new foundation popping up on your Insta feed- think sleek, rose gold packaging. The new Flawless Foundation is Nude by Nature's latest addition to their existing foundation line. If you didn't know, Nude by Nature's Mineral Cover is the best selling foundation at Priceline. So of course my expectations were pretty high for this new foundation.
What Nude by Nature says about the Flawless Foundation
"the Flawless Liquid Foundation instantly provides a smooth and flawless finish but looks and feels like a second skin thanks to natural pigments that act in seamless affinity with the complexion. The oil free and fragrance free formula is buildable from a medium to flawless coverage, is long wearing and gives the skin an even, satin matte finish."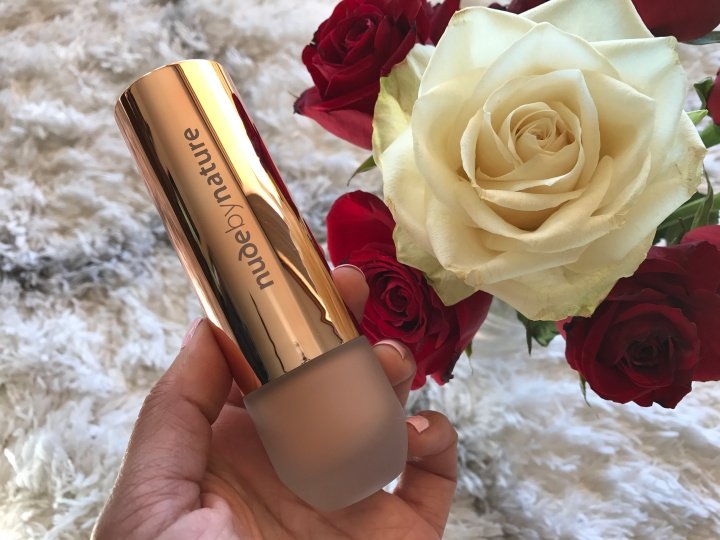 About the Flawless Foundation:
Retails for $39.95 AUD
10 shades- I would say leaning more towards pink tones
Cruelty free and PETA approved
The packaging is divine and comes with an easy to use pump
Contains natural ingredients, including Bamboo Powder for a soft focus effect, Baobab Fruit Extract, and the antioxidant rich Australian native Kakadu Plum and Lilly Pilly to benefit the skin, it delivers lasting, flawless coverage with each application
Here's a before, no foundation, just skincare.
Review: Nude by Nature Flawless Foundation
I applied the foundation over my primer using a buffing brush. Personally I don't think this was the best way to apply it as it left me looking a bit streaky. To blend it in more I used my fingers
I think its best to apply this foundation using a beauty sponge as it has a moussey and thick formula
I felt the foundation didn't blend seamlessly into the skin
The foundation was light weight and didn't feel heavy on the skin which is a massive plus
I don't think its full coverage. I would say its medium but buildable
It has a satin matte finish
I use the darkest shade in the range and it's still too light for me. However I must say the shade range is quite good for a drugstore brand
It lasts pretty well on the skin throughout the day. I can get about 5 to 6 hours wear before there's any oil peaking through.
Overall I didn't love the foundation. I didn't like the way it sat on my skin. While its light weight I felt it just didn't blend into my skin. Also, the photo with the makeup on looks a lot better than it does in real life. In real life it honestly didn't sit well. I think it works best when mixed with another foundation and using a beauty sponge to apply, but still not a fave. In the below photo I've mixed the foundation with Kat Von D and used a sponge to apply and I really liked the finish. Update- I ended up using the Kat Von D and Nude by Nature combo for my wedding day. Here's the link in case you want to see my wedding makeup x
Have you tried this foundation? What's your thoughts?