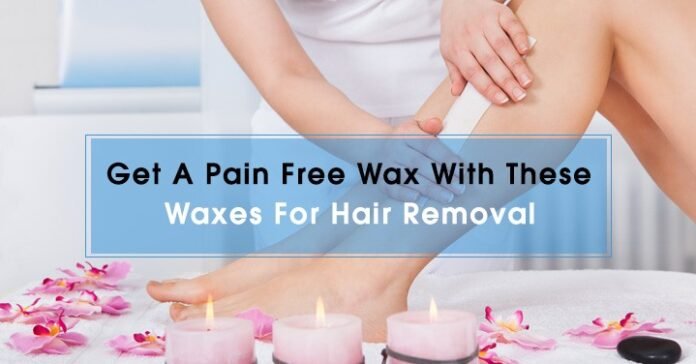 Want the best wax for hair removal? Reading through this review can help you choose the right wax for hair removal without any problems.
You might think that removing your hair at home is overly complicated and time-consuming, and you have given up the idea before even giving it a try. Professional waxing is, presumably, a decent option as well; however, if you don't have the budget for it, choosing the best wax for hair removal at home might be a better alternative.
It is true that waxing can be, just a tad painful. Ok, we'll be honest, it is genuinely painful, but the good news is that, with time, you'll get the hang of it.
Best Wax for Hair Removal: Comprehensive Ratings Chart
| Product Image | Product / Rating | Check Price | Full Reviews |
| --- | --- | --- | --- |
| | Gigi Student Starter Kit | | |
| | BodyHonee Extra Strength Hair Removal Waxing Kit Men + Women | | |
| | Nair Brazilian Spa Clay Roll-On Wax | | |
| | Bliss Poetic Waxing Kit | | |
| | Veet Ready-to-use Wax Strip Kit, Hair Remover for Legs & Body | | |
| | Gigi Facial Honee For Delicate Skin | | |
| | Parissa Mini Wax Strips Mini Eyebrow Design | | |
| | Parissa Wax Strips, Face and Bikini | | |
| | Clean + Easy Hard Wax | | |
| | Moom Organic Hair Remover | | |
The 10 Best Wax for Hair Removal Reviews
So, let's see what products come highly recommended as the best wax for hair removal. Rest assured, you can depend on our reviews since we have attentively tested each product before adding them to this guide. Our initial purpose is to provide unbiased, informative reviews. So, let's get rolling!
1. Gigi Student Starter Kit
Indubitably, this is one of the most reliable hair removal wax kits. And, the best part about it is that it comes at an affordable price. Moreover, this is a versatile product, meaning that you can use it on the entire body, including the bikini area, legs, arms, underarms, and face.
We reckon that this is a great product, especially for beginners. Even so, it's fair to jot down a few aspects.
For starters, the first time you utilize the kit, it might take a bit longer than usually. Note that it can take up to twenty minutes for the wax to heat up. Also, there is a distinct, not overly disturbing smell attached to the wax. Also, under no circumstances should you utilize this while wearing your favorite garments; the situation can get sticky and messy!
We will be honest, the first time you'll use this kit, it is going to hurt a lot. This will happen particularly if you have been shaving until now. So, you should know what to expect.
Moving on to what the kit contains, it has a wax warmer, all-purpose wax, a pre hon cleanser that has the purpose of exfoliating the skin prior to the waxing. Also, you'll find one pre-application powder you could easily replace with baby powder. And, most importantly, you'll receive ten petite applicators, 20 large strips, and 20 muslin strips. In short, this qualifies as the best professional wax for hair removal.
2. BodyHonee Extra Strength Hair Removal Waxing Kit Men + Women
This hair removal wax kit is highly recommended for removing coarse hairs. You should know that eliminating thin hairs is effortless with this kit. In fact, in order to obtain that perfect, hair-free finish, all you need is a single pass accompanied by some touch ups. We noticed that even the small, unnoticeable hairs are imminently removed, which is excellent news.
Considering that this can be heated up in the microwave, using this doesn't require a warmer.
The formula is enriched with avocado oil, which has an extra nourishing effect on the skin, leaving it shiny, smooth and luxurious. Although it doesn't enlist any harsh ingredients, the results are promising, which makes this product a must buy.
Ideally, this should be used on hairs that are, at the very least, ½ inch long. That is recommendable if you're waxing for the first time. To obtain excellent results, the manufacturer advises you to use some talcum powder before the wax application. Treating the skin with finishing oil will slightly diminish the redness and pain.
On a final note, bear in mind that it shouldn't be applied when it's hot. It ought to be warm and spreadable, and make sure you apply the strip towards the natural growth direction of the hair.
3. Nair Brazilian Spa Clay Roll-On Wax
This roll-on wax is another decent product that brings noticeable results. The primary selling point is that it is effortless to use; this is the best thing about utilizing water soluble wax for hair removal. You can actually aim at reusing the strips. All you have to do is rinse them, and you'll see that the hair and wax are easily removed. We really liked this feature, since it means that you needn't head off to the store to get new strips for every application.
You heat it up in a matter of seconds, by using the microwave, which means it's especially convenient. You should note that this shouldn't be used on irritated, sunburnt or broken skin, and you should avoid using it after sunbathing.
After testing this product, we could say that it actually works as advertised, as it has removed hair as a salon product. By balancing the results provided and the price, we would wholeheartedly recommend this product if you're looking for a waxing roll-on that brings efficient and quick results.
4. Bliss Poetic Waxing Kit
This hair removal wax kit managed to surpass our expectations; for this reason, it qualifies as the best wax for hair removal at home, just as the products mentioned until now.
It was originally meant to be used in Bliss Spas, and the results obtained can definitely be compared to those achieved in a salon. It is efficient and safe, being more than suitable for sensitive skin. That makes it fit for the entire body. In other words, this is a convenient head-to-toe hair removal kit.
As the hair gets softer, removing it becomes a breeze. And with every use, the messiness of the process slightly diminishes.
5. Veet Ready-to-use Wax Strip Kit, Hair Remover for Legs & Body
If you want to opt for a cold wax for hair removal at home, we would say that this product is one of your top picks. The main advantage is that the amount of mess involved is minimal, which is good news especially if you don't want to waste a lot of time with waxing.
The downside, however, might be that two passes are mandatory, in most cases. After the first pass, some hairs might still be there. These work perfectly for removing the hair on arms, legs, underarms. Nonetheless, we don't find these suitable for the bikini line.
The formula featuring almond oil and vitamin E gives your skin a thorough moisturizing treatment, leaving it hydrated and smooth after every use.
6. Gigi Facial Honee For Delicate Skin
If you're in the market for a hair removal wax for sensitive areas such as the face, this is a good candidate. It is particularly formulated for facial area use.
This also functions for short hairs, slowing down the regrowth process. As for the advantages linked to this product, we would mention ease of use, minimal pain, and decent performance. It can get a tad messy, and it might miss hair now and then. Nonetheless, on the whole, we find that it is a decent purchase.
7. Parissa Mini Wax Strips Mini Eyebrow Design
Many women struggle with puffy eyebrows that are difficult to shape. In this scenario, choosing high-quality mini wax strips may do the job and make your brows look excellent.
The user-friendly process is, definitely, an attraction point, since this removes all unwanted hair from the first application. Bear in mind that redness is common after the application.
Nonetheless, we noticed that the following day the skin appears excellent. Plus, what is best is that minimal tweezing is required afterward! These features make this product a great hair removal wax kit.
8. Parissa Wax Strips, Face and Bikini
This product is meant to remove unwanted hair from the bikini area, which is sensitive as we all know. We could tell the application process is significantly less painful than hot wax. It's true, however, that it might take longer to complete a thorough job, considering that the stripes are small sized.
Nonetheless, the small size of the strips is a convenient feature, considering that these are meant for sensitive areas. Massaging oil into the skin after every application will decrease the unpleasant redness effect on the skin.
9. Clean + Easy Hard Wax
This hard wax features acai berry, which is known to revitalize and reinvigorate the skin. And this truly works as advertised. This should be heated before use, for about 40 minutes, using a warmer. That is highly recommended to avoid the typical stringiness that occurs when the wax isn't heated as recommended.
Ideally, you should always apply a pre-waxing oil for attaining excellent results. As for post-waxing residue, you can quickly wipe it off using oil.
The delicious smell and the smooth results are the two main reasons we love this hard wax!
10. Moom Organic Hair Remover
And finally, this organic body hair removal wax is excellent for all types of skin, including delicate areas. It aims at removing fine and coarse hair alike, leaving your skin impeccable and smooth.
By combining organic, natural ingredients such as tea tree oil, chamomile and lemon juice, this product aims at pampering your skin from the inside out. This does a thorough job in removing unwanted hair, and the fact that the ingredients are organic does nothing more than to please us.
Knowing about different types of wax for hair removal is the first step that one needs to take for purchasing the right product. We hope that our unbiased reviews have served you well, and now you can proceed and choose the best hair removal wax for your needs so that you can enjoy healthy-looking, smooth skin round the year!