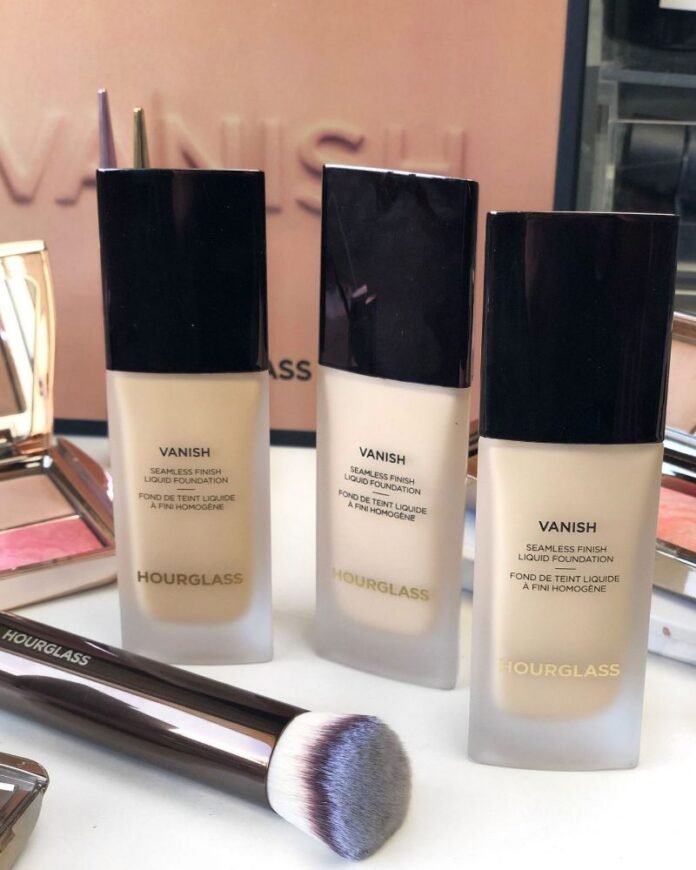 Hourglass Vanish Seamless Finish Liquid Foundation is probably the most anticipated foundation release of the year to date. It promises a high coverage with minimal product and a formula that acts like a second skin. With so many of my all-time favourite products being Hourglass, I couldn't wait to see how this measured up.
Hourglass Vanish Seamless Finish Liquid Foundation
Meet the future of full-coverage foundation. This weightless formula vanishes into skin with a smooth, satin finish that moves with you. Innovative coated pigments and light-refracting microspheres blur imperfections, leaving behind even, soft-focus radiance.
KEY POINTS
Full coverage with a natural, soft-focus  finish
Free of parabens
Vegan
Cruelty-free
Non-comedogenic formula
Waterproof, sweatproof and transfer-proof
Review Formula And Application Hourglass Vanish Seamless Finish Liquid Foundation
Hourglass recommends to forego primer and only use half a pump of product to cover the whole face. This seems like such a tiny amount, but surprisingly only half a squirt does cover the whole face. The formula is quick-drying which makes it a little tricky to apply. You gotta work quickly to buff this bad boy out. The finish is much more matte than I was expecting.
At first, I applied the foundation with the Hourglass Seamless Finish Brush. It felt quite tight on the skin. The formula seemed to sink into lines and the finish was quite matte. However, the coverage was great and it really did look lovely on the skin.  After an hour my natural oils started to shine through making the foundation look much more natural fresh – but that didn't last long.
LONGEVITY
From far away and in photos, it actually doesn't look half bad, but up close it is a completely different story. This was an absolute mess. After a couple of hours everything went to shit. The foundation had completely broken up, making it look patchy, uneven and cracked. The pigment seemed to collect in areas of the face which made me look dirty. My pores looked much larger than usual and texture was emphasised. By the end of the day, I could barely look at myself in the mirror.
After a lot of experimenting, Vanish Seamless Finish Liquid Foundation does apply much better with a damp beauty sponge. It seems to sheer it out a little more and allow for better buffing and a more natural looking finish. The longevity is better and the overall look and feel of the foundation improved.  I also found that using skincare before application but without primer does make a difference on the result too. While the outcome and longevity were better, it still wasn't flawless and the formula still managed to breakdown quite a bit by the end of the day.
All My Review About Hourglass Vanish Seamless Finish Liquid Foundation
I desperately wanted to love this. Desperately.  But I just can't.  It is way too finicky and I don't have enough time in the morning to play around with the application, tools and priming products. Overall, It sinks into lines, emphasizes texture, goes so patchy and breaks up everywhere on my face. It is a hot mess.
Is Hourglass Vanish Seamless Finish Liquid Foundation Worth Your Money?
This pains me to say because I adore Hourglass, but no. No, it isn't.  Not if your skin is similar to mine.  There has been so many conflicting reviews on this foundation. Vanish Seamless Finish Liquid Foundation really had the beauty community divided. So, I would HIGHLY recommend grabbing a sample of this foundation before splurging all of your hard earned cash. I hope that works better for you.
I just want to mention that just because this foundation doesn't work for me, doesn't mean it isn't going to work for you. I don't often share products that I haven't gotten on with, because beauty is so subjective. However, with so many requests for this review and such differing reviews, I thought it might be helpful to some.
Hourglass Vanish Seamless Finish Liquid Foundation drops at MECCA on March 5th.
I'd love to hear your experience with this foundation.
*DISCLAIMER – Although these products were provided for my consideration, all views and opinions are 100% honest and my own. No sponsorship or money has been provided for my review. All discount codes are not affiliated unless specifically stated. All opinions are based purely on my own experiences. I try my hardest to provide my readers with accurate information, but I am not by any means a professional, nor am I an expert. Please do not confuse my opinions with professional advice.
Read more: Review Intraceuticals Rejuvenate Skincare