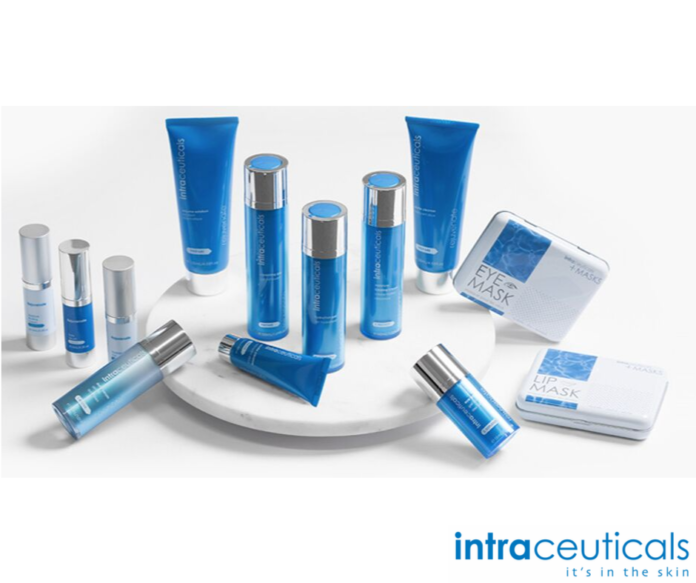 During Fall/Winter my primary skincare concern was hydration so it was the perfect time to trial the Intraceuticals Rejuvenate range. I've been using the Daily Serum, Hydration Gel and Moisture Binding cream which make up their 3-step Hyaluronic Layering system. Did these products keep my skin hydrated during the bitter cold? Let me tell you in this review about Intraceuticals Rejuvenate Skincare. 
Having a skincare regime that addresses all your skin concerns and needs is absolutely vital for not only looking your best but feeling your best as well. When your skin is healthy it has a flow-on effect to all part of our wellbeing. I've been a long-time believer in the power of cosmeceuticals and medical grade skin care. One brand that has been pioneering cosmeceuticals for many years in Australia is Intraceuticals but until now I hadn't tried their individual products, I've only had their in-clinic treatments.
My Reviews about Intraceuticals Rejuvenate Skincare 
Packaging design

Intraceuticals Rejuvenate Skincare

reviews
The Intraceuticals Rejuvenate Skincare products are beautifully packaged in sleek blue bottle with silver caps. The Hydration Gel and Moisture Binding Cream look nearly identical so this was a little annoying because I w=ould have to read the label each time to ensure I wasn't applying them in the wrong order. The daily serum bottle fades from blue to light and it's shorter than the other bottles so it's easier to recognise.
The bottles open by holding the base with one hand and using the other to turn the Silver cap anti-clockwise. This motion makes a pump pop-up from the middle. It's a very cool mechanism that I enjoyed playing with for some time. On the downside it does require two hands to open and once my hands are the slightest bit slippery from the products it becomes a little more difficult for my hands to grip. I found I had to pop them all open before I commenced applying them.
On freshly cleansed skin, the Daily Serum is applied first followed by Hydration Gel and Moisture Binding Cream. They all work synergistically but they can also be used in conjunction with other skincare treatments to address all your concerns. This is both a pro and con to the Intraceuticals system as you can tailor it to use specific products to address specific concerns, but at the same time it's a little expensive and the layering order can get confusing when you're addressing multiple issues covered by different products.
All the Intraceuticals Rejuvenate Skincare products have quite a noticeable fragrance that reminds me a lot of Australian native plants and flowers. The scent lingers for a few hours which at first was lovely but after a few weeks of use I found this to be a negative.
Review intraceuticals rejuvenate daily serum
Daily Serum (30ml) is possibly my favourite of the three products. It sinks into the skin beautifully and I can instantly feel an improvement in hydration. It does leave the skin feeling slightly tacky but once I apply other products I no longer feel it.
Review intraceuticals rejuvenate hydration gel
Hydration Gel (40ml) is a lovely, light product that was especially refreshing on my dry, flaky patches. I think this particular product would be great during summer as well because of the cooling factor.
Review intraceuticals rejuvenate moisture binding cream
Moisture Binding Cream (40ml) is quite thick and only a small amount is needed but luckily the pump packaging works that out for you. You definitely don't want more than one pump of this product for your face. I found I had to wait for the previous layers to really sink in before I could apply this one otherwise it would take too long to sink in and I wouldn't be able to apply my makeup. During cooler days it was a lifesaver but I found it a little too rich for my skin on warmer days when I wasn't as dehydrated. I only have mildly dry skin with a few key areas that are extra dry (around my nose, chin, etc) so if you have severely dry skin this probably would be the right consistency for you.
My impression after using Intraceuticals Rejuvenate Skincare
All the Intraceuticals Rejuvenate Skincare products together did improve how my skin looked and felt. It looked more hydrated, plump (like I had just got out of the shower) and glowy. It felt smoother all over and my dry patches didn't produce flakes after using the products for a couple of weeks.
I do think the boost in hydration helped my skin look firmer and therefore more contoured but I didn't see any visible improvement in fine lines, wrinkles or sagging considering I don't have them right now.
I only used a single pump of each product for my face and another pump of each product for my neck & décolletage. Using this amount of product, twice per day, the bottles lasted me nearly 2 months which is amazing in my opinion. Such a small amount of product does so much and I was really being generous with my application.
All the products played nicely under makeup so long as I let them sink in properly. On the occasions I tried to apply my makeup too quickly after applying the products I found my foundation moved around too much. If I was in a rush I would fan my face before applying makeup just so the surface area was dry enough.
What Intraceuticals say about Intraceuticals Rejuvenate Skincare
Hydrate – Lift – Tighten. Ideal to soften the visible signs of:
Premature ageing

Fine lines and wrinkles

Sagging and loss of contour
It's all of my review about Intraceuticals Rejuvenate Skincare. And next time, I will Review Natio Renew Line & Wrinkle Smoothing Serum. Thanks for reading my blog.