Hello beauties, I think it's fair to say most beauty bloggers love the original Real Techniques Miracle Complexion Sponge. I think it was the end of last year when Real Techniques launches so many new brushes and new sponges. One of those sponges being the gorgeous, marble coloured, diamond shaped, Miracle Diamond Sponge. These new sponges and brushes have finally been launched in Australia so I thought I'd share my review of the Miracle Diamond Sponge.
About the Miracle Diamond Sponge:
Retails for $15.75 AUD
13 facets
Pointed tip covers small imperfections
Larger flat sides function as a wedge to apply makeup to larger areas like your forehead and cheeks
Smaller flat sides are great for precision contouring around your eyes, mouth, and brow bone
Top works to buff and blend out your makeup for a flawless finish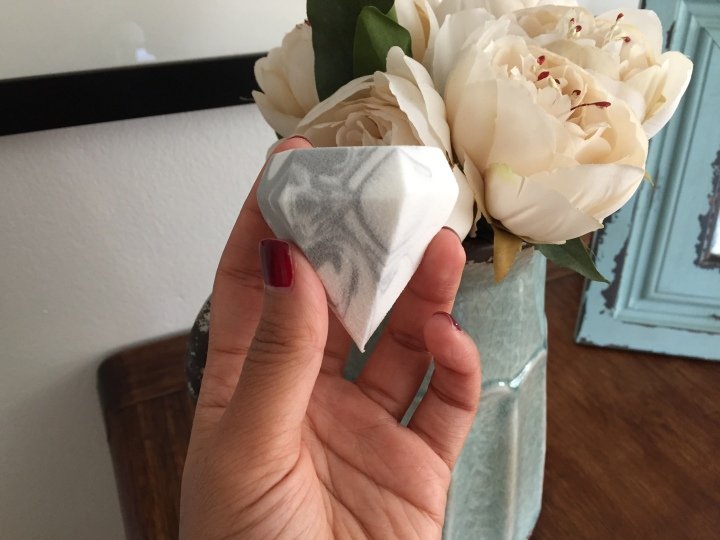 Review: Real Techniques Miracle Diamond Sponge
Quite dense in texture, but I don't mind that
The shape is quite unusual which I found difficult to know what part to use where
I found it quite difficult to blend out my foundation, concealer and contour
If you use the side panels, it's easier to blend out your liquid products
Takes longer to work in products and can be a bit patchy, but generally speaking the finish is almost flawless
Below is my makeup, applied with the Miracle Diamond Sponge. I know it looks fine, but upon closer inspection it is a bit patchy. I was really disappointed in how it blended out my concealer, that I applied more and blended out with my finger.
Overall, this was a miss for me. I found it quite difficult to use and prefer the simplicity of the Real Techniques Miracle Complexion Sponge. I found the Miracle Diamond Sponge* to be quite gimmicky, and found the shape did not help with my application of makeup. Have you tried it? What's your thoughts? If it works for you, please tell me how to use it x