You may recall a blog post I published late last year reviewing some Elucent skincare goodies after 4 weeks of use. Well, here we are back again after another 4-week stint with Elucent Whitening with a few new products to address some new and pre-existing concerns. This time around I am just as concerned about pigmentation and uneven skin tone that is hanging around since being pregnant. I am also suffering from a bit of a dull complexion, thanks to the fatigue of motherhood.
This time I was recommended the Exfoliating Cleanser from the Whitening range, as well as the same Whitening Day and Night moisturisers that I have previously reviewed. I also trialed the Whitening Spot Treatment and the Anti-Aging Body Moisturiser with 12% AHA's.
"Elucent Whitening uses a multifunctional skin brightening technology to help restore the complexion. Each skin brightening ingredient in Elucent Whitening has been carefully selected for its ability to help brighten the skin and even out skin tone. By using a combination of ingredients, each product works synergistically with the skin to help restore light and brightness for a more even complexion."
Elucent Whitening Exfoliating Cleanser review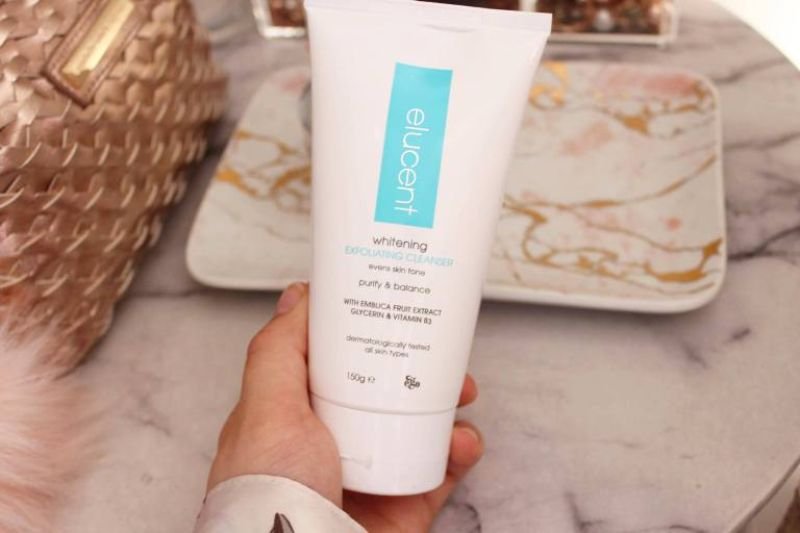 The consistency of this cleanser is lovely. It is a light, slightly gritty milky type of cleanser that lathers up just enough to give your skin a good clean. My skin does feel refreshed and brighter after use.  I did, however, find that the exfoliating properties weren't quite enough for me. I didn't feel like my skin was getting the exfoliation I desired, especially through my oily and congested T-zone. That's not to say this is a sub-par cleanser at all, it is really lovely and light. But it is just not what I generally look for in a cleanser. If you like a super gentle exfoliator, this would be a great option for you. I've also got to give it bonus points for the use of a natural exfoliator instead of harmful microbeads.
Having trialed both the Elucent Whitening and Anti-Ageing cleanser, my preferred product would be the Anti-Ageing Cleanser, based on my particular skin type and concerns.
Elucent Whitening Spot Corrector review
This little guy is used to give a more targeted treatment to areas of concern. I have a fair bit of pigmentation under both eyes, on my cheeks and quite a bit on my upper lip. So, I used the Spot Corrector on these areas to try and lift the pigmentation. I found the formula of the Spot Corrector very light and easily absorbed into the skin. It sits under moisturiser well and doesn't seem to ball up which a lot of treatments tend to.
Elucent Whitening Day Cream & Whitening Night Cream
Having used both of these products twice before, I knew what to expect. My thoughts on both of these products remain the same.
They are effective at hydrating and nourishing the skin, and as for treating pigmentation, I found a slight difference in my uneven skin tone and pigmentation, but more on that later. You can find my detailed thoughts on these products here.
Elucent Anti-Ageing Body Moisturiser review
Surely by now, you know how much I love AHA's, but strangely enough, I have never used a body moisturiser containing them, so I was pretty excited to give this a go. It makes sense to include a chemical exfoliator in a body product as it will get to work sloughing away dead skin cells while also hydrating the skin – perfect.  This moisturiser is lovely and lightweight and absorbs relatively quickly. Granted I didn't use this product religiously, I just don't have the time or energy at the moment to grease up my whole body, unfortunately. But the times I have used this I loved the end result, my skin was soft, smooth and flake-free. I will continue to use this when I get the chance.
Overall I found this range to be lovely and gentle. It did brighten my complexion and make my skin look fresh. It made me look like I was bright-eyed and bushy-tailed even on days where I only had a couple of hours of sleep (#mumlyf). However, I only noticed a very slight difference in my uneven skin tone and pigmentation. At this stage, after trying many different products to address this concern, I feel that only professional and in-salon treatments will lift it due to the nature of the pigmentation. I do believe that with prolonged use on mild pigmentation that this range would be most effective at treating the skin without the irritation of other similar products.
Elucent skincare can be found at CHEMIST WAREHOUSE nationwide.
*This post has been sponsored by Elucent skincare, however, all views and opinions are 100% honest and my own. All opinions are based purely on my own experiences. I try my hardest to provide my readers with accurate information, but I am not by any means a professional, nor am I an expert. Please do not confuse my opinions with professional advice.