Hello beauties 😀 Glam Glow GLITTERMASK Firming Treatment is a fun, glitter-filled hugely popular peel-off Gravity Mud.
About Meccaland
If you follow my socials you may have caught my time at the wonder that was MECCALAND. For my overseas readers, MECCALAND was the first of its kind here in Australia. It was a 3-day festival of beauty, filled with exclusive limited edition products, masterclasses, meet & greets with beauty gurus and so much more – it really was an unreal experience that three weeks later, I am still reeling from.
I was ridiculously lucky to be invited and flown down to Melbourne for a sneak peak, before MECCALAND was open to the public. And, as if that wasn't enough, I received an incredible goodie bag filled with a whole heap of limited edition products. The Glam Glow Glittermask was one of those fabulous products.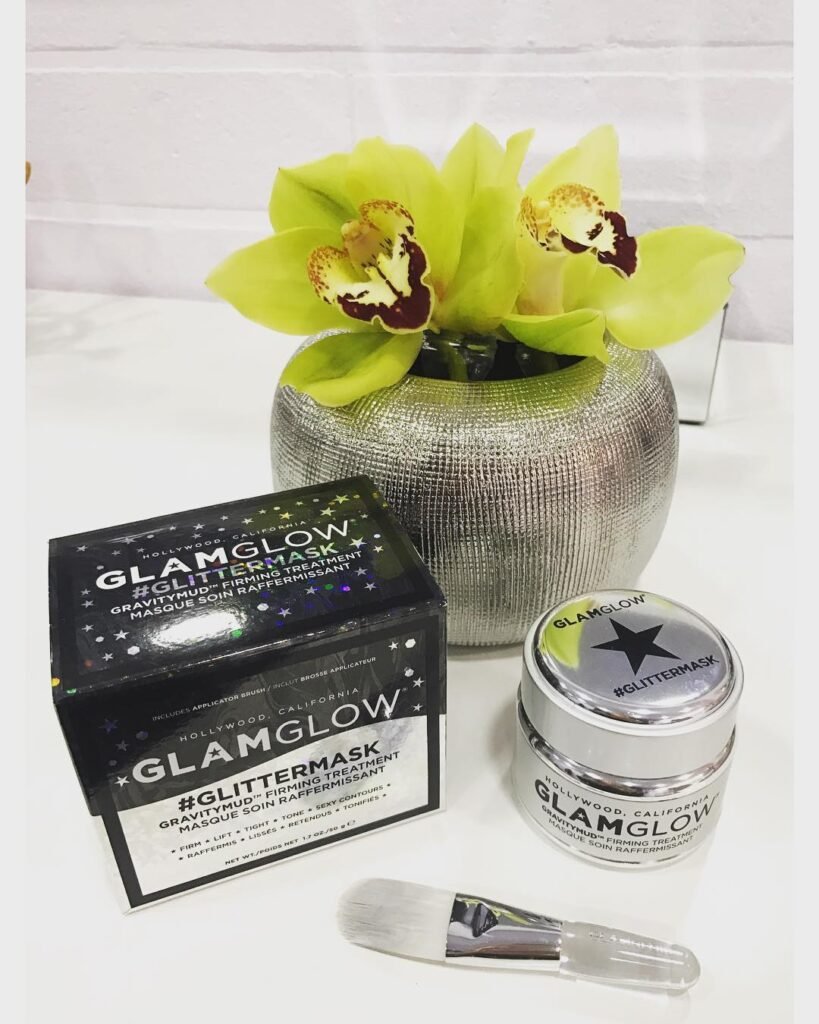 Review Glam Glow Glittermask Firming Treatment
To be honest, I find the idea of a glitter mask a bit instagrammy and gimicky. I don't get the whole glitter thing, I get that it looks cool, but I'm all about skincare performing effectively rather than aesthetically. Having never used the original, I can't compare the two but let's dive into this glitter filled baby to see what it is all about.
GLITTERMASK is said to visibly firm, tone and boost radiance after just one use. It is meant to leave the complexion taut, luminous and even more youthful than before. Sounds like a winner, right? But does it live up to its claims?
The size of the tub is the same as the other GlamGlow masks, containing 50 grams of product, which for the price does seem quite steep. However, I found that you don't need all that much to cover your face, so it should last quite a while. The formula is black, full of glitter and smells amazing, I want to say it smells of pineapples but I can't be sure.  The consistency is sticky and thick and reminds me slightly of a cooling gel once applied to the skin.
How does Glittermask work?
It spreads like a breeze on the face, and I apply a fairly generous amount. But I'm conscious about not spreading it too thickly, otherwise, it would take hours to dry. I imagined that the glitter would be somewhat sharp or gritty on the skin, but I hardly felt it at all.
The mask took about 30 minutes to dry and I was a little nervous to peel it off because in the past peel off masks have basically waxed my face of all peach fluff – Not cool. Not fun. very ouch.  Butttttt, this peeled off with absolute ease, not one hair was plucked out of my little head. My skin instantly felt really fresh and bright. After glancing in the mirror my face definitely looked more firm, taut and definitely luminous.  No bags or sagging in sight.
Overall about Glittermask
In summary, I have really loved the results of the #glittermask. My skin is de-puffed, bright and more youthful. I think that this would be ideal before an event to ensure your skin is in tip-top shape. The glitter is fun, great for pictures but totally unnecessary.  It is the same price as the original so you can opt to be a glittery potato or stick to the silver. As much as I love what the mask does, I don't think I could drop $86 on one mask  – probably because I'm on maternity leave and a little strapped for cash. However in the future there is a good chance I may look into this little sparkly black beauty again.
What are your thoughts about the #glittermask?
*DISCLAIMER – Although these products were provided for my consideration, all views and opinions are 100% honest and my own. No sponsorship or money has been provided for my review. All discount codes are not affiliated, unless specifically stated. All opinions are based purely from my own experiences. I try my hardest to provide my readers with accurate information, but I am not by any means a professional, nor am I an expert. Please do not confuse my opinions with professional advice.