It's got quite the name and boasts a fair list of promises, but does the Peter Thomas Roth Hungarian Thermal Mineral Rich Atomic Heat Mask live up to its claims?
This mask helps reduce the look of fine lines, wrinkles, dullness, uneven skin tone, and texture for smoother, healthier, and younger-looking skin. A botanical blend helps replenish, nourish, and moisturize skin, while kaolin clay and magnesium sulfate help open pores and draw out impurities in an invigorating flash of heat.
The Heat Mask is targeted towards all skin types to fight dullness, texture, fine lines, wrinkles, and dehydrated skin.
WHAT ABOUT MINERAL RICK MASK?
Formulated with mineral-rich Hungarian Thermal Water, a ridiculously dreamy blend of Sunflower, Jojoba, Peach, Apricot and Rosehip oils, Shea Butter and Pomegranate extract, GATULINE® RC (a beech tree bud extract) and, lastly,  Kaolin Clay and Magnesium Sulfate. It certainly sounds like it is packed to the brim with gorgeous ingredients, but do they translate into results?
Firstly, the packaging is beautiful – the best I've seen from PTR yet! The green to blue ombre and gold detailing is really eye-catching and conjures images of clear, fresh waters and bright refreshed skin. The mask itself is quite a unique balm-like consistency, that needs a little warming up between the fingers before it can be spread across the face.  There isn't any remarkable or irritating fragrance.
After the mask has warmed up on your skin, it is very easy to spread and feels really soft and buttery on the skin. The directions state to leave the mask on for 3 minutes, and then, with wet fingertips, to massage in to activate the heating sensation. Once the heating has ceased, you then rinse off.
REVIEW MINERAL RICK MASK
I love the way this mask feels on the skin. The formula is velvety and is only improved by the heating factor, which really makes it a relaxing and soothing experience.  My skin feels oh-so-soft and strokable after the mask has been washed off. My complexion is really bright and looking happy with a healthy glow. I definitely noticed a difference in hydration level of my skin. My skin looked and felt nourished and plump.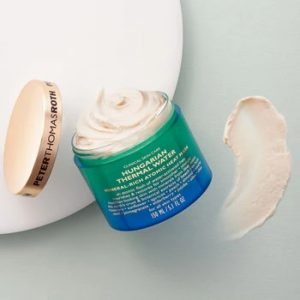 After a handful of uses, I can't say that I noticed any change in fine lines or wrinkles, but I honestly wouldn't expect to in such a short time and from the use of a mask alone.
OVERALL
To summarise, I really enjoy using this mask. I love the way it feels both while it is on the skin and afterwards. It is a quick mask to use and would be ideal to give your skin a glowy, healthy look before an event when you are in a pinch.
The jar itself is quite large, and needing only a small amount for each application, I would imagine it to last for quite a while. I have nothing negative to say about the Peter Thomas Roth Hungarian Thermal Water Mineral-Rich Atomic Heat Mask (Well, maybe a shorter name? ;))
Does this mask sound like a winner to you?
*DISCLAIMER – Although these products were provided for my consideration, all views and opinions are 100% honest and my own. No sponsorship or money has been provided for my review. All discount codes are not affiliated unless specifically stated. All opinions are based purely on my own experiences. I try my hardest to provide my readers with accurate information, but I am not by any means a professional, nor am I an expert. Please do not confuse my opinions with professional advice.