Hi Beauties, Last year the lash industry was revolutionised with magnetic lashes. I tried them but not sold, personally I still found it easier to apply my lashes with lash glue. Here's my review of magnetic lashes in case you're interested.
Fast forward to 2019 and now Glam Pro by Manicare have introduced Magnetising Eyeliner and Lashes making applying lashes even easier. But is it really that easy?
Overall Thoughts:
To buy the eyeliner and lash combo it retails for $55.98.
Currently you can only use 2 lash designs with them- one is more natural and the other is more dramatic.
The eyeliner is super fine so you can be really precise.
The eyeliner dries down to a glossy finish which personally I don't like but again that's just personal preference.
To apply, apply the eyeliner however you want- thin, thick or wing. My tip is to go thicker, when it was thin in the second photo I found it didn't hold well.
Leave the glue to dry for one minute.
Then pop the lashes on.
Honestly I didn't need to fiddle much with them, they applied quite easy.
Below, is just the liner applied thinly.
Below is the liner with the Willow lashes which are more natural. My recommendation is to apply a thicker line as it doesn't hold well especially on the inner corners.
Below I applied a thicker line and winged it out and teamed it with the Khloe lashes. The Khloe lashes are more dramatic but not too in your face. I felt they were more secure with a thicker application of eyeliner.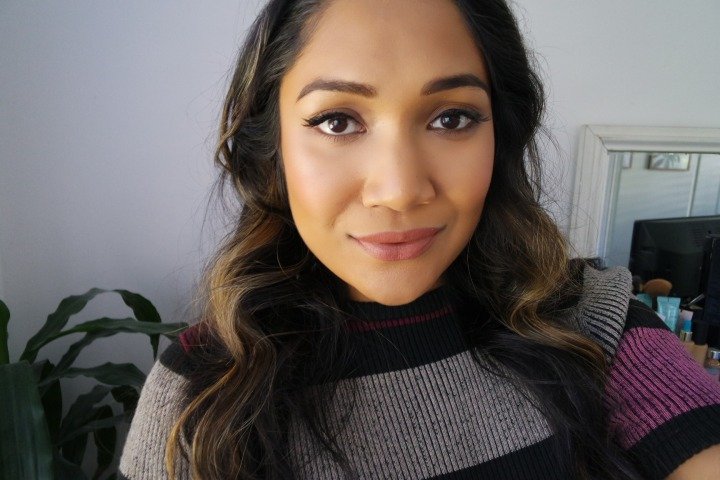 Overall I'm really impressed with the magnetic eyeliner and lashes. If you're a newbie to lashes these are great, the only down side is applying the liner. While it may seem costly most good lash glues are about $20 so its not that much more expensive. And on a positive you can reuse your lashes multiple times as there's no lash glue damaging them.
In terms of removing the eyeliner it was super easy. But at the same time it didn't smudge or move around. I was also able to use Micellar Water to perfect my wing.
While it can seem pricey at first, if you do struggle to apply false lashes you should definitely check out the Glam Pro By Manicare Magnetising Eyeliner and Lashes.
*This product has been provided for reviewing purposes, all views and opinions are 100% honest.
**Disclaimer: All opinions are based on personal experiences, and are not sponsored. rachelbeautystyle is not a make up artist, beauty or skincare specialist and will not be held liable for any recommendations. Therefore try at your own risk.