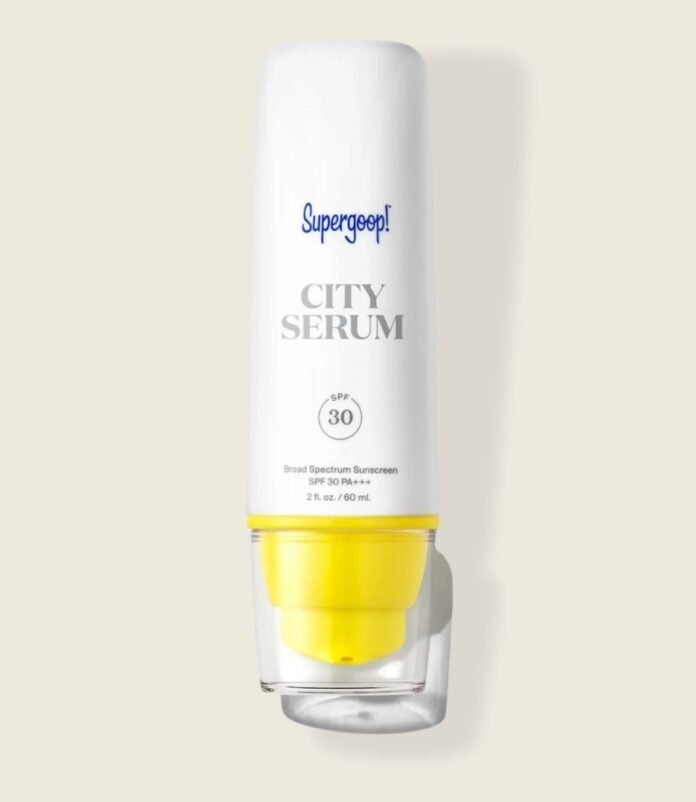 Sunscreen is my desert island beauty product. There is no way I will go anywhere or do anything without it. I fell in love with Supergoop when I tried a sample of their Save Face moisturizer but upon seeing the "Supergoop City Serum SPF30+"I thought that may be more suited to my aging skin so I picked it up along with a bunch of other Supergoop products during my recent USA beauty haul. Will this one stack up to my original love? My review below has the answer.
 What does
Supergoop City Serum SPF30+

look like….?
The simple white pump packaging is in-line with all the Supergoop! products. It's unisex and doesn't command attention which is one of the reasons I love Supergoop! The pump is sleek and functional without being fancy.

The formula is a thin off-white cream. It's creamier than a typical serum but still runny. It smoothes onto the skin similar to a serum but sinks into the skin similar to a cream.

Supergoop only uses physical sunscreens and they don't use nanoparticles so this means the physical sun-blocking particles don't enter the bloodstream as chemical or nanoparticle sunscreens do. I'm undecided about whether one is better than the other but for those that will only use non-nano particle physical sunscreens, this is definitely one for you.
My experience with Supergoop SPF30+ City Sunscreen Serum
A single pump of Supergoop! City Serum SPF30+ is enough to cover my entire face, but I do an extra pump to cover my neck and decolletage.

As with most physical sunscreens, you can feel this one on the surface of your skin but it's one of the lightest I've ever used. At first, it makes my skin look a tad oily but once it's settled in my skin goes back to normal and just appears more hydrated.

Some people avoid physical sunscreens on their face because of the ghostly glow it can leave on the skin, which is not a good enough reason by my standards (CANCER. AGING. Need I say more?). As you will see in my before and after photo this sunscreen does leave a whiter sheen on my skin but it's only noticeable in photos, not in person.

It works beautifully under makeup and doesn't at all interfere with the durability or wearability of my makeup. I still use a primer on top when I need to but for my day-to-day makeup I just apply this as my final skincare step and then foundation/BB cream straight over it.

The product does contain the somewhat controversial ingredient of dimethicone but it's quite important for sunscreens so that they can smooth onto the skin. The only risk with dimethicone is if you don't wash it off your skin and you should be washing off your sunscreen at the end of each day anyway. Never leave sunscreen on your skin overnight as it can clog your pores and cause irritation.
What Supergoop! say about Supergoop City Serum SPF30+
Day-to-day sun exposure requires the same precautions as an afternoon spent poolside. This super lightweight serum fulfills that everyday need. Both a moisturizer and a broad-spectrum SPF 30, it fights the signs of premature aging and protects against future UV damage. Built for year-round use, it's a great primer for the rest of your daily beauty regimen.
What Makes This Goop Super?
Vitamins E and B5 aid nutrient absorption and cell renewal, reducing the look of fine lines and wrinkles

Hydrovotin 24 stimulates the skin's natural moisturizing agent so skin stays hydrated without the need of a heavy cream
Uniprotect PT-3 stimulates the skin's antioxidant pathways and natural enzymatic repair system
In a 4 week clinical study:
88% measured a significant increase in long-term skin hydration

96% "my skin looks healthier"

96% "I am surprised a product that feels so nice on the skin actually has high SPF broad-spectrum protection built-in"
Who Is This Ideal For?
This lightweight serum is perfect for all skin types
Have a look at my Review about reef after sun repair gel!