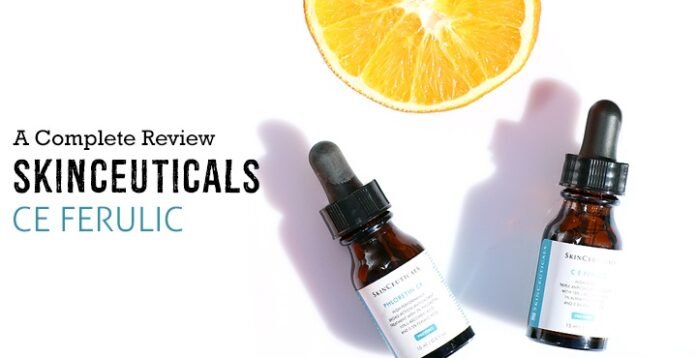 SkinCeuticals CE Ferulic Combination Antioxidant Treatment has the capability to fight most symptoms of aging. You can bank on its abilities to combat free radicals and to protect your skin against oxidative stress. It can be of great help in the fight against other signs of aging like fine lines and wrinkles as well. The product contains 15% ascorbic acid which is a form of Vitamin C. It is an excellent anti-inflammatory and antioxidant.
When it comes to packaging, SkinCeuticals CE Ferulic have done a tidy job. It is packaged in a dropper. The lightweight formula of this product is free of fragrance and will suit all skin types. People with sensitive skin and rosacea should only proceed with caution while using this product as ascorbic acid might not suit sensitive skin.
SkinCeuticals CE Ferulic – What are the Key Ingredients?
15% L-ascorbic acid: This element is widely lauded for its antioxidant benefits. It is a form of pure Vitamin C and is highly potent. Which can help in neutralizing free radicals and prevent oxidative stress. It can also combat anti-aging symptoms on skin.
1% alpha tocopherol: It is a form of Vitamin E that can replenish skin lipids. It also helps in fighting free radicals.
0.5% ferulic acid: This is the ingredient that makes the difference. What is ferulic acid? It is a plant-based antioxidant. It can enhance the antioxidant benefits of Vitamin E and Vitamin C.
What are the Benefits Of Ce Ferulic By Skinceuticals?
The biggest USP of this ferulic acid serum is its unique combination of Vitamin C, Vitamin E, and ferulic acid.
It can provide your skin with advanced environmental protection and can also be of help in neutralizing free radicals that can damage your skin.

SkinCeuticals CE Ferulic

also has many visible anti-aging benefits. It can improve the appearance of your skin by reducing fine lines, wrinkles, loss of firmness, etc.
This topical Vitamin C product will be of great help in neutralizing free radicles on the top most or upper layer of the skin. This way ozone damage is prevented.
The product can brighten your skin's overall complexion with its Vitamin C benefits.
It is ideal for dry and normal skin types. People with sensitive skin also reported positive reviews about the product.
The product is free of Parabens and other irritants making it an ideal Vitamin C serum for face.
The product also tested as a suitable serum post laser treatments.
In addition to all these the product also provides antioxidant protective benefits. Ferulic acid can fight photodamage and other signs of aging.
While defining the pros and cons of a skincare product, it is important to take its texture into account. The Serum is as light as water and is suitable for the majority of skin types. It can help reduce inflammation and repair skin's layers. It can also reduce red marks caused due to breakouts. This product with Vitamin C for skin can also improve the appearance of darks spots caused due to sun damage. These features earned it rave reviews when it comes to Vitamin C serum reviews. The only disadvantage is that the product is a bit on the pricey side.
How To Use Ce Ferulic By Skinceuticals
Apply SkinCeuticals CE Ferulic in the morning after cleansing and toning. You can apply five drops to your face, neck, and chest. Use this product before you apply other skin care products which aim to fight aging.
You can complete your beauty regimen with a quality sunscreen. When used together, your skin will get wider protection from environmental aggressors.
Conclusion
SkinCeuticals CE Ferulic acid is the best Vitamin C serum with ferulic acid and is an ideal product to defeat signs of aging. It can combat Ground-level ozone (O3) pollution which is the leading cause of premature aging. The review of this product is positive because it is highly potent, well formulated and comes with the benefits of Vitamin C. It doesn't have any ingredients that can be problematic to your skin. In short, SkinCeuticals CE Ferulic with Vitamin C serum benefits are sure to meet your expectations.
Read More: Best Antioxidant Serums To Keep Your Skin Protected