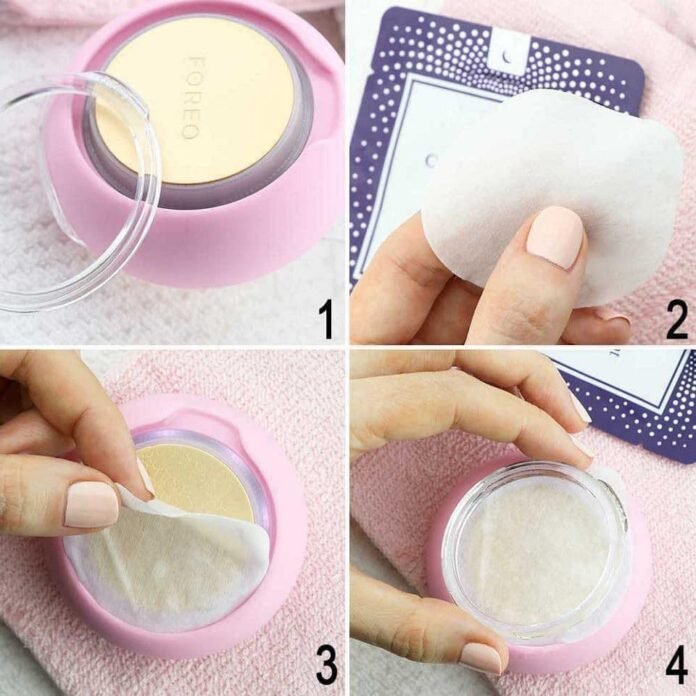 Have you seen this spacey looking Foreo device getting some airtime lately on Instagram? Wanna know what it is all about? Well, I got your back. Read on, girl. Introducing the Foreo UFO mini face mask extraordinaire. Having used and loved the Foreo cleansing devices for some time, I have been really intrigued by this little wonder.
WHAT IS THE FOREO UFO MINI?
This ridiculously fancy device sure does boast some incredible claims –
LED light therapy and advanced Hyper-Infusion Technology combine with UFO Activated Masks to turn a 20-minute treatment into a 90-second treat. UFO instantly infuses mask essence deep below the skin's surface for better, longer-lasting results while at the same time delivering a dynamic photofacial. A truly transformative skincare experience, this is the end of sheet masks as we know it. Heating softens the skin and open pores, infusing mask essence into the deepest layers of the skin. T-sonic Pulsations facilitate deeper absorption of the serum while providing a soothing facial massage. A full spectrum of LED lights help enhance Red LED to erase the signs of ageing and stimulate collagen production for younger-looking skin. Green LED brightens a dull complexion and evens skin tone for an instant boost of radiance while Blue LED targets acne-causing bacteria and stimulates blood circulation for a healthier-looking complexion.
REVIEW: HOW DOES THE FOREO UFO MINI WORK?
It is super simple once you've set the little guy up. It connects to an app on your phone, which more or less controls it for you. You simply pop in the little sheet mask and turn it on. The clever little device knows what to do and gets to work with its light therapy, heat, and pulsations
LED light therapy is gaining traction in the professional beauty world – think services like Omnilux. Different coloured lights treat different skin conditions. Red works minimising fine lines and wrinkles, while blue is great for the treatment of acne.  The warming function pushes the serum deeper into the skin to maximise absorption and results. Lastly, pulsations assist in lymphatic draining and gives the skin a little workout, which boosts radiance and tone.
The treatment lasts for around 90 seconds, but you can use it until your little heart's content. Personally, I don't ever want the experience to end. I like to drain the packaging of all the serum, add it to the mask and go over my face a few times.
There are quite a few varieties of mask available too. I currently have the 'Call It A Night' mask which is said to replenish and revitalize skin to leave it 'dreamy-soft'. But I will be getting my little mitts on some other varieties shortly.
I'm actually blown away by the results in only 90 seconds. My skin is left suuuuuuper soft and radiant (dreamy-soft, if you will).  The results lasted well into the next day. My foundation applied perfectly and I kept catching my reflection thinking "damnnn girl, skin is looking bomb AF".  I honestly really look forward to using it and you could go as far as saying that I am a little obsessed.
DO YOU NEED IT?
In all honesty, no you don't need it. But if you are a beauty tragic like me, mad about skincare or even a just a little bit boujee, you probably will want it. Yes, it is a bit gimmicky, but I can't help but love it. I didn't think I was going to love the UFO Mini as much as I do. Before I used it, I went in with almost a negative preconception. I was adamant that it was not going to work.  But man, am I impressed.
While it is an expensive product and you can only use the specific Foreo UFO masks with it, it sure is an absolutely dreamy experience. The masks themselves are really decently priced at $15.30 for 7. Making them much cheaper than your average sheet mask @ $2.18 a pop. Foreo have also included a 10 year (!!!) warranty which really sweetens the deal. If that doesn't show how much Foreo back themselves, then I don't know what will.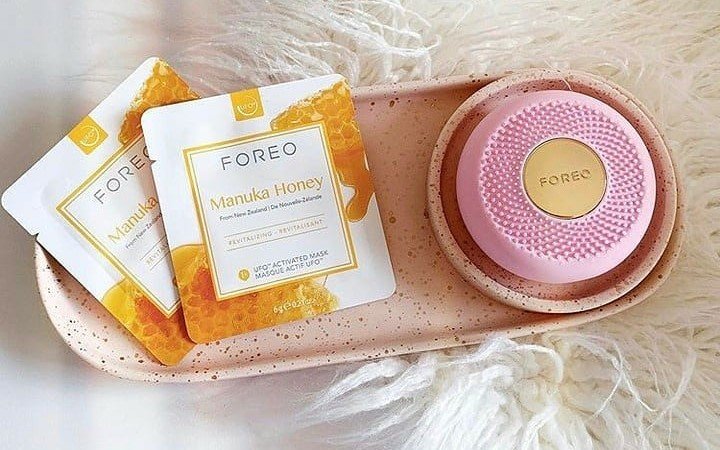 With use, my skin does appear more radiant, hydrated and plump – just as it would after an in-salon treatment but without leaving the lounge.  The warmth and gentle pulsations really do melt away stress and leave me feeling a million bucks.
WHERE TO BUY FOREO UFO?
You can find the Foreo UFO mini and all Foreo related products at sephora.com.au or in-store.  There is also the original UFO available which is meant to be even better!
Have used any of the Foreo beauty devices before? What are your thoughts?
*DISCLAIMER – Although these products were provided for my consideration, all views and opinions are 100% honest and my own. No sponsorship or money has been provided for my review. All discount codes are not affiliated unless specifically stated. All opinions are based purely on my own experiences. I try my hardest to provide my readers with accurate information, but I am not by any means a professional, nor am I an expert. Please do not confuse my opinions with professional advice.