Hello Beauties,

You may have or may not have seen this little device kicking around on the interwebs. It promises to not only clean but to dry your dirty makeup brushes, to the point of re-use, in only 30 seconds. Seriously, what is this sorcery? Could this be possible? Let's review Stylpro Brush Cleaner
I first saw this little baby about 6 months ago, and I was um-ing and ahh-ing about it for a little while. I finally decided to grab it but then StylPRO , a UK brand, no longer shipped to Australia. I thought any chance owning this miracle product had gone out the window.
What is Stylpro Brush Cleaner?
So basically the StylePRO consists of a little battery operated handle/spindle, 8 brush collars and one plastic bowl. The little collars slip over the handle of your makeup brush and attach to the spindle. You dunk the the brush into soapy water in the bowl and turn the sucker on. It then spins around in the water and you move in and out for about 5 seconds. Then, my favourite bit, you spin it outside of the water for 10 seconds to dry the brush. Voila!
Review Stylpro Brush Cleaner
Yes and no. Some brushes came out squeaky clean, while other didn't even look like they had been washed. I experimented with different soaps, water levels and brushes, but I had inconsistent results. The StylPRO branded soap did work the best. However, because it is not a disinfectant, I don't truly feel like it is really cleaning my brushes. Yes, my brushes were mostly clean and back to their original colour, but the bacteria wasn't entirely removed. Which I feel completely defeats the purpose of cleaning them. At least when I used my normal Dr Bronners Cleanser with this device, although the brushes don't look squeaky clean, I know that they're  germ free. What a conundrum.
Pros
My brushes are dry in mere minutes, instead of over 24 hours (HUGE PRO)
My smaller eyebrushes were cleaned really well with the StylPRO soap
The whole process is mess free
Much easier than my usual routine
Cons
Doesn't always completely clean brushes (Especially foundation brushes or heavily stained brushes)
It is more time consuming than usual brush washing. Switching the different collars and the 5 seconds actual wash time for each brush does add up.
It isn't cheap
Does make some brushes look damaged after spinning
Overall review about Stylpro Brush Cleaner
I am pretty disappointed to be completely honest. I was expecting this absolute winner of a product that was meant to cut out all the hard work from the chore that is makeup washing.  Although it isn't horrible, it is very time-consuming for results that aren't guaranteed. I actually reverted back to my old ways after about an hour because I just didn't seem to be getting anywhere and my brushes weren't 100% clean. But the one thing that I love is the fact that my brushes are basically dry straight away. Now that is impressive.  I don't think I can recommend the StylePRO on that factor alone. I will continue to play around with it and update you on my findings.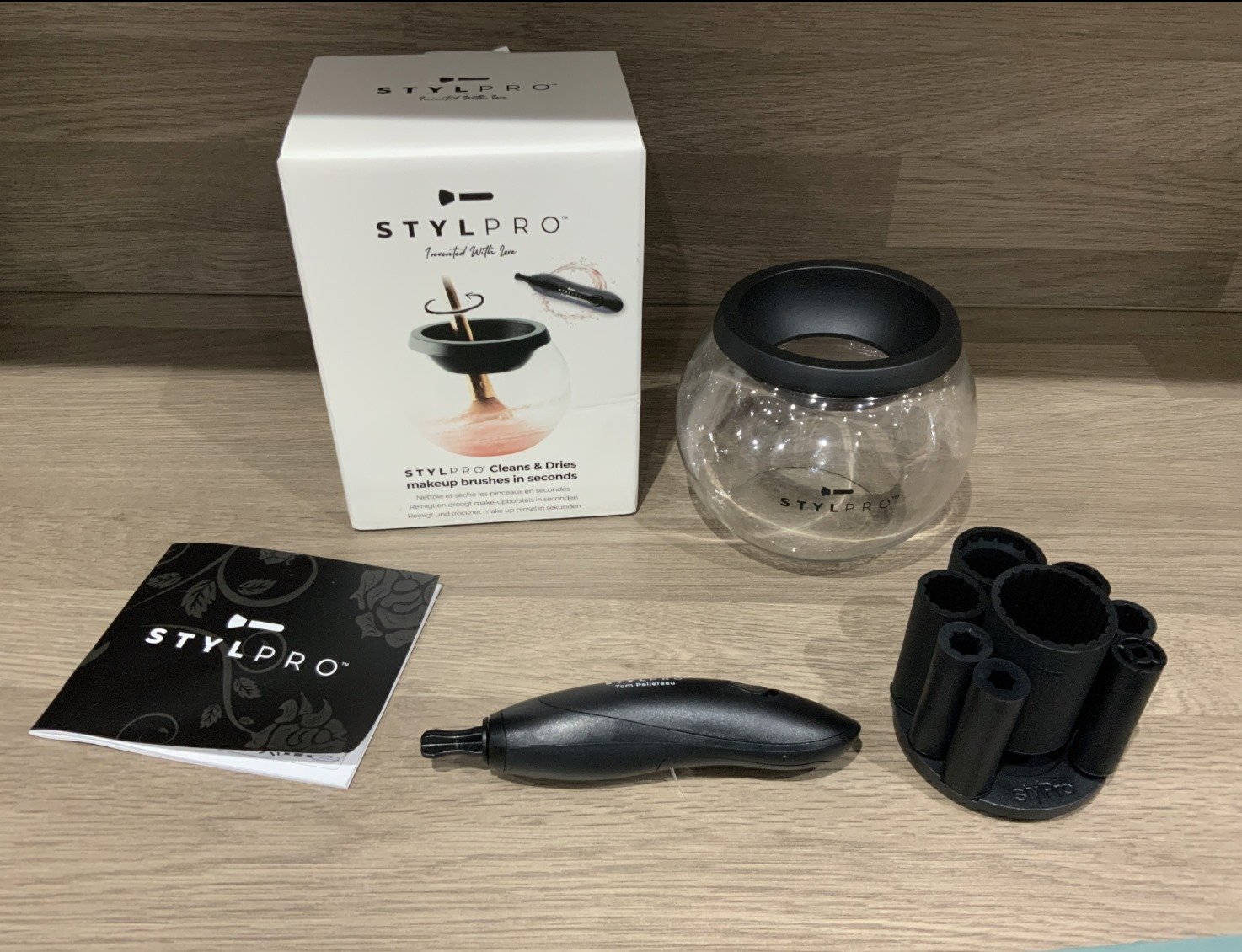 What do you think? Will you buy Stylpro Brush Cleaner?
DISCLAIMER – All opinions are based purely from my own experiences. I try my hardest to provide my readers with accurate information, but I am not by any means a professional, nor am I an expert. Please do not confuse my opinions with professional advice. Thanks for reading Stylpro review