Brown spots can happen to anyone but they usually occur in people who are older than 40. It can also be formed on the skin of younger people. Adequate skin care preparations are very important for eliminating brown spots.
The causes of brown spots
In general, brown spots are the result of excessive production of melanin. Melanin is the pigment that gives color to our skin. The excessive production of melanin is caused by excessive exposure to sunlight or UV rays over a lifetime.
UV rays are a catalyst for the production of melanin. Melanin protects cells from the UV rays, that can damage DNA and cause cancer. When melanin is concentrated in a few places, brown spots appear on the skin. Other factors that can influence the formation of brown spots are smoking, poor diet and polluted environment.
If you notice that the brown spots have begun to form, it's time to think about two things: the prevention and the treatment – how to get rid of brown spots.
To prevent brown spots, you should protect yourself from the sun, for example by wearing a hat and using natural sunscreen with a high degree of protection. It is not good to avoid the sun completely but it is also not good to be exposed too much.
How to get rid of brown spots naturally
Treating brown spots consists of three parts:
nutrition adjustment
preparations against brown spots
natural remedies for getting rid of brown spots
Make changes in nutrition:
Drink 6-8 glasses of water a day
Every day, if possible take vitamin C
Eat more fruits and vegetables. At least 40% of your meals should be made up of vegetables, nuts and whole grains
Avoid coffee and black tea (you can replace it with green tea)
Eat less foods that are high in sugar, salt and saturated fat
This diet will not only help you to get rid of brown spots but will also improve your overall health.
Use creams against brown spots that contain glycolic acid, hydroquinone, kojic acid and retinoid.
Also, use creams that contain the following natural ingredients:
Extrapone Nutgrass – this plant is used in ancient medicine for hundreds of years. It contains natural ingredients that reduce the amount of melanin in the skin up to 40%.
Shea butter – derived from the nut of the African shea tree and contains acids that help in the treatment of acne scars, brown spots, dry skin and eczema.
Wakame algae – an algae from Japan, which is used in many skin care products because it contains a lot of vitamins and minerals that help in the regeneration of the skin and regenerate cells.
Grapeseed oil – an antioxidant which helps to restore dry skin, but also reduces the amount of melanin.
Cynergy TK – is a form of creatine and helps in the regeneration of the skin. It is used in various skin care products, which are effective against brown spots and acne scars.
Try natural remedies to treat brown spots: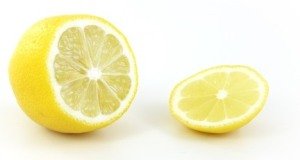 Apply fresh lemon juice on the brown spots twice a day for no longer than 30 minutes. Wash with lukewarm water after. For application use cotton pads. Apply the treatment for six weeks. But don't go out on the sun with lemon juice on your skin, you might get sunburned more easier than usually.
Mash a few leaves of mint and a cucumber. Apply the mixture on your face and leave it for 15 minutes, then rinse. Apply this mask twice a week.
Mix two teaspoons of tomato juice and four tablespoons of yogurt. Apply on face and leave it for 20-30 minutes, then rinse.
Hope these tips and remedies helped you discover how to get rid of brown spots in a safe and natural way, without having to go on a laser treatments that only help in a short term but don't treat the cause of brown spots so they always come back. If you'd like let us know how these tips worked for you in a comment section bellow