This is all about sunscreen you need to know. I have talked about more than 20 different types of sunscreen in my blog in the past 2-3 years, so I think it is high time that I do a comparison review on all of these sunscreens that I have tried, and how my experience allows me to make better sunscreen choices in the future. I will also share my research finding and general understanding of sunscreen ingredients and the importance of using sunscreen as a whole here.
All About Sunscreen 1: Why must you use sunscreen?
Sunscreen is a must in everyone's daily life, even if tanning isn't a concern for you. The damage caused by UV rays (sun exposure) not only includes darker skin tone, but also other health complications such as skin cancer, premature aging and sun burn (peeling). Anyone who practices basic skincare routine must include sunscreen as the last step of your morning routine as not doing so would deem your other skincare steps wasteful. In other words, no matter how much brightening and anti-aging serums you use, you are basically wasting them because the damage caused by UV rays is greater than the benefits you get from all your expensive serums.
All About Sunscreen 2: What are UV rays?
UV rays, or ultraviolet radiation is a radiation produced by the sun. There are two types UV rays in general, namely the UVA (UVA1 and UVA2) and UVB. UVA penetrates deep into the dermis causing premature aging, wrinkling, and hyperpigmentation. They are every women's worst enemy if I must say. UVB is less penetrating and will burn the epidermis of your skin causing issues like tanning, sun burn and even skin cancer.
All About Sunscreen 3: Sunscreen explained
Sunscreen is a product that combines different types of sun filtering ingredients (as well as skin benefiting ones sometimes) to reflect UV rays or absorb them and turning them into heat.
All About Sunscreen 4: SPF and PA explained
The basic indicators you should look for in a sunscreen is SPF and PA, even if you cannot read the ingredients. Basically, SPF refers to "sun protection factor" which also means how long can this sunscreen protect you from developing sunburn. SPF protects you from UVB so high SPF doesn't mean you are less likely to get dark spots and wrinkles as it only concerns tanning and sun burn, anything on the outer layer of your skin dermis. Also, high SPF doesn't necessarily mean higher UVB protection. For instance, SPF 15 blocks 93% of UVB, SPF30 blocks 97% and SPF 50 blocks 98%. So you really don't have to apply higher SPF ones as those are usually thicker in consistency and makes you apply lesser than you should, which is worst than only applying SPF15 or 30 in the right amount.
PA is the +++ you see in sunscreen labelling, it measures UVA protection that a sunscreen offers. PA is more important than SPF for many beauty practitioners as UVA is the culprit to skin aging and hyperpigmentation. PA rating is positively correlated with SPF at most times. Normally, SPF30 product carries PA++ whereas SPF50 product carries PA+++. L'Oreal is the only brand with sunscreen that has high PA even at SPF30 which I think is due to their patented sun filters mexoryl with better UVA protection.
All About Sunscreen 5: Major UV filters explained
A handful of UV filters are commonly used in most sunscreen I have tried, some UV filters are less commonly found but are still safe to use on the skin.
Octinoxate is a UVB filter found in almost every sunscreen products. It is water-insoluble, not very stable under the sun, but can be stabilized by other sun filters like tinosorb M. Although it is FDA-approved, there are some safety concerns raised regarding its ability to penetrate the skin.
Titanium Dioxide is a physical sunscreen filter that can block UVA2 and UVB rays. It is more commonly found in sunscreen than zinc dioxide. It is stable under the sun, produces white cast, and may cause breakouts in certain people.
Zinc Oxide is a physical sunscreen filter that can block UVA1, UVA2 and UVB. It is a broad-spectrum sunscreen ingredient commonly found in sunscreen designed for oily and sensitive skin. It is stable under the sun, produces white cast but is less likely to cause any irritation to the skin.
Univul A Plus is a UVA1 and UVA2 filter. It is stable under the sun and is approved for use in European and Asian countries.
Tinosorb S is a chemical sunscreen filter that can absorb UVA1, UVA2 and UVB. It is oil-soluble, very stable under the sun, and can stabilize other UV filters like avobenzone. Although it is not FDA-approved, but it has been approved in many European and Asian countries. It has very minimal skin penetration.
Octisalate is a UVB filter. It is oil soluble, a little greasy, and relatively unstable under the sun but has emollient- and water-resistant properties.
Amiloxate is a UVB filter that is approved for use in European and Asian countries.
Avobenzone is a chemical sunscreen filter that blocks UVA1 rays. It is oil-soluble, water unstable under the sun, and is relatively gentle on the skin. It will become destabilize when there is octinoxate but can be stabilized by octocrylene, tinosorb, meroxyl SX and so on.
Octocrylene is a UVB filter used to stabilize avobenzone. Study found that it can increase the skin's photo-sensitivity to the sun so its use in sunscreen is questionable.
Ensulizole is a UVA2 and UVB filter with a lightweight and non-greasy finish. It is relatively stable under the sun but may cause cellular damages hence rated moderately hazardous by CosDNA. Approved for up to 4% use in US and 8% in Europe.
Ecamsule (Mexoryl SX and Mexoryl XL) are both L'Oreal patented chemical sunscreen ingredients that offer excellent UVA protection. Mexoryl SX offers UVA1 and UVA2 protection whereas Mexoryl XL only absorbs UVA2. Both ingredients are very stable under the sun and do not penetrate the skin. Mexoryl SX is water-soluble whereas Mexoryl XL is oil-soluble.
Homosalate is an oil-soluble UVB filter that is relatively unstable under the sun.
Parsol SLX or Polysilicone-15 is a silicone-based UVB absorber. It is not water soluble and is only approved for use in Europe and Asia.
All About Sunscreen 6: Commonly used sunscreen ingredients
My calculation is based on a sample of approximately 30 sunscreens I have used in the past 2-3 years. A majority of them are sunscreen with lighter consistency, mostly labelled "aqua", "gel" or "light". However, there are also sunscreen I bought that are designed for oily and sensitive skin. I found that octinoxate, tinosorb S, univul A plus, titanium dioxide, amiloxate and octisalate are among the most commonly found ingredients in sunscreen.
All About Sunscreen 7: Commonalities between sunscreen with different texture
I noticed that sunscreen is normally consisted of octinoxate, titanium dioxide, tinosorb S and univul A plus. Mineral sunscreen normally does not contain octinoxate. For sunscreens that do not contain titanium dioxide, they are either formulated with zinc dioxide, or are sunscreens with lighter consistency (i.e. gel) and most of the time, lower SPF/PA. Sunscreen with zinc dioxide tends to be designed for oilier, sensitive or acne-prone skin. They are more likely to leave a powdery finish or is really thick in consistency.
All About Sunscreen 8: Should I use a makeup remover (cleansing water / oil) to remove my sunscreen?
Yes if you use a sunscreen with ingredients that are not water soluble. If you look at the sunscreen ingredients break-down as seen above, you will see that most of them are only oil-soluble, especially the commonly used ones like octinoxate, tinosorb S, avobenzone, octisalate and mexoryl XL. In other words, you SHOULD use at least a cleansing water to remove your sunscreen, unless if the instruction says that you can remove it with just foaming cleanser. I ALWAYS remove my sunscreen with a cleansing water.
All About Sunscreen 9: My sunscreen practices / How I choose sunscreen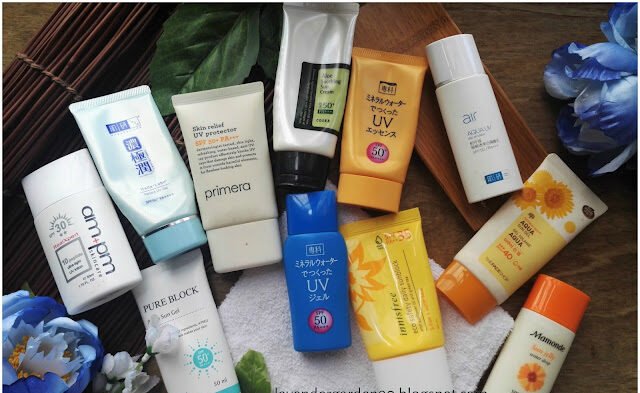 Let's admit it, most beauty bloggers / practitioners do not wear sunscreen everyday, and that includes me. I always try to avoid sunscreen especially when I am at home. It is not something I will do voluntarily or willingly. I have to constantly remind myself of the consequences of not doing so, all the wrinkles and dark spots. So yeah… for me, while playing around and experimenting with skincare is fun, wearing sunscreen is not.
I wear sunscreen at least 5-6 times a week, and I will reapply during lunch hour once per day. I normally do not wear any foundation, so I just use a cleansing water to remove my sunscreen. Cleansing water does not only remove your sunscreen, it also takes off dirt and pollutants on your skin so it is always wise to wipe your skin with a cleansing water or cleansing toner before putting anything on it, including foundation. Do not skip your sunscreen even if your foundation has a SPF and PA, you will not wear enough of those to properly shield your skin from the sun. Can you wear 1/4 tsp of foundation on your face? Yes?
I prefer lightweight, watery, and non-greasy sunscreen. I would rather apply a big amount of sunscreen with lighter consistency (more than 1/4 tsp) than just applying a little with sunscreen that is thicker in consistency. I think my skin is better protected that way. I normally go for sunscreen with the label "light", "gel", "aqua", "for normal/combination skin", and avoid sunscreen that says "cream", "triple", "waterproof", "for dry skin", "sun milk", "powdery" and "sun liquid". I prefer sun gel over sun milk (these tend to be quite drying), sun liquid (same reason as "sun milk"), sun spray (to avoid inhalation), and sun cream (these tend to be richer in consistency). I prefer Japanese brands over Korean brands and then Western brands. The only western brands I like is Kiehl's and L'Oreal because they carry "meroxyl" which is an ingredient with excellent UVA protection.
All About Sunscreen 10: How to choose a sunscreen according to your skin types and preference?
go for at least SPF30 and PA++, SPF50 and PA++++ is more than enough for your face
go for reasonably priced one (RM 30-50 per 50ml) because you will need 1.23ml (1/4 tsp) per application so you don't have to break your bank with a sunscreen and more expensive sunscreen doesn't mean maximum protection (especially if you don't apply enough because the product is expensive)
avoid alcohol only if you are sensitive to it because alcohol is normally there to make your sunscreen lighter and easier to be absorbed so that you will apply the right amount (that's my theory and belief)
apply at least 1/4 tsp every time (1.23ml) and if possibly twice a day, 7 days a week, regardless of the weather (again, not everyone does that but this is my suggestion)
don't fall for ingredients other than the UV filters, these are not important when it comes to sunscreen, sunscreen is supposed to offer ample protection from the sun, other things don't matter unless if you depend on sunscreen as your sole source of skincare
sun gel is suitable for normal to oily skin
sun essence is suitable for all skin types
sun milk or sun liquid is suitable for oily and acne-prone skin
sun cream is suitable for drier skin
sun block is suitable for outdoor activities
sun cushion is suitable for reapplication thorough the day
I personally do not recommend sun spray but you can use it during outdoor activities or if you cannot touch up during the day
It's all information about sunscreen and I will talk about 36 sunscreens I used in the past 2-3 years in my part 2 review.