Pantene did a great job promoting their newly released Pantene Micellar Shampoo. You can see them almost everywhere, displayed at top of the shelf. Many beauty reviewers are raving about them, among which the "beauty guru" from Taiwan, Mr. Kelvin.
Besides, these shampoos are not pricey at all. 300ml is retailed at roughly RM17-24 depending on sales/stores, whereas 500ml one is only somewhere below RM30. That's quite reasonable given that my favourite shampoo from Innisfree is already costing me RM45 for 300ml.
Since the Klorane shampoo that I recently ventured into failed to impress, I decided to pick this one up from a local Guardian store (you can get this from Watson's too). Below are my thoughts on the shampoo after using it for some time now.
Review Pantene Micellar Shampoo
Pantene Micellar shampoo is housed in a round, plastic bottle with pump top. The blue one "detox & purify" is for normal to oily hair whereas the green one "detox & moisturize" is for dry hair tips and oily hair. The official retail price is RM24.90 for 300ml and RM35.90 for 530ml but you can get them at cheaper prices from their Shopee store, or even at local Watson's and Guardian.
Pantene is one of the pioneers in coming out with this micellar technology for hair care products. We have micellar water for makeup removing but now Pantene takes this and uses it on their shampoo!
The concept of Pantene micellar shampoo is to gently lift dirt and impurities in your scalp, without disturbing the natural moisture content of your scalp. So you wont get the issue of over-cleansing when using this micellar shampoo, but you won't have to worry about not cleansing it thoroughly either, like what I experienced with my Klorane Oat Milk Shampoo.
Chinese readers can check out this video here by Mr. Kevin. In fact, this video actually prompted me to buy this shampoo, instead of the L'Oreal Paris Sulfate-Free Shampoo that I wanted to get earlier.
Review
Pantene Micellar Shampoo Ingredients
Water,
Sodium Laureth Sulfate
,
Sodium Lauryl Sulfate
, Sodium Chloride, Cocamidopropyl Betaine,
Citric Acid
, Sodium Citrate, Sodium Xylenesulfonate, Fragrance, Cocamide Mea, Sodium Benzoate, Tetrasodium EDTA, PEG-60 Almond Glycerides, Trisodium Ethylenediamine Disuccinaate, Linoleamidoprophyl PG-Dimonium Chloride Phosphate, Propylene Glycol, Guar Hydroxypropyltrimonium Chloride, Panthenol, Panthenyl Ethyl Ether, Butylene Glycol, Mentha Arvensis Leaf Oil, Mentha Piperita (Peppermint) Oil, Menthol, Niacinamide, Nymphaea Odorata Root Extract,
Methylchloroisothiazolinone
,
Methylisothiazolinone
.
I am actually surprised that this contains quite a few "controversial" ingredients like SLSs (harsh chemical), methylisothiazolinone ("MIT", toxic preservative), and methylchloroisothiazolinone (also a toxic preservative). Normally SLSs are not recommended for your face, but it should work alright for normal scalp. As for MIT preservatives, I personally am not a fan, and will literally stop buying any products with these preservatives, especially leave-on cosmetic items. They are found to be bad for your nerval system and is only allowed for rinse-off type cosmetics. Always rinse them off thoroughly whenever you are using any products with these MIT preservatives.
Lets look at the good ingredients. Cocamidopropyl betaine and several commonly surfactants in cleansing water are used here. No wonder Pantene calls this a micellar shampoo. They can take off dirt and oil without disturbing your skin's moisture barrier. Panthenol is added for moisture retention effect. Menthol is also added as a cooling agent. A tiny bit of lotus root extract is also here for antioxidizing, soothing, and moisturizing benefits.
Review Pantene Micellar Shampoo Performance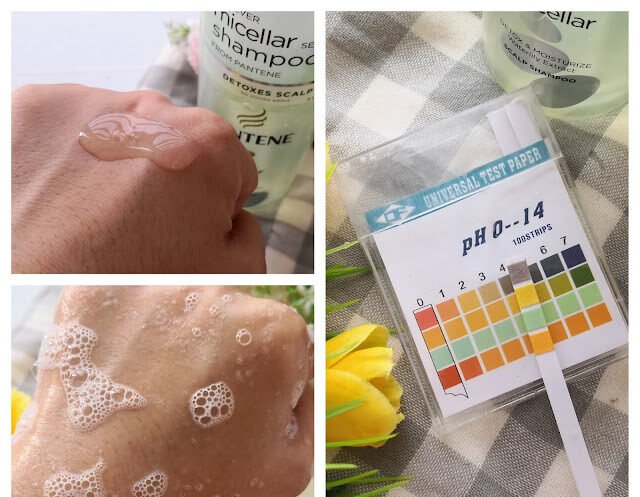 The Pantene Micellar Shampoo has some nice claims here. First, it is claimed to be gentle and silicone-free. But does it even know that MIT preservative is even more toxic than paraben or phenoxyethanol? Not to say that SLSs may cause sensitive reactions among many users. I am okay with its no-dye or no-silicone claims but not for no-paraben claim because MIT is worst than paraben.
The Pantene Micellar Shampoo lathers into soft and rich bubbles. It is really easy to lather and rinse so the formula seems "airy" and "silicone-free" enough. My hair does feel super airy, voluminous and not being weighed down after shampooing. It leaves my hair feeling squeaky clean and a bit dry though, thanks to the SLSs, but I like how my hair feels really light and non-greasy afterward. I don't need to wash it every days after using this shampoo. So I think it does what it promises – to penetrate deep into the pores in your scalp with its micro lather to take away sebum and impurities trapped inside.
As for scent, this shampoo has a nice floral scent. I am not good at describing scent but I think the green one smells more natural and definitely better than the blue one.
CONCLUSION
I think it is fair to claim that this Pantene shampoo a "micellar shampoo" because after using it, your hair feels light and airy, without any greasiness or heaviness. Your scalp also feels much clearer and cleaner without the need for shampooing every day. The cheap price also justifies the use of "not-so-quality" ingredients as it has to compensate for other "better ingredients" it puts in. But one thing I am absolutely against is the use of MIT preservatives which can cause severe allergic reactions among users, especially that it has bioaccumulation properties and may cause nerval damage. Other than that, I think I am really pleased with the performance of my Pantene Micellar Shampoo so far. I will keep you guys posted once I have emptied it out.
Until then, see you in my next post "Lush – Roots Hair Treatment Review"!