Actually, I was a bit hesitant to give facial oil a try. They are usually rich, overwhelming, or greasy when applied. Belif Rose Gemma Oil was a rare exception. I couldn't resist the enticing rose scent that it gives so I went on and paid some RM260 for a bottle of 30ml worth of rosey-ness. But even Belif feels kinda heavy on the skin too.
But for Huxley Secret of Sahara Oil Light and More, it is a different case. I actually bought it after trying a sample of it earlier, and was really impressed by how facial oil can be so lightweight, moisturizing and non-greasy at all. Many Huxley products feel kinda heavy or overwhelming on my skin, like the Huxley Cleansing Water, Sunscreen, and even its Toner, but surprisingly not its Oil. So today, I'm gonna talk about this uber lightweight, moisturizing and deeply antioxidizing facial oil that really impresses me. It is the oil that I will recommend and probably repurchase in the future!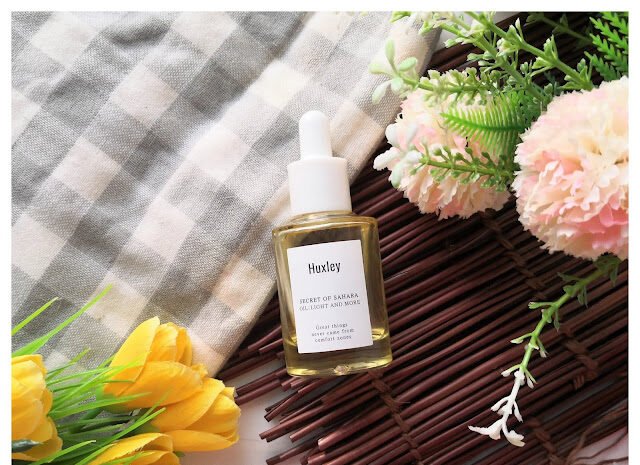 Review Huxley Secret of Sahara Oil Light and More
Huxley Secret of Sahara Oil and Light and More looks beautiful. It is packed in a transparent glass dropper bottle that allows you to see through its packaging and the golden elixir inside.
It claims to be a highly concentrated and antioxidant-rich facial oil that will nourish and replenish dull and dehydrated skin. It is best suited for combination to dry skin types, especially dry and papery skin. People who work under highly stressful environment, or work under the sun will also benefit a lot from its antioxidizing properties, as this oil can basically shield your skin from environmental aggressors like free radicals, pollutants, and moisture loss.
This huxley secret of sahara oil light and more will also work great for acne-prone skin, as it is rich in vitamin E and linoleic acid. Linoleic acid is found to be great for acne-prone skin, and is also an essential moisturizing elements, but our body can't make linoleic hence we need it get it from food sources, in this case, natural oils.
As you can see, it gets absorbed the fastest among all other Huxley treatments, and will form a nice moisturizing film on the skin!
There is a variety of ways you can use this oil for, among which:
as a moisturizer – apply huxley secret of sahara oil light and more at the last step of your skincare regime after your serum to lock in moisture
as a treatment – apply it before your moisturizer (cream/lotion); or mix it with your moisturizer for a glowing and dewy complexion
as a spot treatment – apply it on your dry and flaky area to smooth and soothe your skin
as a body oil – apply it on your knees, ankles, elbows etc. drier parts of your body
as a lip treatment – apply it on chapped and cracked lips
as a cuticle oil – apply it on your nail and cuticle for beautiful tips
as a hair oil – apply it on your split ends or hair tips
as a neck cream – mix it with a cream and apply it on your neck to prevent wrinkles
as a makeup base – mix it with your foundation for a longer lasting makeup
as a oil mist – mix 50ml of purified water (or rose water) with 20 drops of this "huxley secret of sahara oil light and more" and spritz it on your face as and when you need
Review Huxley Secret of Sahara Oil Light and More Ingredients
Caprylic/Capric Triglyceride, Dicaprylyl Carbonate, Helianthus Annuus (Sunflower) Seed Oil, Squalane, Opuntia Ficus-Indica Seed Oil, Simmondsia Chinensis (Jojoba) Seed Oil, Crambe Abyssinica Seed Oil, Tocopheryl Acetate, Fragrance
This facial oil is made with a handful of simple but potent ingredients:
Main ingredient caprylic/capric triglyceride is an emollient made of coconut oil and glycerin. It is also valued as a colourless, ocourless and highly stable solvent for oil too.
Next, we have dicaprylyl carbonate, a dry emollient that moisturizes the skin without being greasy at all. That explains why this oil is not greasy or heavy as compared to other Huxley products.
We also have sunflower seed oil, a non-volatile oil rich in linoleic acid to nourish the skin and repair any barrier damages. It can retain moisture and keep your skin soft and smooth. We also have squalene, a skin-repairing ingredient used for wrinkles-reducing and skin moisturizing properties. Next, our cactus oil is the potent superstar here. It harnesses the moisture retention properties of cactus living in harsh dessert and convert that energy into our skin. It is a powerful skin firming ingredient that can also used to protect, smoothen and moisturize the skin. This plant oil is also rich in vitamin A, B, C and E and is an essential component for anti-aging use. Other emollients used here include jojoba seed oil and crambe abyssinica seed oil with omega acids to give you a healthy complexion.
CONCLUSION
I think huxley secret of sahara oil light and more is undeniable that this facial oil is quite versatile and can serve many purposes. I like how it is being non-greasy yet highly nourishing. You can just blend it in many things and use it for a variety of purposes. My favourite way of using it of course is as cuticle oil and facial oil. But I know there are people who love using this as oil mist. Its enticing scent that is uniquely Huxley also makes it a great SPA for many. You can also apply some of the oil on your shoulder and use it as a massage oil. Definitely a super lightweight dry oil that will capture the heart of many people including non-oil lovers like me. Highly recommended huxley secret of sahara oil light and more! See you next post "best massage oils for relaxation"