The Naked Petite Heat palette caught my eye as soon as it was released and boy did it deliver. Creamy, pigmented mattes that translate on the eye and simply stunning shimmers that deliver the most beautiful looks. To this day it is one of my favourite palettes. But, having said that the shimmers just don't get the love that they deserve from me and because my life is a little unpredictable at the moment, I find myself being drawn to more user friendly, practical and purse sized products.
Enter the Naked Petite Heat palette –  cue angelic singing.
This little pocket rocket is seriously the answer to my prayers. It boasts 6 new shades in one palm-sized little palette. But the question is, does it live up to the hype? Are the shades and formula up to the usual Urban Decay high standard? Let's see.
Review Packaging Naked Petite Heat palette
The packaging is a hard sturdy plastic with a clip closure. The front is emblazoned with flames and roses. The pan sizes are quite generous for the size of the overall product (They're actually the same size as the naked palettes) and the mirror is really decent. tick, tick, tick.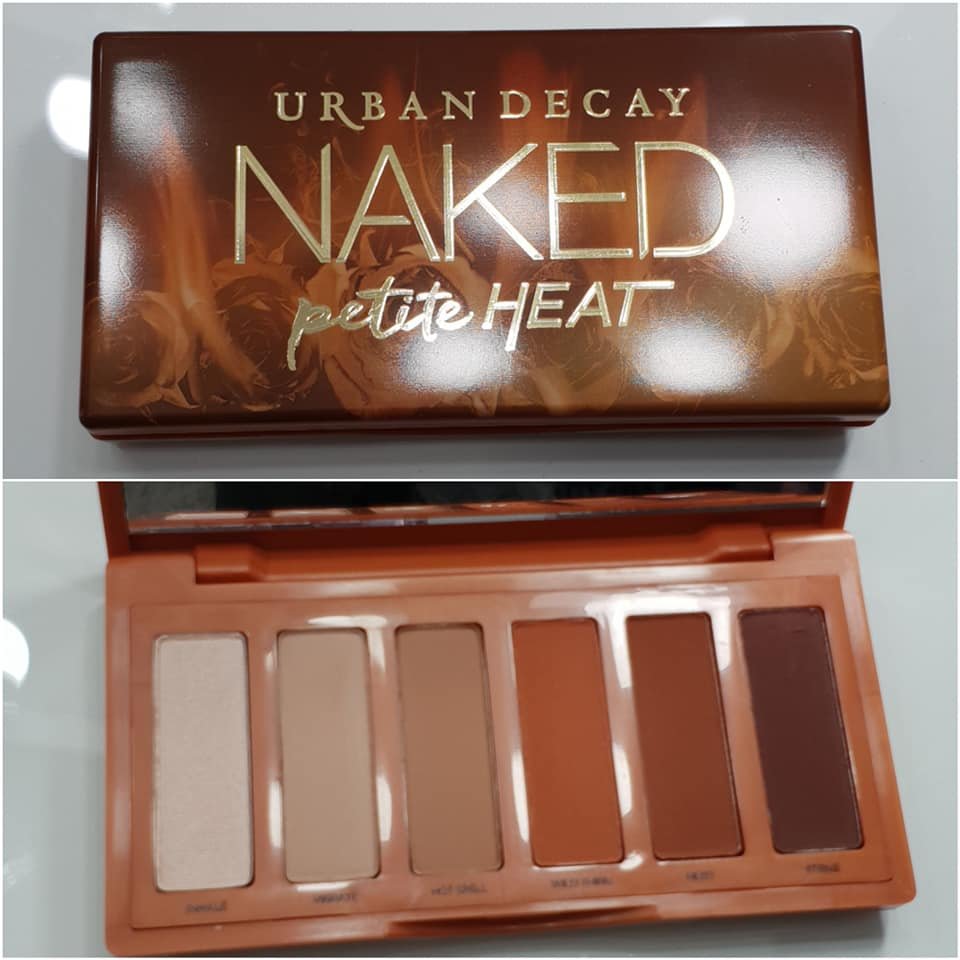 Now, on to the important bits. There are 5 complete matte shades and one demi-matte highlight, which I think is a really clever inclusion in the palette. As expected the Naked Petite Heat is a bevy of warm shades that would compliment any eye colour.
Function Naked Petite Heat palette
There is a decent amount of functionality; There are beautiful muted transition shades and rich crease colours. The darkest shade works well to create depth and is great as a liner or to smoke out your look. You may not be able to create a huge range of eye looks, but honestly, what 6 pan matte palette would give you crazy versatility with never-ending looks? Yeah, not many at all.
Review Formula Naked Petite Heat palette
The formula is gorgeous. These are damn good mattes. They are smooth, buttery, pigmented and not in the slightest bit chalky. They apply really well and blend out even better.  These shadows are really fuss free, you don't have to work to hard to get your desired effect, plus they have minimal fall out.
The only partially negative I can mention is that it is quite possible that you may already own similar shades within your collection. I mean, they aren't ground-breaking colours. But having said that, I think the appeal of the product is its size and having all those complimentary shades right there in your hand, in one tidy little high-quality palette.
Overall Of Naked Petite Heat palette
You probably won't believe me when I say I don't actually wear a lot of metallic or shimmery eyeshadows. As much as I love them, and believe me I do, my go-to are mattes.  And scorched, deliciously rich warm toned mattes, now that is what my dreams are made of. I know the market is over-saturated with warm tones, and people may be beginning to tire of the same concept over and over. But there are no complaints here. Oranges, peaches and reds really play up my blue eyes and I am not even close to getting bored of these hot fire shades.
These days I am mostly applying my makeup in a rush so this palette is absolutely perfect for me, I cannot fault it. I think this is a great little palette for the beginner, or someone starting out with their warm-toned looks. Or, of course, someone like me, who loves warm-toned mattes and stick to the same kind of looks.
This smoking hot little number drops at Mecca Maxima on May 1st.
Does this tickle your fancy? Will you be adding this to your cart?
*DISCLAIMER – Although these products were provided for my consideration, all views and opinions are 100% honest and my own. No sponsorship or money has been provided for my review. All discount codes are not affiliated, unless specifically stated. All opinions are based purely from my own experiences. I try my hardest to provide my readers with accurate information, but I am not by any means a professional, nor am I an expert. Please do not confuse my opinions with professional advice.