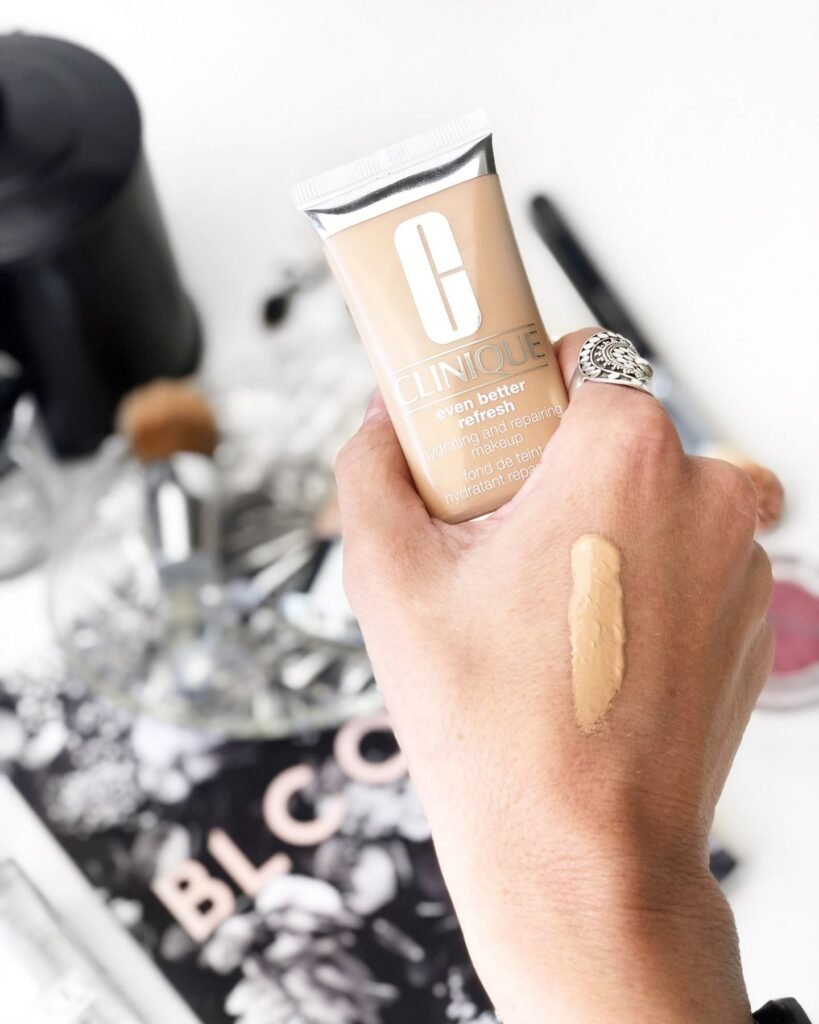 The cheeky little sausages at Clinique have released a new variety to their ever-popular Even Better makeup range. The Clinique Even Better Refresh Hydrating and Repair Foundation looks like a winner on paper – Full, but natural coverage, blurs pores and plumps the skin. So, let's see how it performs.
CLINIQUE EVEN BETTER REFRESH HYDRATING AND REPAIR FOUNDATION
24-hour hydrating foundation with flawless full coverage and a natural finish. Creates a virtually poreless look. Smooths and plumps for younger-looking skin.
KEY POINTS
No Parabens, Phthalates, Fragrances
Oil-Free
24-hour wear
Contains Hyaluronic acid to plump and hydrate the skin while wearing
Contains BHA Salicylic acid to refine the skin and reduce texture
REVIEW PACKAGING AND FORMULA CLINIQUE HYDRATING FOUNDATION
Housed in a squeezy plastic tube that allows for total control and hygiene – A+.  It is simple, chic and easy to travel with and store.  The formula is not runny, nor is it thick – it is the perfect medium. Creamy and super lightweight, from the first swipe you can feel the hydration but not in a juicy, oily kinda way. Instead, your skin looks and feels like it has had a big drink of water and is full of health.
REVIEW APPLICATION AND LONGEVITY CLINIQUE HYDRATING FOUNDATION
Application is a breeze. Despite the lightweight consistency, not a lot of product is needed to get decent coverage. It applies well with fingers, a sponge or a brush – so whichever method works best for you, go for it. There is no effort needed to blend out and it can easily be sheered out or built up to reach your desired coverage. Personally, I like to wear it on the sheerer side to allow my little freckles to peek through.  The finish is a natural satin which is seriously the most flattering result on earth.  It disguises those pesky little pores and leaves the skin smooth and somewhat blurred.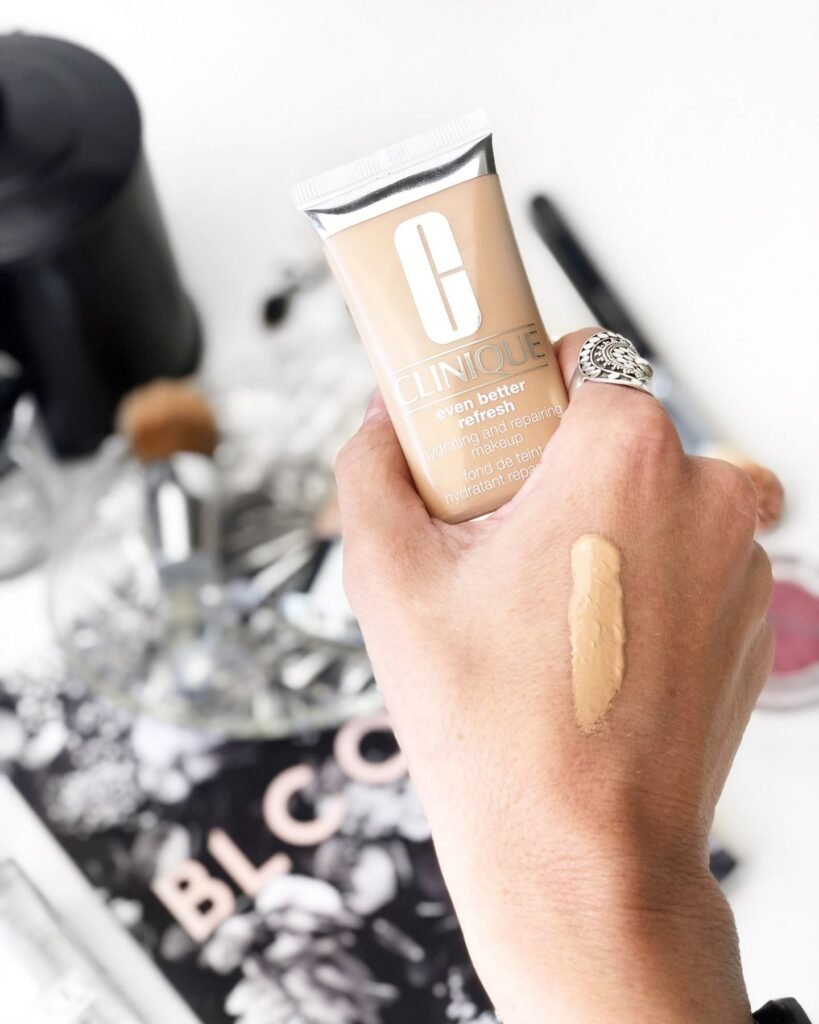 Throughout the day, the finish remains to be really lovely. While it does tend to get a little more glowy, it isn't greasy. I completely embrace this, as it looks so healthy and youthful.  However, some oily babes may not appreciate this but the glow factor can be combated by blotting or powdering. You can feel those hydrating and plumping ingredients nourishing your cute little mug which is a brilliant added bonus.
At no point through the day does my face feel tacky, sticky or even heavy. It is so lightweight that you forget you've even got a face on.  I find that it lasts my whole day of work easy, and even a good 12 hours later it is still looking beautiful.
FINAL REVIEW CLINIQUE HYDRATING FOUNDATION
I really have to think hard to find any flaws with Clinique Even Better Refresh. It is just beautiful. From the gorgeous glowing, radiant finish, to the lightweight but full coverage, this foundation has really impressed me.  I just love the way it makes me look so youthful and fresh. The only little critique I could mention is that it slightly fades in some areas of the face, but this is expected after a full day of wear and no touch-ups.
WHO WOULD THIS WORK FOR?
Almost anyone. People with a love for an absolute matte finish probably wouldn't like the radiant finish. But otherwise, it works ridiculously well on my oily skin while still being formulated for dry and dull skin types.
If you're interested in this little gem, Clinique will supply you with  10-day supply to ensure you love it as much as I do. You can get your voucher here, and then head instore to a counter to claim.
Clinique is sold MECCA, Sephora, AdoreBeauty, Myer and David Jones.
*DISCLAIMER – Although this product was provided for my consideration, all views and opinions are 100% honest and my own. No sponsorship or money has been provided for my review. All discount codes are not affiliated unless specifically stated. All opinions are based purely on my own experiences. I try my hardest to provide my readers with accurate information, but I am not by any means a professional, nor am I an expert. Please do not confuse my opinions with professional advice.