A gentle cleanser for everyday use is essential for everyone. No matter what skin type you have, you should have one within easy reach that gently cleanses the skin, removes makeup, and is free of fragrance. Priori Advanced AHA Gentle Facial Cleanser works on that premise but boasts the power to do a whole lot more as well. Can a gentle everyday face wash improve your skin and help prevent aging? That is the claim and I put it to the test for this review.
My Review Priori – Advanced AHA Gentle Facial Cleanser
The large 180ml pump pack is ideal packaging in my mind. It is a good amount of product without being gigantic in size, it is functional and easy to use in a rush, and if you keep your cleanser in the shower like I do the extra security of a big clear lid means it is kept from getting grubby.
The Priori Advanced AHA range isn't about looking and feeling fancy. It is a skincare line that works and that is where they keep the focus. This particular cleanser contains no fragrance, no parabens, no oils, no colorants and it is dermatologist and allergy-tested. I personally love the fragrance-free aspect and you can't even smell the Lactic Acid which is usually a strongly scented ingredient.
While it gently cleanses and exfoliates the skin, it doesn't compromise the skin barrier function which some AHA products are known to do. After washing you can feel your skin is clean, residue removed and still super soft.
I trialed this product with both a Clarisonic and just using it with my fingertips. And, I obviously found using it with a Clarisonic gave me a deeper clean and removed my makeup without effort. But even when using my fingertips it still did about 80% of the job. I was able to double-cleanse with this product and my skin did not feel tight or irritated.
It doesn't foam up too much when using but it creates a nice lather, enough to feel like you are doing something even though we know that is no real indication.
While using this product for 2 months I did not have a single breakout or blackhead.
My skin stayed noticeably hydrated longer than it usually would when I tested it both with and without serums and moisturizers on top.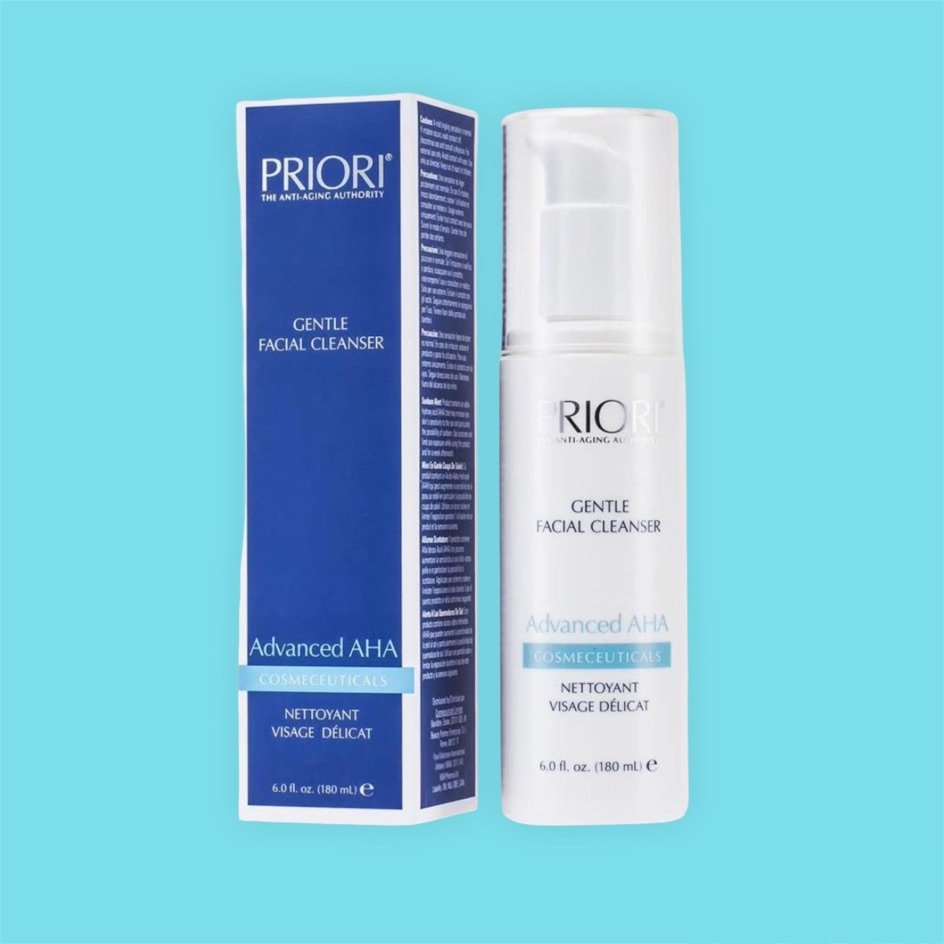 What Priori say about Priori Advanced AHA Gentle Facial Cleanser
A delicate cleansing formula that lightly lathers to wash away impurities from all skin types. Formulated free of fragrances and oils, it will not cause irritation or breakouts.
Contains 13% LCA Complex for advanced moisturization, multi-layer skin renewal and antioxidant protection
Gently exfoliates the skin, leaving it soft, soothed and radiant
Removes makeup and daily residue
Ideal for all skin types
Read more: Philosophy Serum – When Hope Is Not Enough | Review Firming Serum