I always love sheet mask with creamy essence. Well-made ones tend to be really moisturizing and nourishing without being greasy or overwhelming on the skin. This R:NA Proatin Whitening Mask is one of these creamy serum masks that impress me a lot lately. I also loved similar ones from The Face Shop. Not many brands produce nice creamy serum mask so I am glad that this Mediheal one turns out to be great.

R:NA Proatin Whitening Mask Overview
Mediheal R:NA Proatin Whitening Mask is a creamy serum mask made with elastic cellulose with nano-fabric technology. It is soaked in milky and viscous essence with 19 different types of amino acids and peptides in it. The mask fits my face really well. It didn't give me any itchiness or discomfort in the 20 minutes I was wearing it. Except for whitening and nourishing, this mask also has face lifting effect with its elastic material for long-lasting moisturization for the skin.

As you can see, the material is really soft. The essence is creamy but lightweight. The mask has a nice cottony scent that makes it a wonderful masking experience for users.

My skin appears chok-chok, soft and supple after wearing it. It is not sticky at all so no rinsing is needed. You also don't need a moisturizer afterward either as the creamy essence will form a nice moisturizing film on your skin.
Review Mediheal R:NA Proatin Whitening Mask Ingredients
[INGREDIENTS ANALYSIS] Water, Dipropylene Glycol, Niacinamide, Propylene Glycol, Cetearyl Alcohol, Phytosqualane, Glycerin, Hydrogenated Lecithin, C12-16 Alcohols, Palmitic Acid, Camellia Sinensis Leaf Extract, Dipotassium Glycyrrhizate, PEG-12 Dimethicone, Hydroxyethyl Urea, Betaine, Xylitylglucoside, Adenosine, Butylene Glycol, Anhydroxylitol, Xylitol, Avena Strigosa Seed Extract, Dimethicone, Allium Sativum (Garlic) Bulb Extract, Brassica Oleracea Italica (Broccoli) Extract, Vaccinium Angustifolium (Blueberry) Fruit Extract, Prunus Amygdalus Dulcis (Sweet Almond) Seed Extract, Spinacia Oleracea (Spinach) Leaf Extract, Salmon Egg Extract, Milk Protein Extract, Solanum Lycopersicum (Tomato) Fruit Extract, Tocopheryl Acetate, Hydrolyzed Collagen, Sodium Hyaluronate, Glucose, Phenoxyethanol, Diospyros Kaki Leaf Extract, Theobroma Cacao (Cocoa) Extract, Coffea Arabica (Coffee) Seed Extract, Wine Extract, Ethylhexylglycerin, Hydrolyzed RNA, Ascorbyl Glucoside, Glycine, Glutathione, Serine, Glutamic Acid, Aspartic Acid, Leucine, Alanine, Lysine, Arginine, Tyrosine, Phenylalanine, Valine, Threonine, Proline, Isoleucine, Histidine, Methionine, Cysteine, Acetyl Hexapeptide-8, Copper Tripeptide-1, Disodium EDTA, Arginine, Carbomer, 1,2-Hexanediol, Zanthoxylum Piperitum Fruit Extract, Usnea Barbata (Lichen) Extract, Fragrance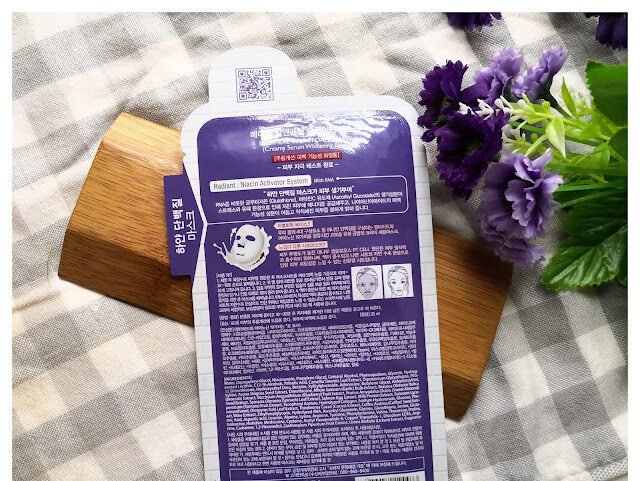 Ingredients-wise, I am pleased with the niacinamide, lecithin, green tea extract, licorice root extract, adenosine, broccoli extract, blueberry extract, spinach extract and so on botanical goodies in here. As always, niacinamide runs the show as the elasticity-improving and dark spots reducing superstar here. A number of alcohol derivatives are also added to contribute to the lightweight and good absorbency of this mask. The rest are mainly botanical extracts, amino acids and humectants with moisturizing and antioxidizing benefit for the skin.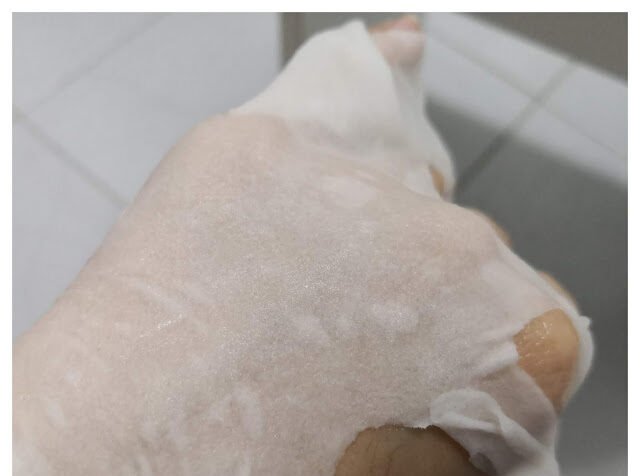 I am generally pleased with the performance of this mask. It is affordable and easily accessible in Malaysia. The mask has a creamy essence that is non-greasy or heavy whatsoever. It also helps to retain moisture and keep your skin hydrated for longer. I also like how my skin appears supple, brighter, glowing and softer after using it. The skin softening effect lasts for 1-2 days too.
I will most likely repurchase Mediheal R:NA Proatin Whitening Mask in future. Highly recommended for normal to dry skin that is looking for skin brightening and moisturizing effects.
Read more: Review: Mediheal Golden Chip Circle Point Mask 2022