Lately, I have been a bit caught up in the high-end products. In an effort to reel it back and to stop pretending I am made of money, I've taken time out to trial and test budget beauty buys that are a little kinder on the wallet. And what better place to start than Maybelline 's newest addition, the revamped Dream Satin Liquid Foundation and this is my review about it.
Foundation with hydrating serum and hyaluronic acid for 12hr moisture and a flawless, radiant, luminous finish. Ideal for dry skin.
Being a normal-to-oily type girl, the description makes me a little worried. Anything that is target towards dry skin usually does not work well for me. But, in the name of all things beauty, you know I'm going to test this baby out.
Key Points of maybelline dream satin liquid foundation
Enriched with hydrating serum, for up to 12 hours of moisture.
Full yet lightweight coverage.
Oil-free and won't clog pores.
Tested under dermatological control.
Suitable for sensitive skin.
Review Initial Impressions Maybelline Dream Satin Liquid Foundation
I was lucky enough to receive a beautiful PR package of the entire range. As soon as I opened the box, something was too obvious to ignore. The shade range is poor. 10 shades isn't the worst, but just take a look at the scale of the colours…. not great. With the Maybelline Fit Me Foundation offering 40 shades, it does beg the question, where are all the rest?
Shade range aside,  The heavy glass bottles look lovely and with a simple glance, it is easy to pick your best colour match. The pump type packaging is the perfect method of delivery for good hygiene without too much waste
Review Application of Maybelline Dream Satin Liquid Foundation
As with Clinique Beyond Perfecting Foundation Review, I test application in various ways – fingers, brush and sponge. I found that the Dream Satin Foundation applied well regardless of the method. It spreads evenly across the skin and is easy to blend out or build up. The coverage is quite full and glides over imperfections without too much effort. It didn't cling to dry areas nor did it leave a wet or sticky feeling on the face.  The finish was definitely a satin-feel but not nearly as dewy as I expected from a serum based product.  The application is quick without any fuss and the result is a lightweight, natural-looking even complexion.
PERFORMANCE
This is where things get interesting. Over a week of testing, I had very different results. On days where I was inside the Dream Satin performed really well. The natural satin finish lasted throughout the day, with only minimal amount of shine as the day wore on.  There was no caking nor did the foundation break up in areas where most foundations do. It did slightly fade around the chin area, but that is probably because I tend to rest my chin on my hand.
However, On days where I was out and about running errands or if it was particularly hot, the foundation didn't last nearly as well. The coverage did begin to fade around the 3-4 hour mark and continued to fade until it was almost non-existent by about 9-hours of wear. As expected in the heat, my skin was much more oily and due to the hydrating nature of the foundation, it basically slipped straight off.
OUTCOME AND SUMMARY
It's a really decent foundation. For a glowy, moisture-rich foundation I had low expectations for my greasy little potato face. But, paint me surprised. At no point did I feel outrageously oily, but instead, I was natural and hydrated with a touch of glow. With the ease of application, great coverage, and a lovely finish, I think this is a really well-formulated foundation. However, If you want a super-long-lasting foundation in the heat, this probably isn't your best choice. But, it lasts well on an average day of being inside.  I can't speak for dry-skinned folk, but I can see Dream Satin working for all skin types, but not all skin tones, unfortunately, due to the shade-range. If you can find a colour-match, I would recommend grabbing this little satin-wonder next time you're in Priceline for a lovely lightweight, natural-looking foundation.
This maybelline dream satin liquid foundation has definitely reminded me how much I love drugstore foundations. They are so good and more often than not will be on par, if not better, than their more expensive high-end counterparts.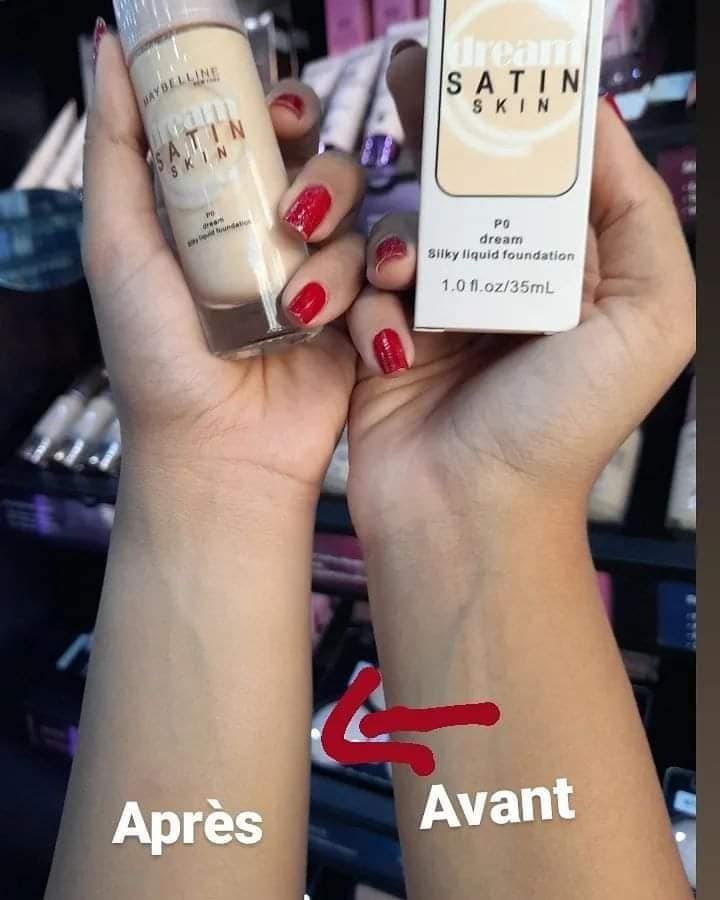 What is your favourite drugstore base?
Chat soon,