Certain lip balms will not suit everyone alike. So, if you have dry lips, make sure that you carefully select the best lip balm for dry lips. The skin on your lips is thinner and more sensitive than any other area of your body. This makes them more susceptible to dryness and chapping, particularly in the cold winter months. Thankfully there are a number of great lips balms that can work wonders and provide long lasting relief.
In an increasingly saturated skincare market, it confusing to choose a balm that is effective, offers value for money and is easy to use. To make this task easier, we've tried and tested several lips balms and shortlisted the best ones that leave lips feeling soft and protected. The lip balms mentioned in this article relive both short term and long term dryness and live up to their ' long lasting' promises.
Best Lip Balms : Reviews
The Body Shop Vitamin E Lip Care Stick SPF 15
This is an effective everyday lip balm that locks in hydration and heals chapped lips. It comes with an SPF of 15, which provides protection from the sun's harmful UV rays. It is unscented and gives a burst of moisture to dry or flaky lips. It has a thick, buttery texture and stays on the lips for a long time after application. It is hydrating without being greasy. This balm contains vitamin E, which repairs damage and protects skin from the effects of free radicals. It also has plant oils which condition and soothe skin. It is packaged in a convenient, twist-up stick which makes it hygienic and easy to use.
Blistex DCT Lip Balm
This is an excellent option that provides noticeable relief for chapped lips. It feels light and non-greasy on the lips and leaves a glossy finish. This is the best chapstick for dry lips as it has a fast acting formulation that softens and hydrates skin immediately after use. This product also has SPF to protect your lips and menthol which softens and leaves them with a cool, tingling sensation. Additionally, it is packed full of vitamins, protectants and moisturizing ingredients that provide all round treatment. Even if you don't have excessively dry lips, it is recommended to use this as a daily preventative treatment. It is the best lip balm for men that many users swear by.
Fresh Sugar Lip Treatment Sunscreen SPF 15
The Fresh Sugar Lip treatment is the best lip balm for chapped lips, which comes in both clear and tinted formulations. It is a lightweight lip treatment which contains beneficial oils such as blackcurrant oil which are rich in essential fatty acids. It also contains real sugar which is a natural humectant that retains moisture. Additionally, vitamins A, C and E and antioxidant grape seed polyphenols present in the balm provide protection from skin damaging free radicals and UV rays. The product has a pleasant citrus scent and is completely free from lanolin, petroleum, and mineral oil.
Glossier Balm Dotcom Universal Skin Salve
The Glossier Balm Dotcom Universal Skin Salve is an excellent multi-purpose product that can be used on any areas that require a moisture boost such as lips, elbows, cuticles, and knees. It contains potent nourishing ingredients like beeswax, castor seed oil, and lanolin. It is a hydrating salve with a thick, waxy texture. The antioxidants serum and natural emollients in this product repair and nourish irritated skin. The packaging is aesthetically pleasing and convenient. It offers long lasting moisture and gets rid of any signs of dryness.
In comes in 4 different flavors, rose, coconut, mint, and cherry. This product has a thick texture and is hypoallergenic. It is dermatologist tested and is free of parabens and harmful chemicals. It can be used during daytime and also at bedtime. This lip balm is extremely effective at relieving chapped lips and softening them overnight.
Smith's Rosebud Salve
Smith's Rosebud Salve is another multi-purpose product that is a makeup artist and celebrity favorite. It has a subtle tint and comes packaged in a tin container, which is travel-friendly. It is extremely effective at relieving dryness and is particularly beneficial for chapped lips. This balm also alleviates minor burns, rashes and heals skin irritation. It contains a moisturizing, emollient base and cottonseed oil which is an excellent skin conditioner. It has a mild rose scent and leaves a glossy pink tint on the lips. It gives long lasting moisture and does not feel sticky or waxy. This is a handy no-fuss product which takes care of rough, dry skin on virtually any part of the body.
Burt's Bees 100% Natural Moisturizing Lip Balm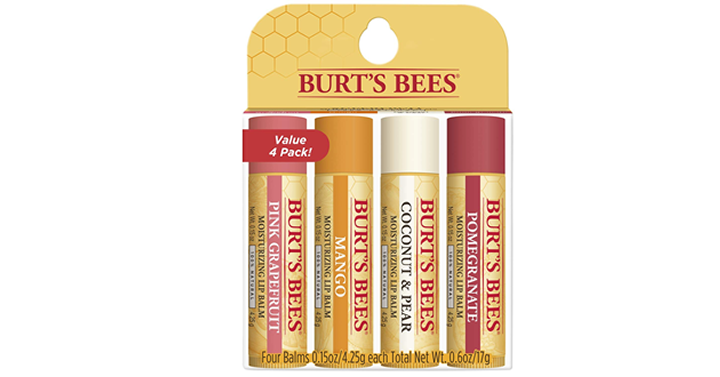 This is the best lip moisturizer that is all-Natural and completely free of harsh chemicals. It is made from organic ingredients such as beeswax and antioxidant vitamin E which heal, protect and condition skin. It also has refreshing peppermint oil to provide a soothing lip treatment. It comes in a convenient lip balm tube that is hygienic and easy to carry around. The result is smooth, supple lips that are free from cracks and flaking. This balm can be applied to the lips as often as needed, particularly during cold winters. It is suitable for all skin types and does not cause irritation.
Final Thoughts
Many of us tend to forget about lip balm until we are suffering from dry lips. But lip balm can also be used as a preventative measure to keep chapped lips at bay. With all the lip glosses and liquid lipsticks we use on our lips, a lip balm is an important first step to prime and moisturize lips. A great lip balm preps your lips so that any other lip product you apply, goes on evenly.
Lip balms have come a long way, and there are numerous options available today. There are balms that double up as lip tints, those that come with SPF protection and numerous flavors and colors. The products mentioned in this article are the best lip balms that have the potential to soothe dry, chapped lips. Using these long lasting lips balms regularly, will keep your lips soft and moisturized. You will soon start to see a vast improvement in the state of your lips.