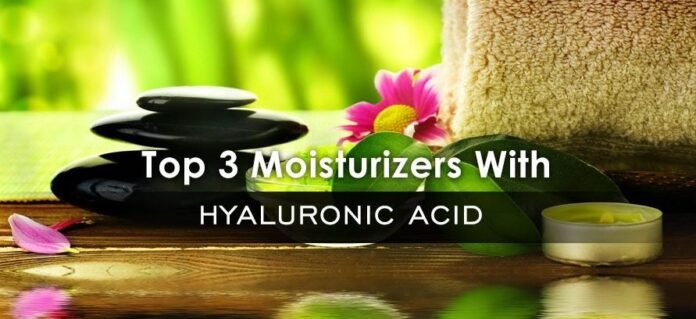 The best hyaluronic acid moisturizers plump and hydrate dry or aging skin. Hyaluronic acid is excellent at hydrating skin as a single molecule can hold 1,000 times its weight in water. Of late a lot of skin experts have been advocating the use of hyaluronic acid for the treatment of various signs of skin aging. If you are on the lookout for the fabled "fountain of youth", then you might do well to give this a try.
It is generally taken in the form of supplements or applied on the skin as serums. There are several moisturizers available that have hyaluronic acid content which you can use without any problems and they are quite effective as well.
Not many people are aware of this hyaluronic acid and how beneficial it is for your skin and want to learn more about it. Well, this is the right place to start! You can find a lot of resources here that will guide you to get the most out of your skincare regimen.
What is Hyaluronic Acid?
Hyaluronic acid, also abbreviated as HA, is a substance that is already available in the body. You will find it in the eyes and joints in good quantities. Its main function is to provide strength, hydration and flexibility to several tissues in the body.
It is prescribed for certain ailments like joint disorders like osteoarthiritis. When you have to manage these issues, doctors often recommend that you take HA orally or as an injection from your nearest clinic.
Hyaluronic acid is normally made from rooster combs or cultivated from bacteria in the laboratory. If you are a vegan, then you might want to double check on your sources of the HA that you use.
It has potent moisturizing ability and also heals damaged skin without being harmful to the body. This has made this substance very popular in the skincare industry.
How Does Hyaluronic Acid Work?
HA does its work by providing cushioning and lubrication for tissues. It doesn't just moisturize and fill wrinkles but increases your skin's elasticity as well.
Hyaluronic acid is normally used filler during plastic surgeries involving the lip area. Also, it can be used to replace the fluid in the eyes due to loss of fluids.
Since HA is highly compatible with tissues in the body, its absorption is pretty efficient by the skin. It repairs skin damage which results in buoyancy and filled-in wrinkles.
What Are The Risks Associated With Hyaluronic Acid?
Like we had written earlier, Hyaluronic Acid is ultra-compatible with human biology as it is produced by the body. It has very low incidence and little long-term side effects.
You need to be wary of formulations that contain chemically modified Hyaluronic Acid which might cause irritation to the individual. The problem is that these brands use the same ingredients in surgical fillers and not the ones in topical moisturizers.
Reports of negative reaction are quite low when it comes to HA and only when you are applying HA in its pure serum form would you have a problem with allergies.
The Best Moisturizers With Hyaluronic Acid Review
1. Amara Organics Hyaluronic Acid Serum for Skin with Vitamin C & E
Since HA occurs in the body naturally, it is biocompatible and very little problems concerning long-term side effects.
For people who would like to opt for a plant based hyaluronic source, this is your best bet. This organic formula contains HA which is derived from the seeds of Indian plan Cassia angustifolia.
This serum is free from Parabens and alcohol so you don't have to worry about its toxicity or irritation on the skin. It doesn't have chemically derived fragrances but instead has essential oils from geranium and jojoba.
This moisturizer is reasonably priced and will give you value for your money. A problem with this product is that plant-derived HA is definitely not as potent as many other sources available currently. Regardless, people have actually been satisfied with the results that they have obtained from this serum.
Vegan based
Natural composition
Free from Parabens
Consistency is watery
Less potent plant derived HA
2. Super-C 22 by Body Merry
If you want a good dose of HA skin delivered right to your skin, then you need to check this moisturizer out. It is a smooth, fast-absorbing lightweight cream which is also absorbed quickly into the skin.
Additional to its HA content, Super-C 22 also has intensive Vitamin C content and anti-aging CoQ10. This cream has shea butter, sunflower and jojoba oil which will keep your skin healthy and supple. It also contains aloe vera which helps soothe damaged skin.
It has a subtle citrus fragrance which literally awakens your skin and cleanses it. The vitamin C in the formula gets rid of dark circles and dark spots on your skin.
This moisturizer has Niacinamide, also known as B3. This is what protects skin from radiation from the sun and improves skin elasticity.Vitamin C sometimes can agitate the skin, but this moisturizer is packed with so many hydrating agents that it works together with vitamin C to give you great skin.
It works great on sensitive skin as well as a combination of both. Point to be noted: if your skin is super dry then you might feel it's a bit heavier in the evenings.
Has a lot of natural ingredients
Value for money
Has CoQ10 and Niacinamide
Doesn't give you source of HA
Could have had Vitamin-C Ester
3. Alina SkinCare With Vitamin C and Hyaluronic Acid
Considering that this is an expensive formula, it has also won awards and comes strongly recommended by dermatologists. There are a large number of people who can attest to its effectiveness.
It has a creamy consistency but gets absorbed quickly into the skin and leaves it soft and supple after a bit of time.
It has a hint of citrus fragrance that dissipates when it is absorbed. It smells of mandarin orange and grapefruit extracts.
This formulation has been tested thoroughly for any chinks in it and has delivered both in terms of quality and effectiveness. The ingredients in the product are lab created but considered safe to use.
We have reviewed many moisturizers that have vitamin C content in it but this specifically uses Vitamin C-Ester, also considered as the highest quality of the vitamin you can get. Additionally, it also uses green and white tea extracts for additional antioxidants.
If you need a product that can give you the highest quality without having to bust your wallet then this would be the right choice for your moisturizing needs.
This is also a great choice for people who are suffering from eczema as it has 7 intensive moisturizers that work to get rid of your skin problems.
This is in contrast other moisturizers that are used for treating eczema, it has Restora, a vitamin complex, which works to soothe and clam eczema flare ups.
Highest quality of vitamin c
Recommended by dermatologists
Has no Parabens, phthalates and sulfates
Expensive
Has synthetic ingredients
Conclusion
When picking top products, it is very difficult to separate a winner sometimes. This means that all the products are effective for your skin but if you were to pick the best out of the lot, we would recommend you go with Super-C 22 for your needs.
It comes is a 1.7 oz bottle which is the biggest in this review. What this also means is that it offers great value for your money.
Though it includes a lot of natural and organic ingredients it isn't 100% organic. We would put it right between the two other moisturizers, Amara and Alina, in this review.
Super C-22 has a citrus smell that we always love when it comes to moisturizers and the fact that it has a potent Vitamin C ingredient base also helps. It gives you a better skin tone and clears up hyper-pigmentation and dark circles.
These are the best moisturizers in the market that can give your skin a proper dose of hyaluronic acid so it'd be a great addition to your skincare regime.