We all hear the commercials and propaganda every time a new foundation is released about it having the best technology, and giving us the perfect, flawless complexion we desire. So, The hot button of the moment is a foundation that can adapt to blend with your own skin tone. It sounds a little "magical" but beauty brands have been competing for decades to create the most realistic, naturally blending foundation. I think every year we get a little bit closer …. or in the case of Rimmel London Match Perfection Foundation, a new and improved product, could the competition be over? 
My Review Rimmel London – Match Perfection Foundation
The slender glass bottle fits with an easy-to-use pump. The finger press is ergonomically shaped and requires minimal effort to dispense the perfect amount of foundation.
A creamy texture makes application easy with a sponge, brush or fingers.
There is a subtle fresh scent, slightly masculine but with a touch of floral.
It almost instantaneously improves the complexion during the application, giving sheer coverage. However, once you leave it to dry the coverage deepens a little more. The natural luminosity from my skin still came through and it didn't completely cover the darker beauty spots (which I like). It covers all my faint annoying freckles and gives my skin one unified color, rather than the naturally blotchy mess it is currently.
It really does add more radiance to my skin and it kind of looks as if I am wearing an invisible illuminator.
Rimmel London – Match Perfection Foundation lasts all day on my skin even when I forget to use a primer. During the extremely hot days of summer, it did lose a bit of coverage from sweat but it held up remarkably well for a non-waterproof formula.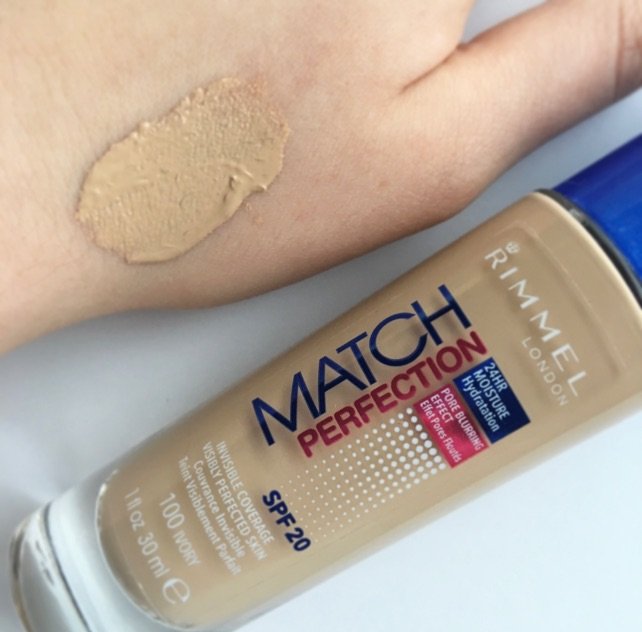 What Rimmel London say about Match Perfection Foundation
Tired of being charged with the ultimate beauty crime? We have all been guilty of using the wrong shade of foundation and the proof is hard to hide. Thanks to Rimmel London Match Perfection Foundation your foundation is a perfect match and gives you perfectly flawless, radiant skin. Match Perfection Foundation is truly undetectable under any light! From the bathroom to the office, out to London streets and even at the pub, no one will ever know!
How can this be? Well, Rimmel has done the sleuthing for you and created a next-generation, high-tech formula. Advanced Smart-Tone technology instantly mimics the skin's texture and tone for superior blendability, like a true master of disguise. Finally, a finish that is unique to your skin tone. Want more? Its Sapphire Radiance Complex helps give your skin an illuminating glow. With all this, you're bound to throw even the best detective off his trail…
So whatever your skin tone, thanks to Rimmel London Match Perfection Foundation's vast range of 12 shades everyone is bound to discover their perfect match. It's also ultra-comfortable to wear, and with SPF 18, your future beauty remains protected.
Read more: Rimmel Kate Moss eyeshadow Palette | Review, Swatches