Enter Dermalogica's brand new offering, the Dermalogica Rapid Reveal Peel. This super exciting release promises a professional result with an at-home treatment. Um, yes. yes. yes.
Who loves fresh, plump, healthy looking skin? If you answered no, you're definitely in the wrong place. Peels are one of the best, if not THE best thing you can do for your skin. The acids get to work at sloughing away dead skin cells and encouraging new cell production. This put simply means refined, renewed, refreshed and all-round healthy skin. Your cute little mug will be glowing with gratitude.
Now, I don't know about you, but I don't have the cash nor the time to indulge in regular salon treatments.  But not all is lost. In fact, I think I have an even better option for you.
WHAT IS THE DERMALOGICA RAPID REVEAL PEEL?
Kick-start cell renewal and achieve visible radiance with this at-home peel. Our maximum-strength exfoliant delivers powerful results with no downtime. A unique complex of phytoactive AHA extracts, Lactic Acid and fermented plant enzymes helps reveal new, firmer skin, reducing the appearance of fine lines and wrinkles by removing dulling surface debris without causing dehydration. Pumpkin Fruit Enzyme and Rice Bran Extract help even skin tone by resurfacing the skin and accelerating cell turnover while smoothing Australian Caviar Lime Extract brightens skin for a more radiant complexion. Rapid Reveal Peel comes in a 10-pack (0.1 US FL OZ / 3 ml per peel), complete with travel bag and suction cup for increased visibility and ease of use.
REVIEW PACKAGING DERMALOGICA RAPID REVEAL PEEL
The packaging is very clever. It is so practical. The ten little tubes come in a zip-up wallet with a suction cap. This allows you to have the whole pack sitting pretty on your mirror; an instant reminder to use these little tubes of goodness.
HOW TO USE THE DERMALOGICA RAPID REVEAL PEEL AND HOW DOES IT PERFORM?
Recommended to be used in the evening, you simply spread the water-like formula over your face. You allow the peel to sit on your face for 3-7 minutes to let those active to get to work. There are slight tingling and warm sensations, which I love. It says to me that the product is working. But people not-so-familiar with actives may feel slightly uncomfortable – you get used to it. You then rinse off the formula with cold water, and your skin is left looking a picture of health. Well, it may be slightly flushed but that will ease in minutes. Waking up the next morning my skin looks like a picture of health.
You can use RRP as a weekly treatment to treat and maintain your skin, or you can opt for the kick-start schedule to really give your skin a boost
RESULTS
After the first use, I was hooked. My skin was oh-so-smooth and soft. My pores looked tighter and my complexion was radiant. That was only after one teeny tiny little tube!
There is no downtime. People usually associate peels with sensitive, irritated flaky skin but that's not the case here at all. My skin was a little flushed and there was a little residual warmth but no different to a normal hot shower.
Although I haven't finished the entire pack, I was eager to share my results. I opted for the kick-start phase to really amp up the treatment and results.
As you can see from the images above, my skin is much more radiant and fresh. My pores are refined, my skin is less blemished and I can definitely see a difference in the pigmentation around my upper lip. Winner.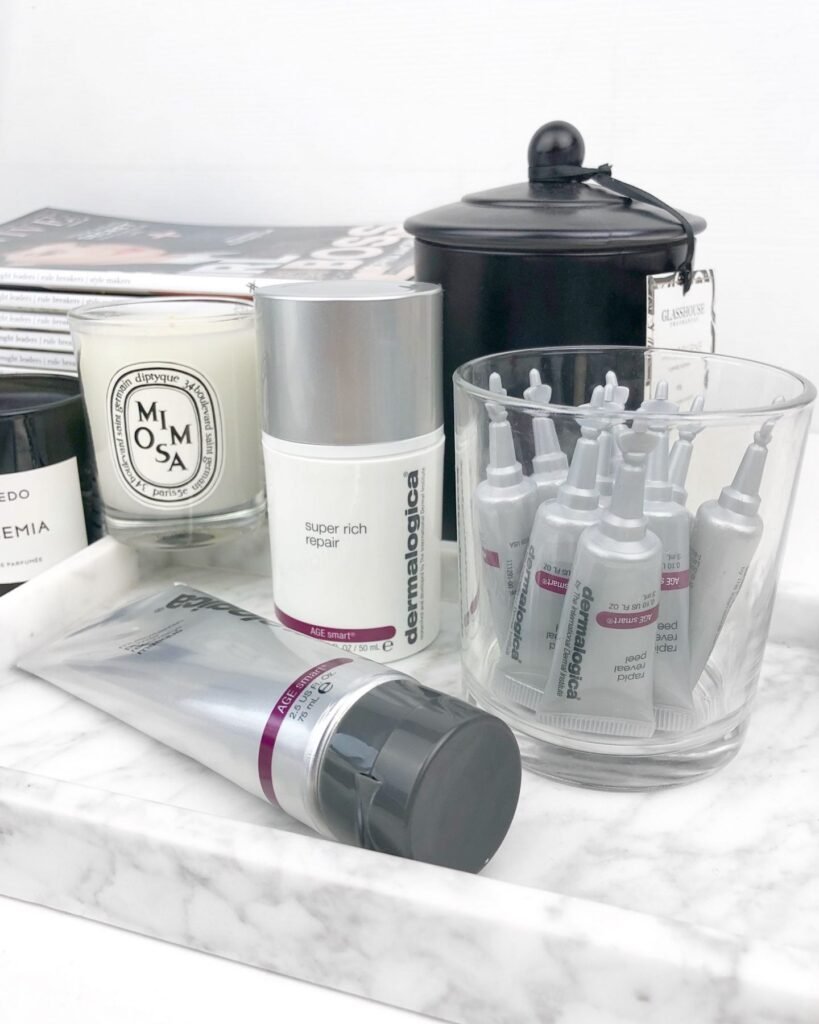 MY FINAL REVIEW DERMALOGICA RAPID REVEAL PEEL
If I could get a lifetime supply of these miracle workers – that'd be great. Anyone concerned with premature ageing (So, um, everyone – lololol) would benefit from the Rapid Reveal Peel. Babes with sensitive skin can control how long the product stays on the skin, therefore limiting the amount of irritation that could occur.
At $128 for the set, it does seem a little exy, but let's break it down. For 10 treatments (with professional results), the cost per use is $12.80 – that is bloody reasonable. And, if you wanna skimp a little, I'll let you in on a little secret – each tube has enough in it to cover the face twice. If you turn the lid upside down, you can pop it back in and save it for the next day. But, in saying that, it is recommended you use one whole tube at a time for the best results. I don't know for sure but exposing the liquid to air may affect the effectiveness. So the choice is yours.
These Dermalogica Rapid Reveal Peels are worth their weight in gold. Well actually, they're worth more because they are only small little suckers. If you've never used a peel before, or just want to shake up your skincare, I can't recommend these enough.
Are you as obsessed with peels and skincare as I am? Do you want to try this fabulous little product?
*DISCLAIMER – Although these products were provided for my consideration, all views and opinions are 100% honest and my own. No sponsorship or money has been provided for my review. All discount codes are not affiliated unless specifically stated. All opinions are based purely on my own experiences. I try my hardest to provide my readers with accurate information, but I am not by any means a professional, nor am I an expert. Please do not confuse my opinions with professional advice