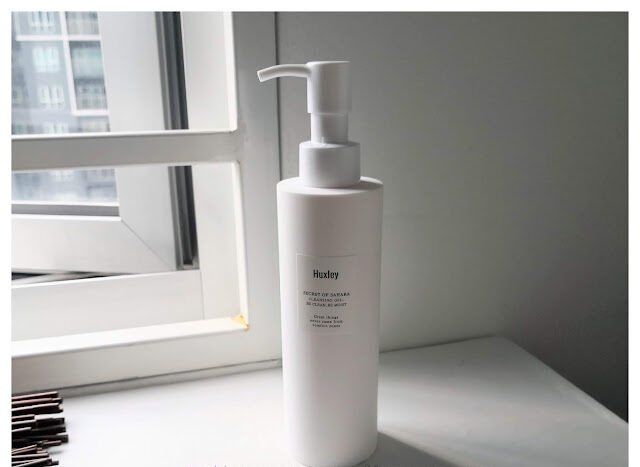 You guys know that I am a big fan of Krave Beauty Matcha Hemp Hydrating Cleanser, and I am most likely gonna repurchase that one and stick to it in future. But I am also a product junkee so I really wanted to give this Huxley Secret of Sahara Cleansing Gel; Be Clean, Be Moist a try too. It is a lightweight, gel-to-foam cleansing product that claims to be really gentle and hydrating for your skin. I wanted to see which one I like better, Krave Beauty or Huxley, and share my thoughts with you guys.
Huxley Secret of Sahara Cleansing Gel, Be Clean, Be Moist comes in a minimalist, muji-like bottle. It is in a plain white plastic bottle that comes with a hygienic and convenient pump-top. The whole product looks like makeup remover if I didn't read it up online.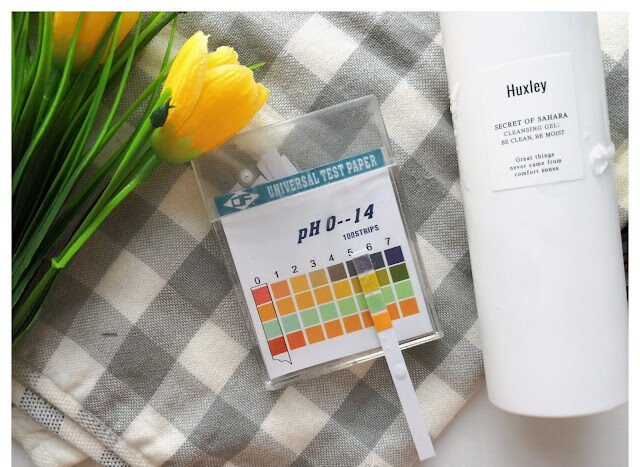 This cleansing gel claims to be a pH-balanced and deeply moisturizing foaming cleanser, enriched with certified-organic cactus seed oil from the Desert of Sahara, with the moisture-retention properties of cactus plant that can survive through the harshness and dryness of desert.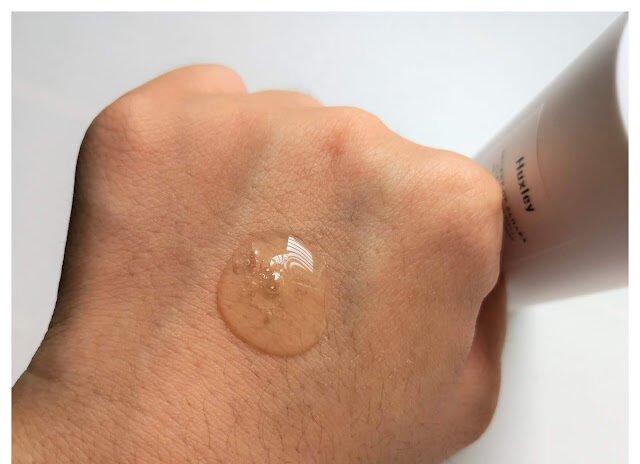 The huxley secret of sahara cleansing gel comes in a clear and viscous gel that can be lathered into soft foam. It has the iconic Huxley perfumed scent that I love.
You use this after your makeup remover or cleansing oil as your second-step cleanser.
Review Huxley Secret of Sahara Cleansing Gel Ingredients
Opuntia Ficus-Indica Stem Extract, Water, Potassium Cocoyl Glycinate, Acrylates/Beheneth-25 Methacrylate Copolymer, Disodium Cocoamphodiacetate, Cocamidopropyl Betaine, Sodium Methyl Cocoyl Taurate, Sodium Chloride, PEG-200 Hydrogenated Glyceryl Palmate, Opuntia Ficus-Indica Seed Oil, Sodium Hyaluronate, Citrus Aurantium Dulcis (Orange) Fruit Extract, Citrus Medica Limonum (Lemon) Fruit Extract, Citrus Paradisi (Grapefruit) Fruit Extract, Citrus Aurantifolia (Lime) Fruit Extract, Centella Asiatica Extract, Betula Alba Bud Extract, Corylus Avellana (Hazel) Bud Extract, Olea Europaea (Olive) Bud Extract, Juglans Regia (Walnut) Leaf Extract, 1,2-Hexanediol, Potassium Hydroxide, Peg-60 Hydrogenated Castor Oil, Peg-7 Glyceryl Cocoate, Isostearic Acid, Ethylhexylglycerin, Sodium Benzoate, Citric Acid, Propanediol, Glycerin, Alcohol, Butylene Glycol, Disodium EDTA, Phenoxyethanol, Fragrance
I have to respect this cleansing gel for putting cactus extract as the main ingredient, amongst others. Cactus is the key selling-point of Huxley for its skin firming, softening, smoothing and moisturizing effect. It is also rich in various vitamins and minerals and are used mainly for anti-aging purposes in skincare. That explains the bouncy and moisturizing properties of this foaming cleanser!
Next, we have gentle surfactants mainly derived from plants here, with mostly 1/7 safety scores on CosDNA. This cleanser also contains a number of skin loving ingredients like sodium hyaluronate, orange extract, lemon extract, grapefruit extract, centella asiatica, birch sap extract, olive oil, walnut shell extract and so on. Sodium hyaluronate, as we all know, is a humectant with moisture retention benefit. This is complimented by birch sap extract with astringent, skin healing and purifying benefits, as well as the nourishing olive oil. The citrus extracts are commonly used as cellular renewal ingredients and are usually serve as fragrance and skin brightening agent in cosmetics. Walnut shell extract, on the other hand, can reduce wrinkles and soften the skin. It contains vitamin B1, B2, B3 and E to keep your skin healthier and younger.
Overall, a very thoughtful and well-made cleanser with a lot of skin benefiting ingredients.
Review Huxley Secret of Sahara Cleansing Gel Performance
The huxley secret of sahara cleansing gel produces bouncy, soft and rich bubbles upon lathering with water. It gently whisk away dirt and impurities inside my pores while keeping my skin soft and smooth. It is so gentle that reminds me of Hada Labo Arbutin Whitening Foaming Cleanser. I don't have any complaint about this cleanser. It is reasonably priced (you can get this for RM60-70 during sales), gentle, hydrating and effective enough for all skin types. It is difficult to choose between this and Krave Beauty, although I still prefer Krave for its matcha and hemp seed extract. But in term of effectiveness, I will vote Huxley because it cleanses better and is equally gentle on the skin. Krave Beauty, on the other hand, feels like a perfect morning cleanser with natural ingredients that will not disrupt your skin's natural barrier. Both are good, so it really depends on your skincare goals and preference.
CONCLUSION
Having said all these, I am highly pleased with the performance of this huxley secret of sahara cleansing gel. A little goes a long, long way and you seriously cannot go wrong with it. So far, I am still loving Krave Beauty a little bit more for the inclusion of matcha and hemp seed extracts in it. But that means Huxley is almost as great as Krave Beauty and that is a big compliment because you guys know how much I adore Krave Beauty cleanser! I am only 1 month into my Huxley cleanser so I will use it further and update you guys with my thoughts after I use it for longer.
Stay tuned for more!
Read more: Review: Fleuri Clear Gel Cleanse (2022)